Congress Sharpens Knives For Iran Deal
06:12
Play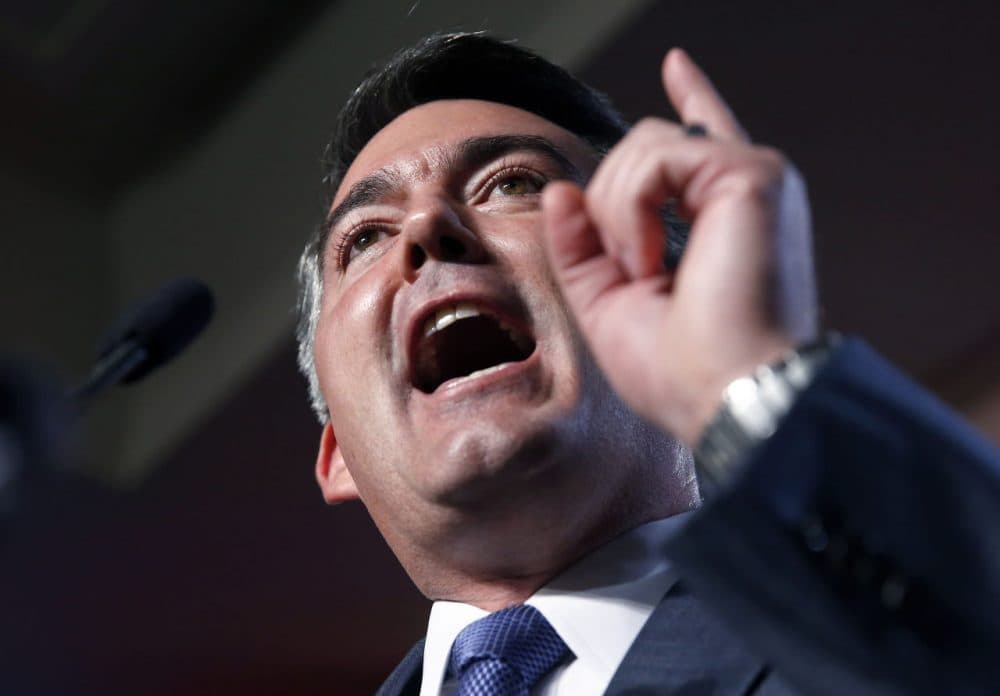 This article is more than 5 years old.
In announcing the nuclear deal with Iran today, President Obama vowed to veto any measure that critics in Congress pass in order to stop the deal. Republicans who control the Senate will have to win over more than a dozen Democrats in order to do so, and at least 14 Senate Democrats have signaled a willingness to oppose the deal.
This morning, Colorado Sen. Cory Gardner was one of the Republicans leading the charge against the deal, tweeting "This deal would make Iran a globally-approved nuclear threshold state. It would put Israel in severe danger."
Sen. Gardner was also one of 47 senators to send a controversial open letter to Iran's leaders, during White House negotiations over the deal. He discusses his opposition to the deal with Here & Now's Jeremy Hobson.
Interview Highlights: Sen. Cory Gardner
On the deal to curb Iran's nuclear program
"We have a deal that legitimizes a nuclear Iran and destabilizes the Middle East ... We've heard from the state department themselves that the current sanctions were eroding support for the regime daily. If that's the case why didn't we actually stick to our sanctions, double down on our sanctions and end up in a situation that, instead of allowing a globally approved pathway to a nuclear bomb in 10 years, it actually would eliminate the ability of Iran to obtain a nuclear weapon."
On why he calls the deal a nuclear pathway
"If the entire purpose of keeping Iran from getting a nuclear weapon was the real outcome of this then we would be doubling down on our sanctions until they said, 'We will not try to achieve a nuclear bomb.' But we know now, and the president has even said this several months ago, that they could have less than a year breakout time to a nuclear bomb in a decade or more. So this actually creates a way for Iran to have a nuclear bomb. Look, they're going to be keeping research and development elements, they are going to be keeping Fordow and Iraq facilities, they're actually going to be keeping a nuclear infrastructure. If we doubled down on our current efforts that brought them to the table in the first place we could prevent the situation that's going to end up in a Middle East tripwire."
On the deal's repercussions for nations in the region and for the United States
"We know that this deal does nothing to stop Iran from funding terrorism — in fact, they're receiving hundreds of billions of dollars plus worth of freed up money in escrow accounts that were frozen under the sanctions that can now go to Iran to continue funding terrorist attacks against Israel, against other people in the Middle East, against the United States."
On congressional involvement in the deal
"The president didn't want congress involved in the first place. He was very opposed to congressional action and intervention. We passed the Corker-Cardin legislation, which gave congress a seat at the table and within seconds of the president announcing the deal he has now threatened a presidential veto of congressional action. So it's clear from the beginning the president didn't want congress around to safeguard the American people. So what we will continue to do is make sure we understand the full details, make sure we understand this. I think there are going to be many people, Republicans and Democrats alike, who, the more they learn about this, the more they realize depending on Iranian good faith, as a world leading sponsor of state-funded terrorism is not a good idea."
Guest
This segment aired on July 14, 2015.