Exploring Unknowns: Mysteries Throughout History That Still Baffle
11:13
Play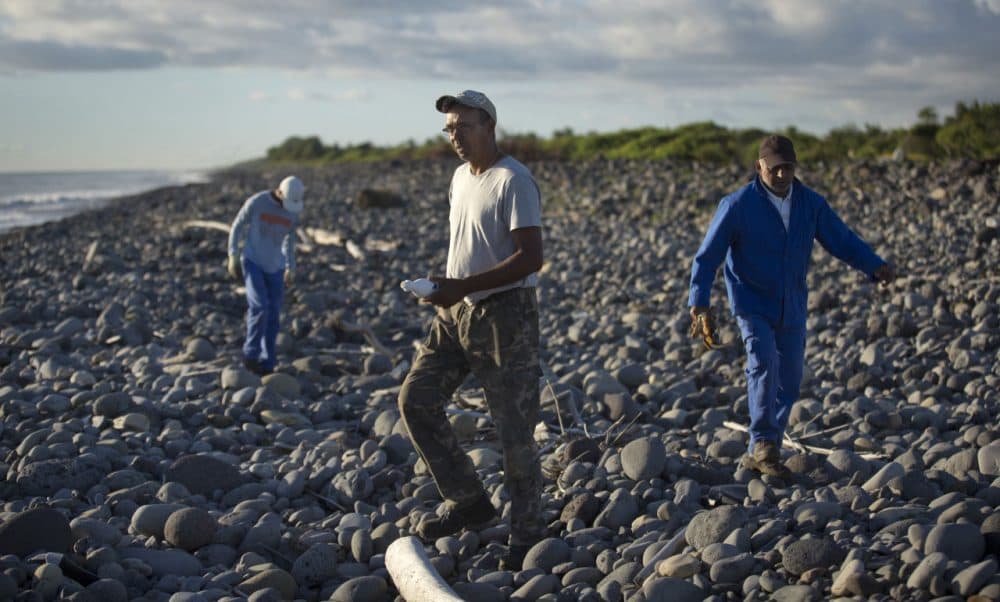 This article is more than 5 years old.
Debris from an aircraft found on a French island in the Indian Ocean this week is being analyzed in France to determine whether the part came from Malaysia Airlines Flight 370.
The aircraft disappeared last year with 239 people on board, and for the last 17 months, there has been an extensive search for the plane and numerous theories debated as to what happened. We may never find out.
Throughout history, there have been several events like this: stories that are incomplete, because people still don't know exactly what took place.
Here & Now's Jeremy Hobson speaks with Paul Aron, author of numerous books on unsolved mysteries, about several of these events, including the mystery of what happened to Amelia Earhart's plane, the disappearance of Jimmy Hoffa and the lost colony of Roanoke.
Interview Highlights: Paul Aron
On what intrigues people about aviation disappearances
"There's something fascinating about any disappearance, and aviation disappearances seem to be especially intriguing. This is not the first plane to disappear, and probably the most famous disappearance of the 20th century would have been Amelia Earhart. People are still trying to figure out what happened to her.
"We did just find a piece of her plane. Well, well, at least there are claims. Ric Gillespie, who is one of the leading [individuals that] has been, for decades, searching for the plane, believes in his group the International Group for Historic Aircraft Recovery. [He] believes that he has found part of the plane. Not all experts agree. I mean, Gillespie, has in the past made a case for having found part of the plane. At one point he found part of a woman's shoe in the size and style that Amelia Earhart wore, and at another point he found a navigator's bookcase with screw holes that suggested it had been installed in a plane. But there are those who question those finds ... he is certainly a reputable researcher, but not everyone agrees. It remains an unsolved mystery."
On how people often look for complicated answers to historical mysteries
"That's true for a lot of historical mysteries. That's true for a lot of other aviation mysteries. ... There's a question about whether FDR knew in advance about the attack on Pearl Harbor, and conspiracy theorists have argued and some continue to argue that because he was eager to get us into WWII, because there was such strong isolationist sentiment in the United States, that though he knew in advance the attack on Pearl Harbor, he did not notify his commanders in order to have the disaster of Pearl Harbor that would lead America into the war. But there too ... there are simpler explanations. If you're preparing to fight the Japanese, it's a lot easier to fight the Japanese without your Navy sunk. There are simpler explanations. It's not that conspiracy theories are never right, but often they are more convoluted than other explanations."
On Jimmy Hoffa's disappearance
"His disappearance was July 30, 1975. So that was just, well, 40 years ago yesterday. And people have looked for his body or suspected his body would be found in all sorts of garbage dumps, and most famously, under the end zone of the Meadowlands football stadium in New Jersey. But, it has never been found."
"You make these new discoveries, but then there are new mysteries that they raise."
"There were numerous conspiracy theories. Castro and [President John F.] Kennedy are all entangled, so the Kennedy assassination and the Hoffa assassination are often linked. One theory goes that the mafia killed JFK to avenge [Robert Kennedy] RFK's anti-organized crime efforts. And then the mafia killed Hoffa, because he knew about the plot to kill JFK. ... But again, the conspiracy theorists there is logic to them, but there's no hard evidence, and this is another case where there are simpler theories. The FBI has always maintained that Hoffa was killed by the mob, because after Hoffa got out of jail, he was making noises about a comeback, and the mob leaders preferred working with Frank Fitzsimmons, who had replaced him. Mob decided they didn't want Hoffa coming back; they decided to get rid of him. Again though, it's an unsolved mystery. The FBI has never able to get a conviction."
On the disappearance of English settlers on Roanoke Island
"The consensus among most historians is that they either joined the Indians or were killed by Indians, or perhaps joined and then were later killed by Indians. The Jamestown settlers who arrived in 1607 had all sorts of reports from Indians of people in the area who looked like them, who were white. One theory goes that they joined the Indians and were killed just before the Jamestown settlers arrived.
"There are absolutely people that are still looking, and it's not inconceivable that archaeologists may someday find more evidence. Even just earlier this week, archaeologists at Jamestown announced that they had identified the remains of four leaders. In one grave, there was some Catholic relics, which indicated that maybe one of the leaders at Jamestown was a Spanish spy. You make these new discoveries, but then there are new mysteries that they raise."
Guest
This segment aired on July 31, 2015.