In A Surprise Move, Google Reorganizes Its New 'Alphabet'
05:09
Play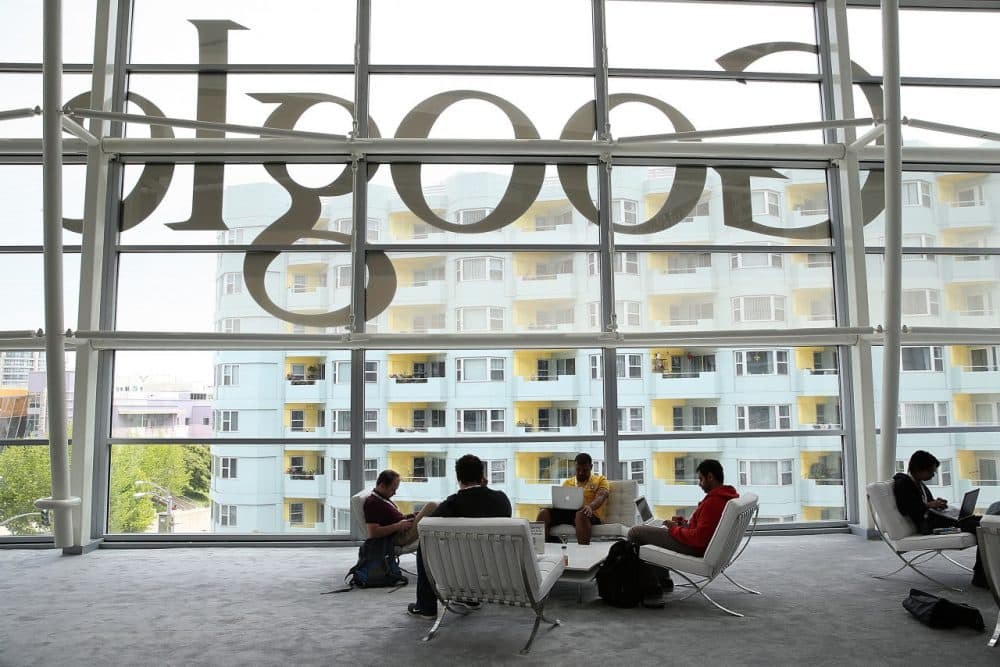 This article is more than 5 years old.
G is for Google. That's what the Silicon Valley giant titled its latest blog post, when the founders announced that it would be taking on a new name: Alphabet. Google, which started as a search engine and expanded into multiple ventures like operating systems, drones, pharmaceuticals and self-driving cars, will be reorganizing under the new name and separating its money-making and innovating divisions.
To consumers, Google will operate much the same, but the company says it will become more transparent about they way it makes and spends money. Here & Now's Jeremy Hobson speaks with Mark Bergen of Re/code about the significance of the move and what it means for the future.
Interview Highlights: Mark Bergen
What is Alphabet?
"It basically gives a formal name to what is already been happening inside Google. Where you have the Google we know today, which is the search business, the ads, Youtube, the Android mobile operating system. It's all now going to be a separate company under a larger holding company called Alphabet. And within Alphabet you also have this constellation of different companies that are kind of doing what's called 'the moonshots': the self-driving car, the Nest and home thermostat program, and some of their medical research, and a new company that launched earlier this summer around cities. So it's sort of way to separate, at least for investors, this is the Google that you're familiar with, and this is our profitable arm and this is where we're making investments for the future."
What's the purpose?
"Investors have always complained that Google spends quite a bit on capital expenditure for these moonshot programs like Google Glass with no real revenue to show for it. This is a way they can keep having that profitable arm, and then kind of prove and have a little more transparency and clarity about what their spending is."
What's in the name?
"Think about the name Google, which came from a play upon the word 'googol,' which is the mathematical number that is infinitely large. And so Alphabet is sort of 'A to Z' — Google's ambitions to tackle every single market industry in the world and apply its technology to every single problem."
How does Alphabet affect Google's legal challenges?
"There are some theories that maybe this is a way to make Google look smaller. Right-- no longer one big company, but a constellation of companies and they can go back to the antitrust argument and say 'We're not violating antitrust because were much smaller than before.' I don't know what the implications are for this. Right now, Google is facing pressure in Europe and in the U.S. around search, around commerce. They've yet to face the antitrust suits around the car program or around healthcare, but it's very likely that this will happen."
Guest
This segment aired on August 11, 2015.