The Key To Being A Hero: Don't Think About It
05:31
Play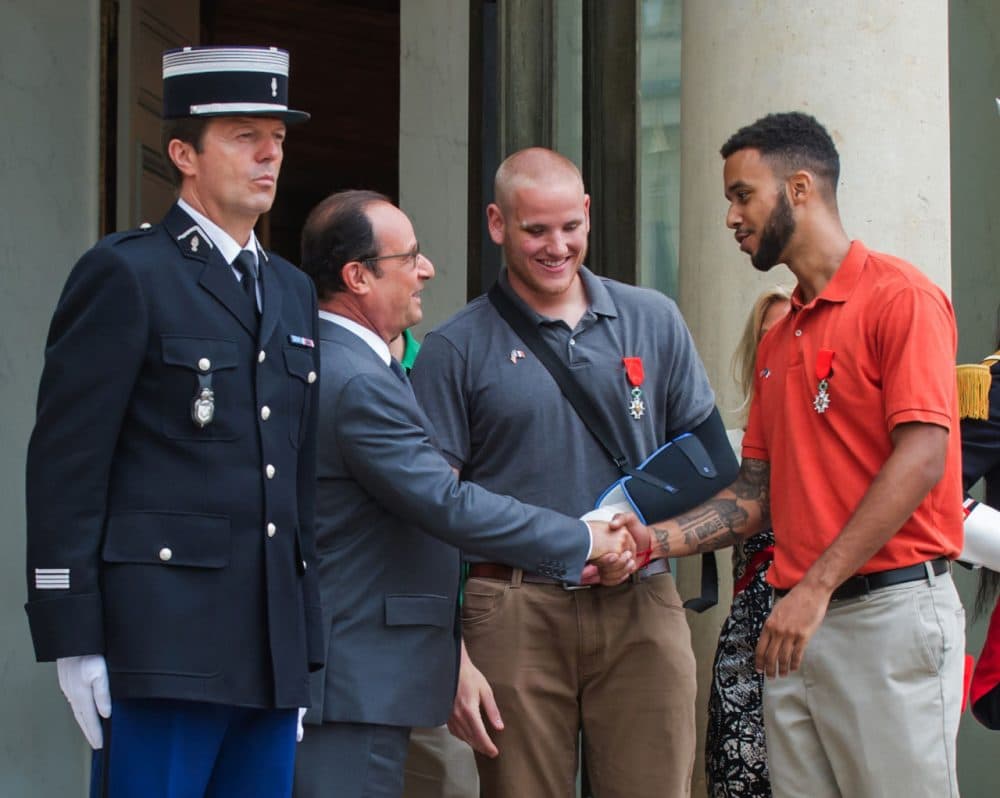 This article is more than 5 years old.
Four men - three Americans and a Briton - received the French Legion of Honor today, days after they thwarted an armed gunman on a train to Paris. Two of the men are credited with tackling 26-year-old Moroccan Ayoub El-Khazzani; the other two helped subdue El-Khazzani, who witnesses say had an assault rifle strapped to his bare chest.
As he presented the medals, French President Francois Hollande said that "faced with terror, we have the power to resist. You also gave a lesson in courage, in will, and thus in hope." Hollande added that "veritable carnage" had been avoided.
Yale psychology professor David Rand says it's not quick thinking that led these men to intervene. In a recent study titled "Risking Your Life Without a Second Thought: Intutive Decision-Making and Extreme Altruism," Rand makes the case that it's a lack of forethought that allows feats of "extreme altruism" to take place. He discusses his research with Here & Now's Robin Young.
Interview Highlights: David Rand
On how the study on extreme altruism was conducted
"What we did for this paper was we collected interviews that Carnegie Hero Medal recipients, people who risked their lives to save strangers, did with different news media at the time that they did their heroic acts and then we analyzed the text of those interviews... Almost across the board, they said they didn't think - they just acted quickly. They went with their gut."
On the danger of deliberation 
"It teaches us something about human nature, in the way to think about altruism, which is that where the altruistic desire to help others typically comes from a sort of an automatic conditioned response. My idea is that in everyday situations when someone asks you to help, it's typically a small-stakes thing that you easily afford to do that will help them and then come back to benefit you in the future because then they'll be positively inclined towards you. So you get in the habit of helping people and develop this kind of intuitive, cooperative impulse. And then in a high-stakes situation, your first response is to keep treating it like daily life and saying, 'Oh, I should help.' And then if you stop and think about it, you're like 'Oh wait, this is really different. This is a bad idea.'"
On conditioning impulsive cooperation
"They have to be willing to go with their gut, but they also have to have the cooperate gut response in the first place. Because if you have someone whose initial impulse is to not help, then that person is definitely not going to help. So we've done a number of studies to train your impulses to be cooperative and that's a first step that needs to happen, and then you also need to be willing to go with that cooperative impulse. And I think there's much less research on how to get yourself to be more impulsive because in general, being impulsive is not desirable for you. This is one of those funny situations where the thing that typically works very well, which is deliberating, winds up having negative consequences."
Guest
This segment aired on August 24, 2015.