Coast Guard: Missing U.S. Cargo Ship Did Sink
06:07
Play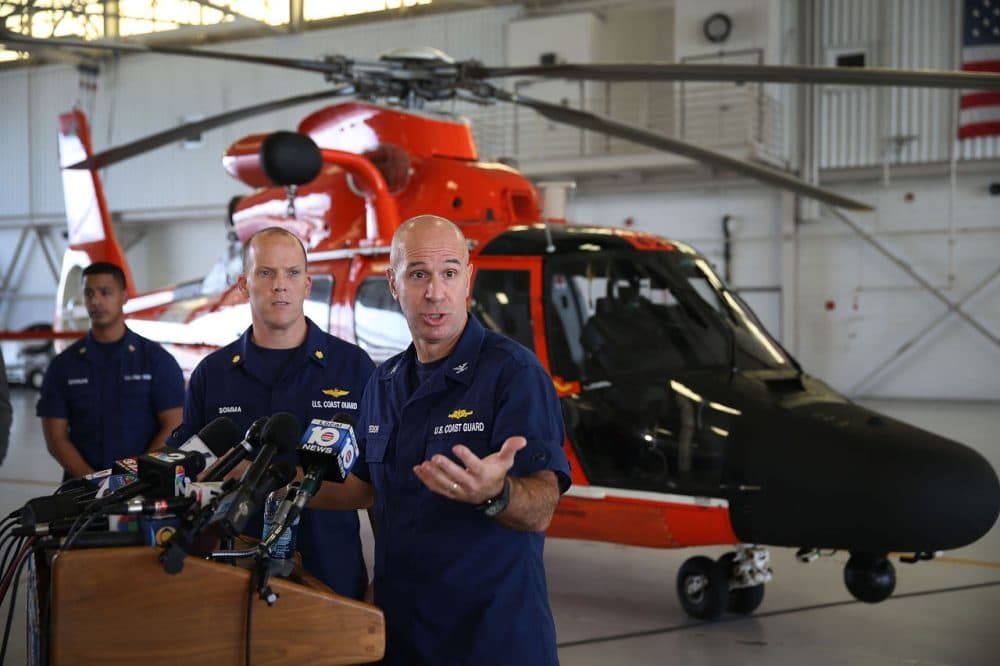 This article is more than 5 years old.
The U.S. Coast Guard says El Faro, the U.S.-based cargo ship that has been missing for the past five days, did in fact sink off the Bahamas during Hurricane Joaquin. A search and rescue crew spotted one body amid the debris, and the search continues for 32 other crew members.
Here & Now's Robin Young speaks with Captain Joseph Murphy, an instructor at Massachusetts Maritime Academy and a former commercial ship captain.
Interview Highlights: Capt. Joseph Murphy
On the ship owner's authorization of travel during the hurricane
"Well, I can understand why this occurred. Unfortunately, while people may think we have perfect information, we do not. And when they sailed, it was reported as a tropical storm – something that ship has gone through many times in that very same area. What was not anticipated or known by reports was the intensification of the storm and its development into a Category 4 [hurricane]. It is an unusual situation and it's really what can only be understood as perils of the sea."
On the necessary factors required to keep a ship afloat
"It does seem impossible, but in a storm or in heavy weather, two of the most important things to the survival of the ship are its ability to maintain propulsion and power. Propulsion so they can maneuver it and power so that they can maintain communication. The other one is watertight integrity so that the ship is able to float. By all reports, she had a 15-degree list, which would have made it very difficult for them to launch the lifeboats. And she had lost power and communication so my suspicion is that, you know, they did not have either propulsion or power. My personal belief is – and I don't have anything to go on other than experience, years of going to sea – is that the ship actually did capsize and sank very, very quickly."
On teaching classes after tragedies like the sinking of El Faro
"We teach them right from the very first day that they get to these academies how to deal with emergencies. And that's what we're going to do. We're going to rehearse in the class their emergency procedures for abandonment, which they've been skilled and drilled in since the very first day they got here at Mass. Maritime. The TOTE ship had the best equipment. It was well inspected. Their crew were well trained. They were simply overwhelmed by the force of nature, and while it does seem impossible that that could happen, it does happen."
Was anyone on the ship a graduate of Massachusetts Maritime Academy?
"Yes. We had one... An engineer, graduated in 2005... Terrible. It is difficult, Robin, and it's very difficult for us to talk about it. But it's something that they are aware of, that they're prepared for, and they believe that their training and experience will help them get through it. It's just that sometimes - 40-foot seas and 140-knot winds, there are very few things that can survive that. They just – they don't."
Guest
Capt. Joseph Murphy, instructor at Massachusetts Maritime Academy and a former commercial ship captain.
This segment aired on October 5, 2015.