U.S. Signals Shifts In Fight Against ISIS
05:41
Play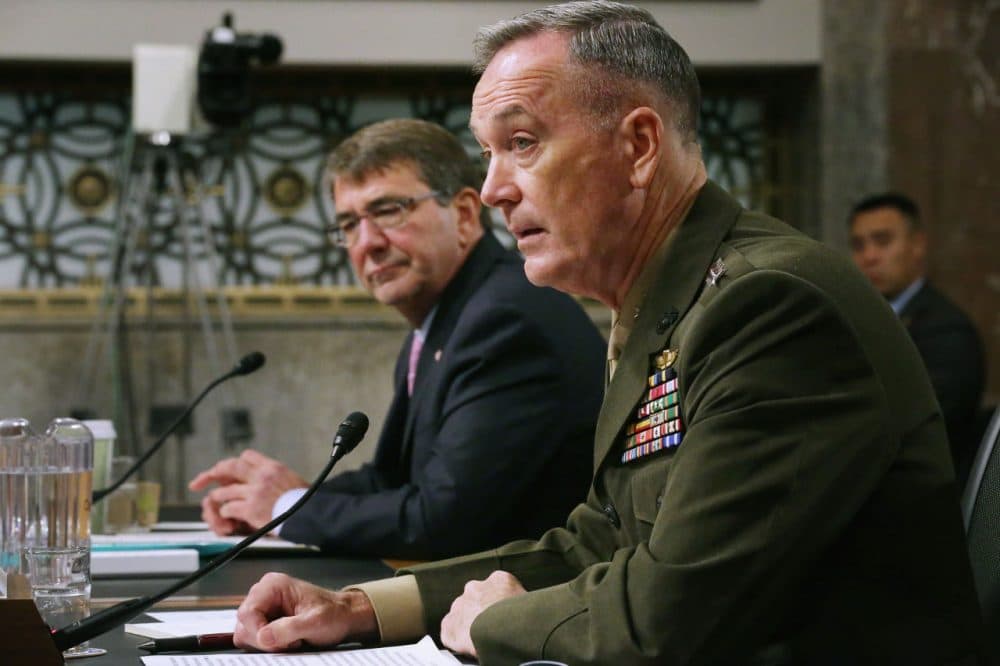 This article is more than 4 years old.
Defense Secretary Ash Carter says the U.S. will escalate its attacks against ISIS in Iraq and Syria, including through "direct action on the ground."
Carter made the comments during testimony before the Senate Armed Services Committee yesterday. It follows the death of an American soldier in a Kurdish-led raid to rescue hostages held by ISIS.
Ilan Goldenberg, director of the Middle East Security Program at the Center for a New American Security, discusses the escalation and how significant it is with Here & Now's Robin Young.
Interview Highlights: Ilan Goldenberg
On the U.S.'s shift in tactics in the war against ISIS
"The overall approach, I think, actually remains the same, which is the United States is doing a couple things. One, we're militarily trying to degrade and eventually defeat ISIS. And two, trying to pick up additional leverage inside Syria, inside Iraq through support for various groups that eventually you can utilize to come to some kind of political arrangement. I mean, what I think the Pentagon and White House have realized is the previous approach, which really focused heavily on training and equipping a different Syrian opposition force from whole cloth collapsed, but now what they're doing is shifting tactics by supporting groups on the ground and specifically starting to support Kurdish groups and some Arab groups near the ISIS capital city of Raqqa in Syria in order to see if they can gain influence through more direct military action support for groups that exist, as opposed to building something from whole cloth that just seems too difficult."
What does direct action on the ground in Syria mean?
"I think probably what it would mean in certain cases is putting special operators in with particular groups to help them on particular missions. I don't think the model would be very different from what we saw with support from the Kurds in Iraq last week. The most likely candidates for this would be the Kurds in sort of northeast Syria, it's called the YPG, and also the southern front around the border with Jordan, though the reality is they're doing more fighting with Assad than they are with ISIS. So I think the most likely first candidate would be the Kurds in the northeast."
On using U.S. troops as advisers on the ground in Syria
"The reality is, this is one conflict at this point happening in two countries where the borders have essentially evaporated."
"In my view, if you're going to be doing it in Iraq, you might as well be doing it in Syria. We artificially treat this as two separate conflicts because we spent billions of dollars and thousands of lives in Iraq and we didn't do that in Syria and therefore we strategically prioritize Iraq based on history, but the reality is, this is one conflict at this point happening in two countries where the borders have essentially evaporated. The one thing I would say where this could be, I think, quite different from Vietnam and where I worry less about this slippery slope is that we've had the Iraq experience very fresh in people's minds. We've also had an American public that is not at all interested in a much broader intervention. So that, I think, will be a significant check on going down that slippery slope."
On the many countries and groups involved in the conflict
"It is complete chaos, and the reality is that the only solution to all this is eventually a politically negotiated solution. Civil wars like this one end in one of three ways. An outside power comes in and takes over the entire country and ends the war - not going to happen in this case. The second is one side wins – seems highly unlikely. And the third is they come to some kind of political arrangement. We can try to help and I think what we're trying to do is build up the right types of groups, trying to convince others - like the Iranians and the Russians - that they can't win. But this Russian intervention in particular, I think, has probably thrown a lot of new confidence behind the Assad regime and the Iranians, which I think is only going to prolong this. And I think we're probably still a pretty far way off from all the parties coming to that recognition that it's time to end it."
Guest
This segment aired on October 28, 2015.