In Florida, A Push To Count Coding As A Language
05:32
Play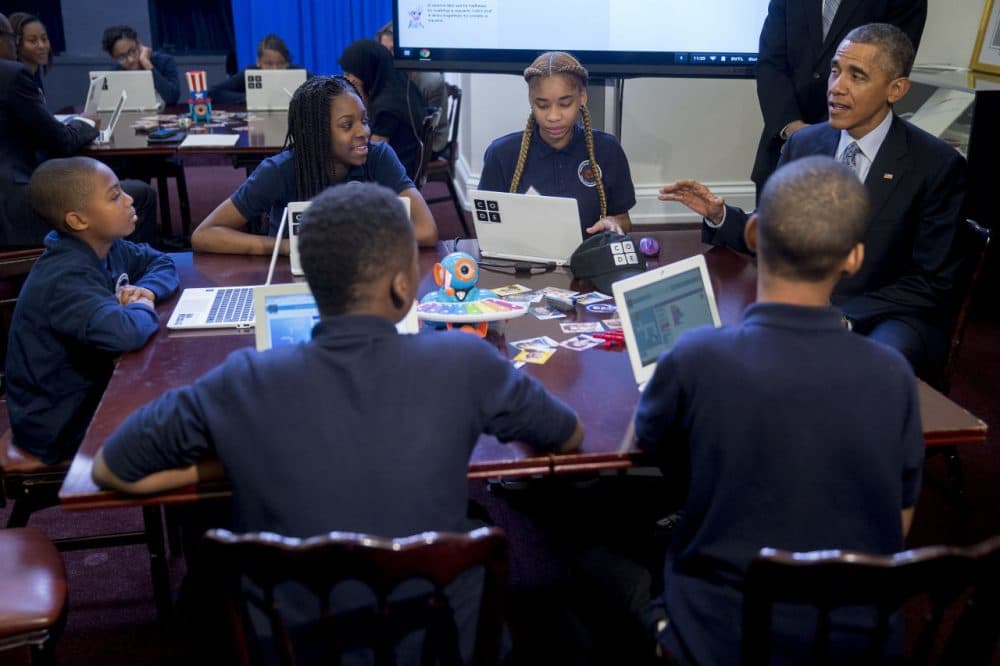 This article is more than 4 years old.
A bill on the table in Florida would change the state's graduation requirements to allow computer coding to count as a foreign language.
Former teacher and Daniel Gohl, chief academic affairs officer for Broward County, talks with Here & Now's Jeremy Hobson about the pros and cons of the measure, and what it might mean for students.
Interview Highlights: Daniel Gohl
Do you think coding should count as a language?
"I've got wonderfully mixed feelings about this. We need, in the 21st century, and soon every student in our schools will have been born in the 21st century, to make sure that they are two things. One is to make sure that they are English proficient, and multilingual – and multilingual means having a culture attached to a language. Unfortunately coding classes don't. I'm a certified computer science teacher and I feel that this bill gets at most of what needs to be done, but equating coding with knowing French or Mandarin or something else is not the way to go. We need both, but not one or the other."
Can a bill requiring both a foreign language and coding get passed?
"The bill, if passed, is better than our status quo. But it still doesn't get us where we need to go. We need citizens of the world, which means they are both literate in language and in formal thinking, as coding is. So there's only so many spaces on a transcript, there's only so many credits a kid can learn in high school. But we've got to stop saying that seat time equals what kids should have on their transcripts. This is where 100 years from now, people are going to look back and say, 'what have we asked our students to do?' I'm saying we need students who can speak more than just English and can think analytically enough to code."
Why do people need to know how to code?
"To be able to read and engage with people in the rest of the world, about how they think and learn and express themselves, and all the different cultural aspects, and culinary as well as lifestyle, history, that's tremendous, you can relate. But I'm telling you now when it comes to how you navigate your television, Internet, it's all about structured thinking. So if there's expressive thinking in world languages, and there is structured thinking in coding, we are getting to the point where all devices from a cell phone to a car are able to be customized and to express yourself in code means to be able to provide algorithmic answers to what we desire. And that's one part of being human."
How much would this cost to implement in Florida?
"This actually provides a way to reduce costs. What we have here is the ability to say that students can pick one or the other, it does not require both. So the bill as it stands would be cheaper to implement, the problem is that students who want to go to competitive and selective institutions are going to need both. While the bill provides for state institutions to have to accept coding as the equivalent of world languages, private institutions will not have to do so. Our most competitive students, those in the top 20 to 40 percent who want to have the choice between public and private institutions, are still going to have to do both. I don't want that to have to be an artificial choice. And I must say that Senator [Jeremy] Ring's office has been tremendously receptive when it comes to how we modify the bill moving forward to make sure we aren't pitting Spanish against C++, it's not one or the other."
Will it pass?
"I'm hopeful it will pass if you're giving me the choice of nothing or this. I'm hoping that it will get enough modification votes to move forward to say 'all students in Florida,' and that's how we work, we work by states, but all students in Florida need coding. That's the important message that's sent here."
Guest
This segment aired on December 17, 2015.