U.S. Poet Laureate Juan Felipe Herrera Celebrates MLK Day
09:43
Play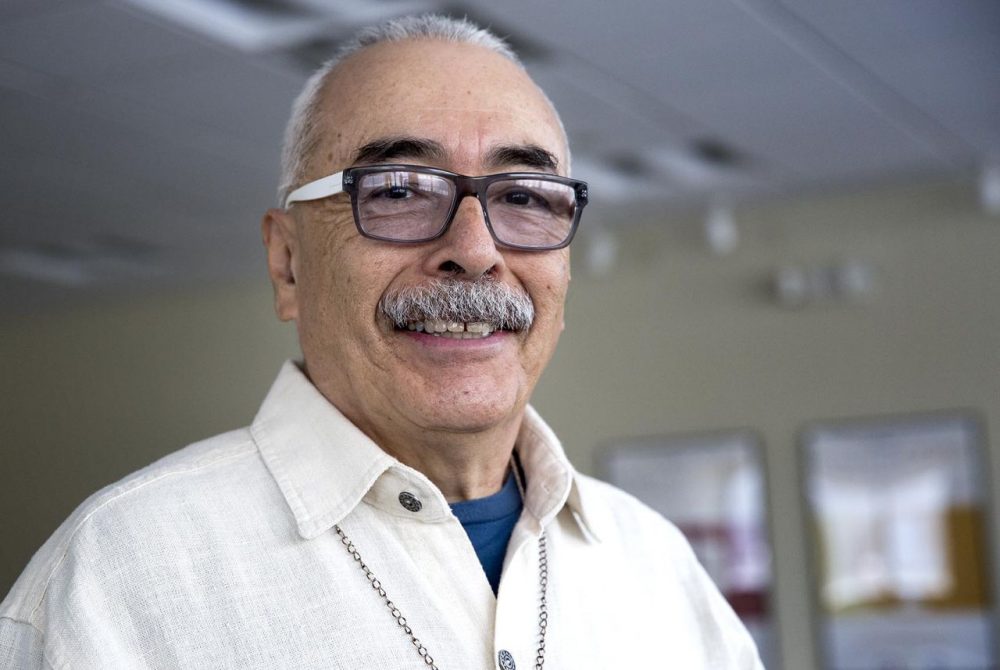 This article is more than 6 years old.
The son of migrant farmers, Juan Felipe Herrera's ethnic identity is often reflected in his poems. He also writes about the challenges minorities face.
Hererra is the first Mexican-American to be named U.S. poet laureate. While in town for for Boston University's Martin Luther King Jr. Day celebration, he speaks with Here & Now's Robin Young.
Interview Highlights: Juan Felipe Herrera
What did Martin Luther King mean to you?
"He meant everything. Freedom is what it's all about. Peace is what it's all about. And his great example and the examples of the African-American people in the United States, especially during the '50s and '60s when I was growing up and seeing their pictures on magazines and newspapers, it struck me very hard in those decades."
You wrote on the riots in Los Angeles after the Rodney King verdict in 1992. Talk about the poem 'Rodney King, the Black Christ of Los Angeles and All Our White Sins'
"One of the most important points was that he was brutally beaten and violated as a human being, as an African-American. I wanted to respond to that and how the community responded to that by demonstrating and coming out into the open. In a sense, I saw Rodney King as a kind of sacrificial lamb; that we had to see and experience his life in this manner so we could wake up again to the realities that we face every day in the streets."
What do you want to say as you speak to BU students about Martin Luther King?
"What I want to say is that we must continue that effort. It's one thing to celebrate and remember, and it's important to celebrate Martin Luther King, and yet we must make an extra effort now, a new effort. We're not in that same world anymore. Every day there are new assaults, horrific assaults, they're beyond the scale that they have been in the past."
After you were named California's poet laureate, you started a poetry program about bullying.
"That was a project that came from the death of an 11-year-old girl called Joanna Ramos in Long Beach in elementary school. I noticed that and I saw her face in the news and I said 'I have to do something.'"
Are you talking about bullying because of race and ethnicity?
"I'm talking about bullying at all levels really. When we live in impoverished communities, we carry a lot of angst and suffering, children do especially these days. I wanted to talk about young children fighting each other and, in this case, dying."
What would you say about poetry and how it helps you 'exist'?
"That's exactly the point. Poetry allowed me to notice my existence, otherwise I was traveling from one place to another, and otherwise I couldn't really collect my thoughts. I was alone, in solitude. Solitude can be good, but that kind of solitude is kind of an alienation. I was outside of everything. Even though my small family would tell and share stories, we were always floating around the center of society. Poetry for me was a way to find myself, find peace and find solace."
Guest
This segment aired on January 18, 2016.