One Muslim Woman's Experience At A Donald Trump Rally
10:43
Play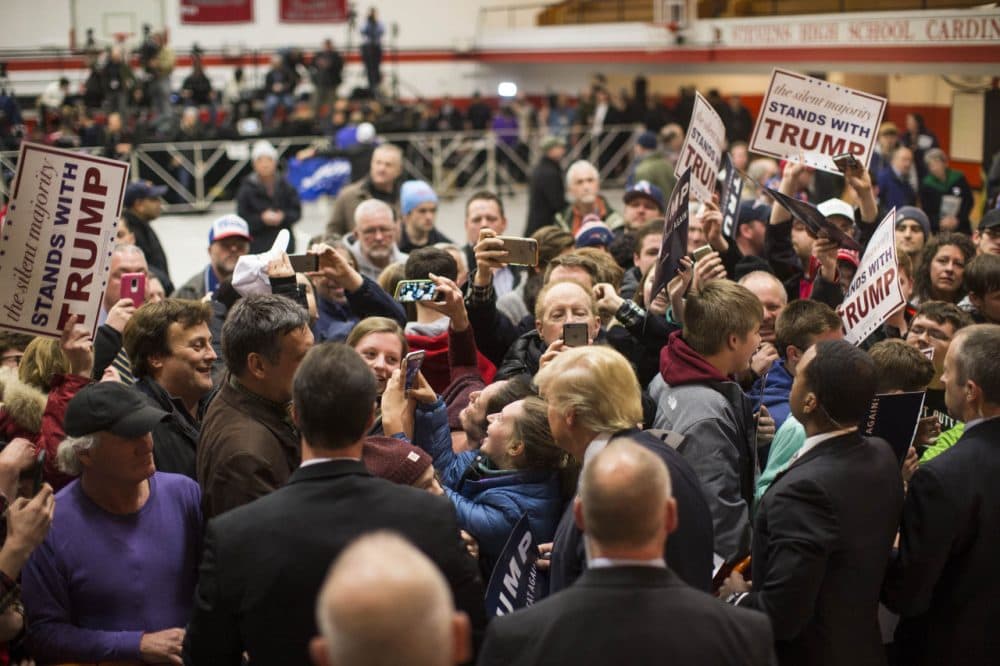 This article is more than 5 years old.
After one woman in a head scarf was heckled and forcibly removed from a Donald Trump rally, Kaddie Abdul, an IT professional and Muslim, decided she needed to go to a Trump rally. She dressed in an orange headscarf, talked with Trump supporters and tried to serve as a bridge to help people understand her faith. Abdul speaks with Here & Now's Robin Young about the experience.
Interview Highlights: Kaddie Abdul
Start at the beginning. What inspired you to do this?
"I woke up on Saturday morning and I read the story about Rose, and I could not believe it. This to me wasn't just a story about Rose, it was a pattern of behavior that we've seen over the past couple of weeks at the Trump rallies. But with Rose, she made a point of stating that why she went there was to get people who don't normally have an opportunity to meet Muslims and opportunity to meet a Muslim and to ask them questions face-to-face. I thought that was an incredibly laudable goal and I decided that I would go online, look up Trump's speaking schedule, and I found out that he was in Reno, Nevada, which wasn't that far of a drive from San Francisco. And like an impetuous idiot, I jumped in the car and drove up there."
To underscore why you thought this was such a crazy thing to do, Rose's story could be your story. You are also Muslim.
"I am. I am Muslim and I'm what we call a 'hijabi', which means I always wear a headscarf in public. But beyond that, I am someone who believes in the political process and that people have a duty to behave civilly to each other. I don't feel like that's always happening at his rallies."
What were you looking to accomplish by attending the rally?
"To just go and continue her mission, which was be there as a Muslim and answer questions if people had any. And that was as far as I had thought it out."
So you show up to a Trump rally in Nevada in a bright orange head scarf and carrying a very large Quran, and what happens?
"I wanted to get there as close to when the doors open as possible because I didn't know if I was going to be denied entry. The doors were supposed to open at 11 o'clock. I get there at 11:05 and the line is already snaking around the building, and I can only think to myself 'ah, I'm such an idiot, I should have gotten up sooner.' I simply took a deep breath, got into line, and I didn't want to make anyone nervous or feel like they were obligated to say something, so I started reading."
What happened at the rally? How did people react?
"Nobody said anything directly to me, which I though was very interesting. I had anticipated that someone might say 'you need to get out of here' - anything. But if those were thoughts, they were not said directly to me. I think Trump rallies have their share of mischief-makers, just like Islam has its share of mischief-makers. The bullies and the thugs that have been so visible and present at some of his rallies were either absent that day or they didn't have the courage to come up to me face-to-face. And I think that's something people need to remember about bullies; they're not courageous people, they're cowards."
Do you think you changed anyone's minds on who Muslims are?
"I think that for every person that I talked to, what I noticed, there were five that leaned closer to hear what I was saying. I spoke with a gentleman wearing a t-shirt with Abraham Lincoln, holding an AK-47, riding a bear. He is an amateur historian and I think as we were engaged in discussion, it surprised him to find out that someone who was not a Trump supporter can be knowledgeable about American history. By the end of it, he and I were hugging. His sister was standing beside me, she and I hugged."
It sounds like, by the end of this, they realized you were not an 'other,' an outsider.
"I don't think I'm special. I am just a normal person. What I find most amazing is in the last 72 hours we've had 40,000 shares. People as individuals are reacting to this and seeing that they have the ability to stand up and make a change."
Did you see them as 'not the other' when you may have seen them as the 'other' before?
"I did. It was nice to be among that group and to hear their stories, their personal convictions about why they were at that rally. Their economic hardships, their belief that society is going in the wrong direction. I think it's important for me that they have understood that I'm pretty much thinking the same thing, I just don't blame everybody else for that problem. I think it's something that we can look inside ourselves, resolve and then resolve as a group. I don't think you need to blame Mexicans. I don't think you need to blame Muslims. I don't think you need to blame Asians. A lot of this has to do with reforming ourselves, but we share some of the same concerns."
Guest
Kaddie Abdul, IT data engineer working in Silicon Valley.
This segment aired on January 18, 2016.