Young Syrian Marks 4 Years In Zaatari Refugee Camp
Play
This article is more than 7 years old.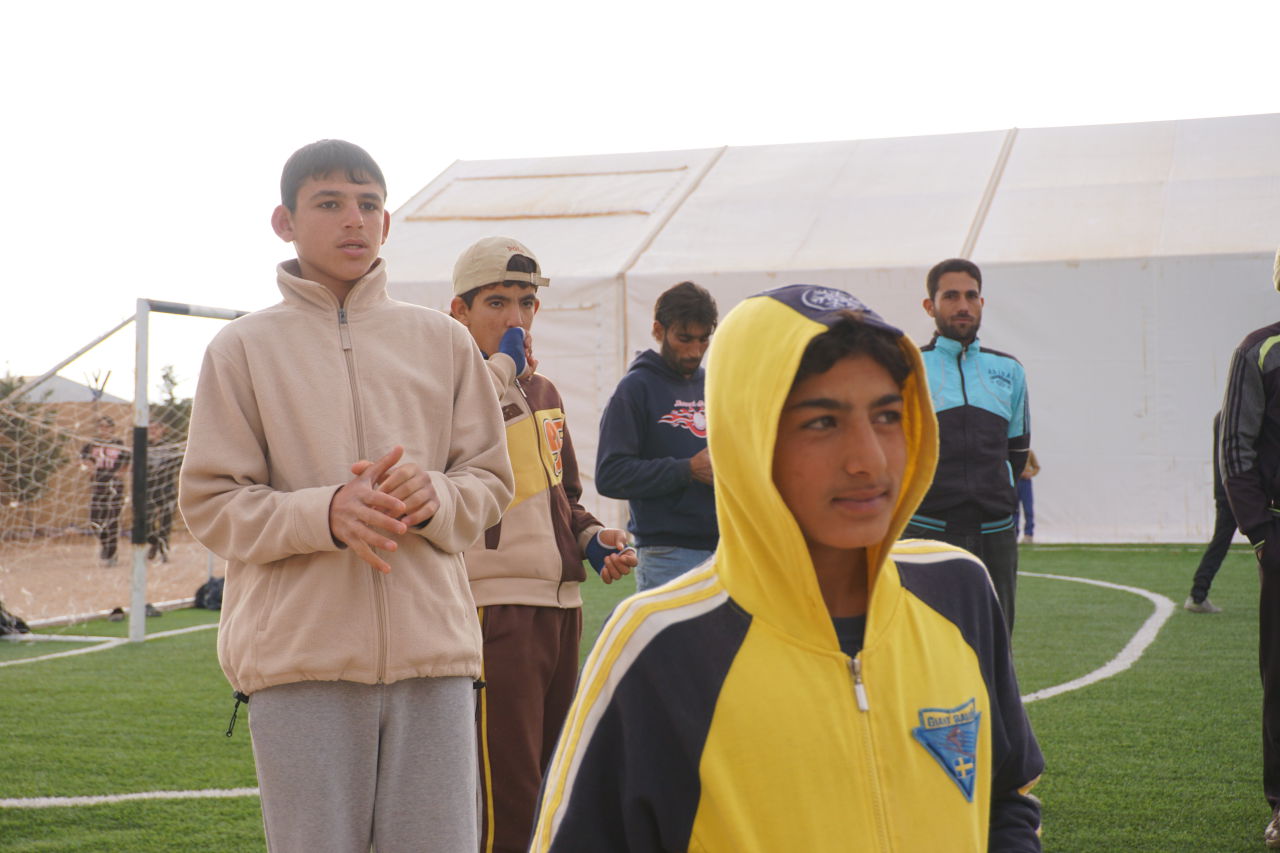 Almost five years into the Syrian civil war, more than 6.5 million people are displaced within Syria, and about 4.5 million Syrians are refugees. Half are children. And for all the news of refugees flooding into Europe, the majority stay in the Middle East - in Turkey, Lebanon and Jordan.
Last January, we spoke with a 13-year-old Syrian named Hasan Ahmad, who was living in the Zaatari refugee camp in Jordan, and to Raed Nimri, the director of programs for Mercy Corps in Jordan. Here & Now's Jeremy Hobson checks back in with both Raed and Hasan, who is now 14, one year later.
Acting as Hasan Ahmad's interpreter, Nimri relayed that Ahmad works four hours a day, in order to help his family, but he's not happy at the refugee camp. He says he'd like to become a professional wrestler and move to Canada.
Interview Highlights: Raed Nimri
On the conditions in the camp during winter
"Now winter, I mean it's a bit cold. It gets worse. Especially that electricity is only supplied for the refugees' caravans from 4 p.m. till 3 a.m. in the morning. The rest of the day there is no electricity, so there's no way of heating or cooling during the day."
On the things people do to occupy themselves during the day
"Actually some of them are working, some of them have small business. However, as you know, out of the 4 million Syrian refugees who fled into different countries, 2.1 million are children under the age of 18. So this category of youth more or less they have nothing to do. Some of them go to school but the majority of them has nothing to do."
On where refugees who want to leave the camp go
"Either you go back to Syria and this process with UNHCR is manageable but if you want to go to a third country or to Europe you need to apply and you need to wait."
On why some are choosing to go back to Syria
"Some people are going back to Syria because they are a little bit desperate with the life here and they think that being home even with the war is easier than being here, you know, doing nothing. People here are in continuous communication with their relatives in Syria and once there is a quiet place, especially in the south, I mean if it's quiet for a few weeks then they are willing just to go back and try to start a new life there."
On whether there are enough resources in the camp
"Not everything is available. It's livable but there is a lot missing still. Like job opportunities, economic opportunities, things to do, education. I mean education is available, however once children finish high school, mostly there's not much to continue after that."
On how long people can live in this situation
"Actually in Zaatari camp, people are living as if they were going to stay here for a long time, honestly. I mean if you look at the streets in Zaatari camp, a lot of businesses are going on and people are establishing long-term existences in the camp. It's not going to go in a year or two."
Guest
Raed Nimri, director of programs for Mercy Corps in Jordan.
Hasan Ahmad, a 14-year-old Syrian refugee living in the Zaatari refugee camp in Jordan.
This segment aired on January 19, 2016.