Discussion Of Torture Keeps Guantanamo Trials In Limbo
11:00
Play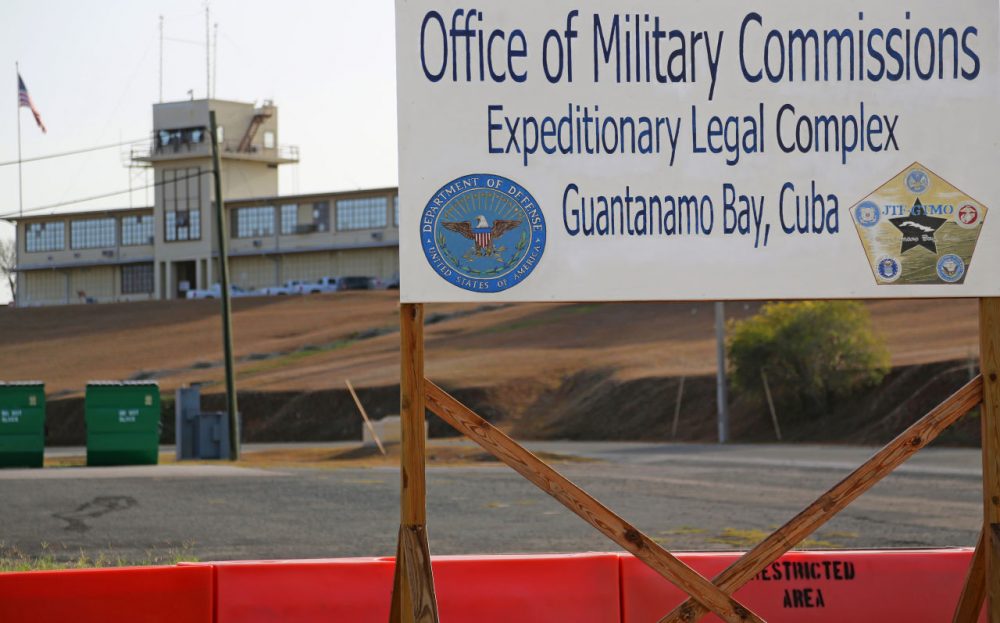 This article is more than 5 years old.
President Obama's goal to close the prison at Guantanamo Bay by the end of his term appears increasingly unlikely. The president announced recently that 10 low-level Yemeni detainees who couldn't be sent to Yemen as a result of that country's upheaval, were accepted by neighboring Oman.
Now, just 93 prisoners remain, but there is still an issue that Congress and the president can't seem to agree upon: What to do with the so-called high-value prisoners - the alleged architects of terrorism - who are either too dangerous or too reviled to release. At the top of that list is Khalid Sheikh Mohammed, the accused mastermind of the 9/11 attacks.
Here & Now's Robin Young speaks with Khalid Sheikh Mohammed's lead civilian attorney, David Nevin, and reporter James Rosen, who has been covering the story for McClatchy.
Interview Highlights: David Nevin
Why Mohammed's trial hasn't taken place, even after he confessed to planning 9/11
"Because if I torture you today and tomorrow and the next day for three and half years and then I finally say, 'Well, listen Robin, I'm through torturing you now, but some other people would like to talk to you.' And they ask you all the same questions and you make statements in response to that. Well why did you do that? Inescapably, in part you did that because of your history of being tortured and because of your conditioning and so on. There are substantial legal questions about the admissibility of every statement Mr. Mohammed has made. If you were tortured you might well say all sorts of things to try to get the torture to stop or to try to anticipate what the torturers wanted so that they would stop torturing you. After all, I believe it was in the late 1700s that Napoleon recognized that when you torture people, they'll say whatever you want them to say."
On whether he understand why Americans do not want the detainees held in the U.S.
"No, I don't. I mean I understand it as a political matter but we have this ability, and we long have, to hold people safely. Honestly, I am not a good person to speak to what is the best place for Mr. Mohammed to be held. If we're going to hold him, we have an obligation to hold him in accordance with the Geneva Conventions and more generally to treat him humanely. I think I have to let others decide what the best place to hold him is."
On what it's like to represent Mr. Mohammed
"There are sharp limitations on what I can report about what he says to me and so anything I say about that has to be taken as being not comprehensive, but I can tell you that Mr. Mohammed has always treated me respectfully and I have accorded him the same respect and we have a good working relationship."
On what is going to happen to Guantanamo
"I have guessed so many times about what's going to happen and have been wrong every time over the years. Now, the most I can say is that I have no idea what is going to happen next. I do know that we are spending a wild, crazy amount of money to litigate and hold these men in the way that were holding them. I know you've seen the figures. Something on the order of $3 or $4 million per detainee per year. We put an entire court system on a big airliner every couple of months and fly it to Guantanamo. Judges and witnesses and lawyers and clerks and media and observers and witnesses and all of it. We all get on an airplane and take our court system to Guantanamo. It's sensible that people would look around and say 'is there another way to do this?' But what exactly happens next is really beyond me."
Guests
This segment aired on January 26, 2016.