Diplomats Aim For Temporary Syria Truce In A Week
04:21
Play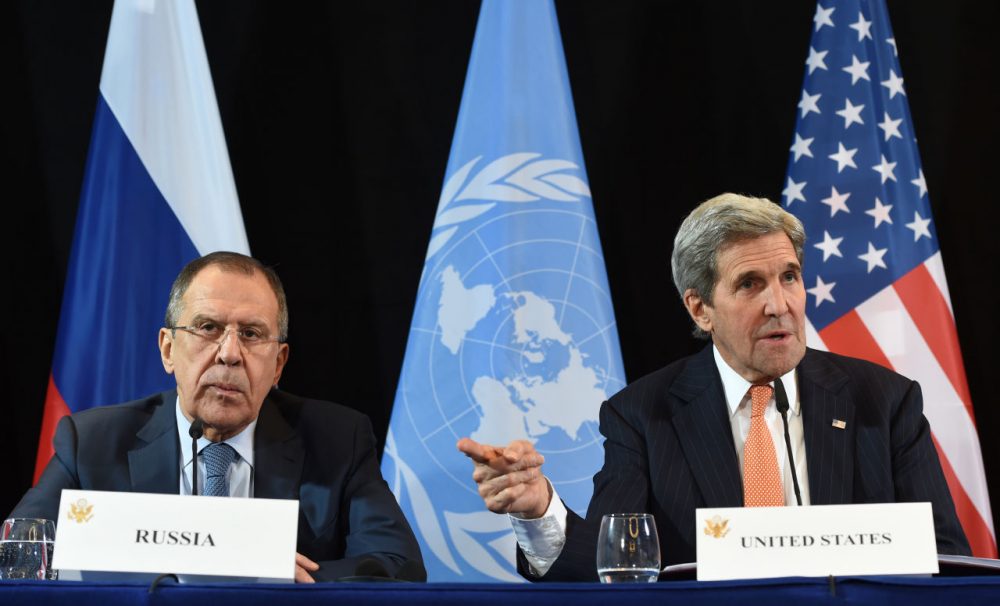 This article is more than 4 years old.
Diplomats agreed Friday to work toward a temporary "cessation of hostilities" in Syria's civil war within a week, although efforts to secure a lasting cease-fire fell short.
The deal appeared to be the result of a compromise between the United States, which had wanted an immediate cease-fire, and Russia, which had proposed one to start on March 1.
Although foreign ministers from the International Syria Support Group managed to seal an agreement to "accelerate and expand" deliveries of humanitarian aid to besieged Syrian communities beginning this week, their failure to agree on a cease-fire leaves the most critical step to resuming peace talks unresolved. It was not clear from their comments afterward if deep differences regarding the truce and which groups would be eligible for it could be overcome.
Secretary of State John Kerry, however, defended the agreement as what the Syrian opposition wanted.
"They wanted it called and defined as a cessation of hostilities. That is very much in line with their thinking and their hopes," he said.
Speaking for the group, Kerry praised the results as a significant accomplishment but noted that a cessation-of-hostilities agreement, if it can be achieved, would only be a "pause" in fighting and that more work would need to be done to turn it into a fully-fledged cease-fire.
He also allowed that the agreements made were "commitments on paper" only.
"The real test is whether or not all the parties honor those commitments and implement them," he told reporters after the nearly six-hour meeting at a Munich hotel, which ran into the early hours of Friday.
Dramatizing the high-stakes nature of the Munich talks, Russian Prime Minister Dmitry Medvedev argued that a full-scale ground operation in Syria could widen the conflict.
"A ground operation draws everyone taking part in it into a war," Medvedev was quoted as saying in an interview published by the German newspaper Handelsblatt.
When asked about a recent proposal from Saudi Arabia to send in ground troops to Syria, the prime minister answered that "the Americans and our Arab partners must consider whether or not they want a permanent war."
Meanwhile, humanitarian access to the battle-scarred country was to be discussed by a working group on Friday in Geneva. It is key to relieving the suffering of millions of Syrians in the short term, a durable and lasting cease-fire will be required if stalled negotiations between Syrian President Bashar Assad's government and the opposition are to resume on or before a U.N.-set target date of Feb. 25. The talks broke down last month before they really started, due largely to gains by Assad's military with the heavy backing of Russian airstrikes.
Guest
This segment aired on February 12, 2016.