What Campaign Staffers Do When Their Candidate Drops Out
06:25
Play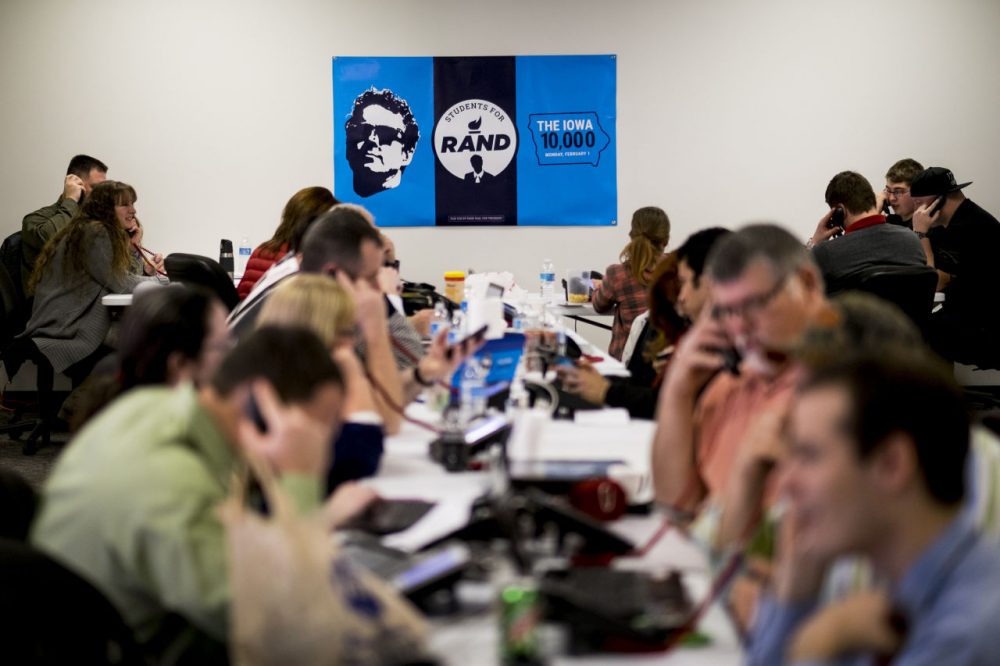 This article is more than 4 years old.
As the field of candidates running for president narrows, what happens to the many dedicated campaign staffers who are suddenly out of a job?
Here & Now's Peter O'Dowd asks Vincent Harris, who was the chief digital strategist for Senator Rand Paul's presidential campaign. Harris has worked on a number of other campaigns as well, including Rick Perry and Newt Gingrich in 2012 and Mike Huckabee in 2007.
A Bloomberg reporter called Harris a "GOP digital savant" and "the man who invented the Republican Internet." Harris talks about moving on after being on the losing team.
Internet Highlights: Vincent Harris
How the news that campaigns are over usually reach staffers
"So it just depends on the candidate. Sometimes, the candidate doesn't tell their staff; sometimes they might lead them on, kind of like how Governor Christie did on the night of the New Hampshire primary where he said, 'Well I'm gonna go back to New Jersey with my wife and we're going to reassess things.' That's kind of a dog whistle to campaign staff that says 'Wait, hold your horses, don't move to South Carolina just quite yet.'"
How staffers deal with defeat
"It's very sad, it's very disheartening. You put all your heart and your soul and your time and your effort and your thoughts into these candidates and into these campaigns. Obviously, every staffer has the dream of winning, every staffer has the dream of what Obama had on election night in 2008 with those massive crowds out in Chicago and the roaring speech and the roaring applause and then of being at the swearing in. All those dreams and all those thoughts go through every staffer's mind."
Whether it's easy for campaign staffers to move to other campaigns 
"No, but a lot of staff will get offered other jobs. I mean, now is the time when Senate races and congressional races across the country are looking to hire people and all of them look to the presidential races and all of the talent, all of the staff talent that's on the presidential races and they try to hire from that pool as different candidates drop out."
Who he thinks is the presidential candidate with the best digital ground game
"I think that there's no doubt right now that Bernie Sanders is running a phenomenal digital campaign. We've come so far in both parties since 2008 and certainly President Obama deserves so much credit for leading both parties out of this digital desert wasteland of how campaigns used to be run. And Bernie Sanders is the one who's really taken on that digital mantle with his very young, energetic fans who are giving him a lot of money online."
Whether it stings, as a Republican, to again witness a Democrat being so ahead of the pack, digitally-speaking
"Yes, it stings but I think that sadly I've come to terms with the fact that my party, which I love, is conservative and that's who we are and it takes us time to adapt to change. And I think that our digital acceptance amongst not only the group of staffers and consultants but amongst candidates and amongst voters is definitely happening and changing slower than with the Democrats. And it is my hope that over the next nine months, Republicans can collectively solidify around some nominee and everybody who cares about Republican politics and all of us from all of these nascent campaigns can get together, put our heads together and support whoever the nominee is."
Guest
This segment aired on February 12, 2016.