Are Recipes Ever Truly Original?
Resume
Cooks and bakers have been accusing each other of stealing recipes for decades, if not centuries. But can a person really claim a recipe as his or her own? Host Jeremy Hobson takes up the question with Here & Now resident chef Kathy Gunst. She also shares recipes for chocolate mousse and "Emma potatoes."
See more recipes and cooking segments with Kathy Gunst
Chocolate Mousse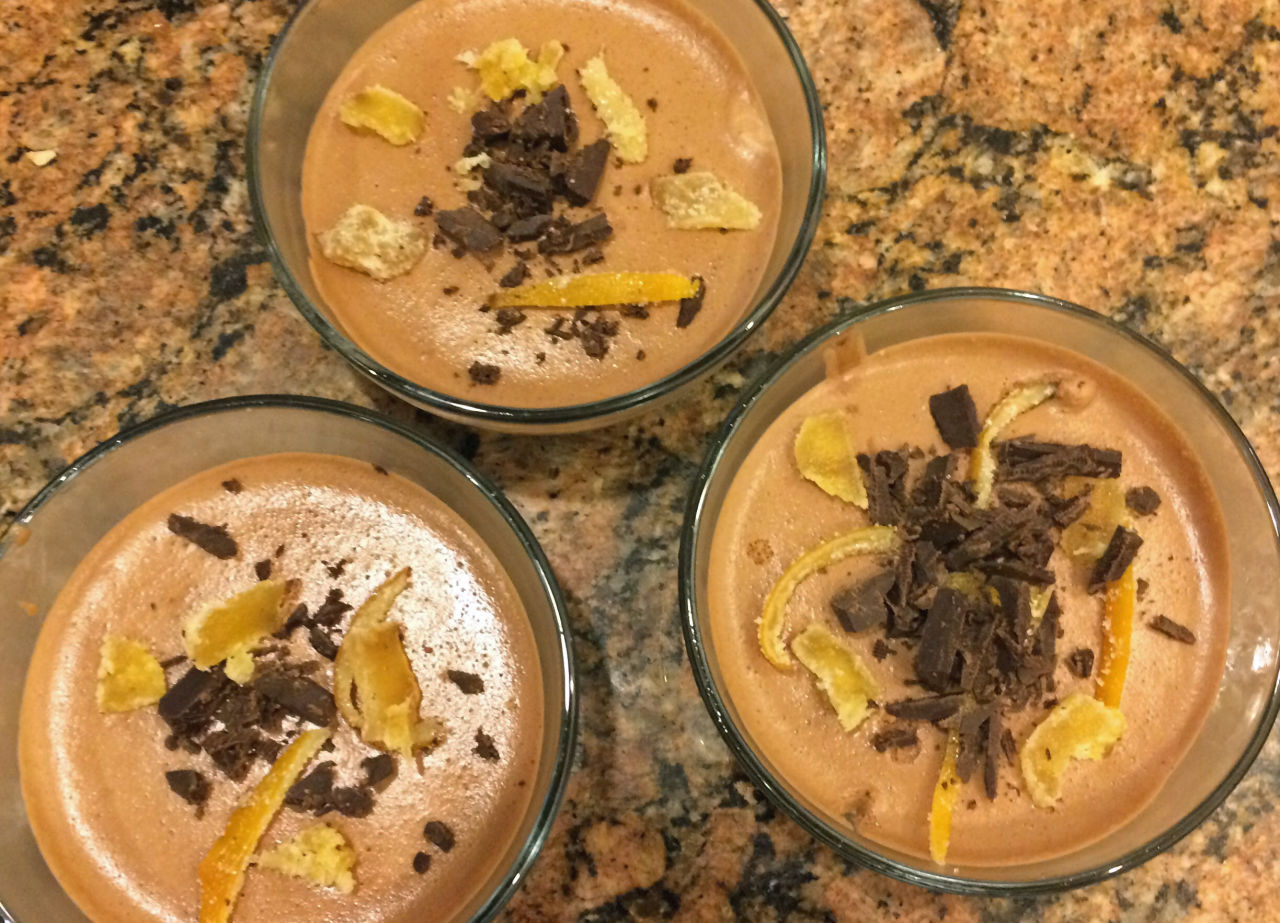 Kathy's Note: Chocolate mousse was overdone in the 1970s, but I never really tire of it. Because you only need a few ingredients to make this French classic, it's important to use the best chocolate and freshest milk and cream you can find.
You can serve the mousse as is, or layer it into a fancy parfait; see ideas for variations below.
Serves 6.
Ingredients:
6 ounces semi-sweet or bittersweet chocolate (about 55%), chopped
4 ounces milk chocolate, chopped
1/2 cup milk
1 cup heavy cream
1/2 teaspoon vanilla
Instructions:
Melt the two types of chocolate in the microwave or a double boiler or in a medium saucepan over very low heat, stirring with a spatula until melted and smooth. The chocolate should be warm to the touch but not hot.
Meanwhile, place the milk in a medium saucepan over medium-low heat until simmering.
Using a mixer, whip the cream until it holds soft peaks; whisk in the vanilla.
Whisk the hot milk into the warm chocolate until smooth. Using a spatula, slowly fold the chocolate mixture into the whipped cream until well blended. Pour into a serving bowl, individual ramekins, or small bowls, cover, and chill for at least 2 hours to set.
The mousse can be served as is, or with any of the garnishes below.
Favorite Variations:
Add 1 teaspoon grated tangerine or orange zest to the mousse.
Add a drop of orange or almond oil to the mousse.
Add 1 teaspoon amaretto, Grand Marnier, or your favorite liqueur to the mousse.
Dissolve 1 teaspoon ground espresso powder in 1 tablespoon hot water and add to the mousse.
Add a dash of ground ginger, cinnamon, cardamom, or nutmeg to the mousse or as a garnish on top.
To make a mousse parfait: whip 1 cup heavy cream with 2 tablespoons sugar and 1/2 teaspoon vanilla until peaks form. Divide half the mousse into the bottom of 6 wine goblets (wide mouthed red wine glasses work best), parfait glasses, or glass bowls. Add a dollop of whipped cream on top and divide the remaining mousse on top. Add the remaining whipped cream. Using a box grater, grate a bit of a milk or dark chocolate bar on top as a garnish.
Garnish the mousse with fresh raspberries, sliced strawberries, candied ginger, candied citrus peel, or candied rose petals.
Top the mousse with a dollop of crème fraiche or mascarpone mixed with a touch of confectioners' sugar.
Use a wide vegetable peeler to make chocolate shavings from a bar or chunk of dark, semi, milk, or white chocolate to garnish the mousse.
Emma Potatoes
Kathy's Note: As unlikely as it may sound, the inspiration for this dish came from my daughter, Emma. She was four at the time, standing on a high stool helping me cook. We were roasting potatoes and turning them over in the roasting pan so they would brown evenly when she accidentally dumped about half a jar of capers into the pan. "Oh well," said Emma with a devilish grin. "Those little green things will taste good with the potatoes!" (Emma is now a cookbook editor!) And because I am an adventurous cook (and like to believe a patient mom), I agreed. The tartness of the capers turned out to be an excellent foil for the potatoes. Thanks Emma!
Serves 4 to 6.
Ingredients:
6 medium-size potatoes, scrubbed and cut in half, or 3 large potatoes, scrubbed and cut into quarters (I use Yukon Gold)
1 1/2 tablespoons olive oil
2 tablespoons chopped fresh chives, or finely chopped scallions
1 tablespoon fresh rosemary, finely chopped
1 tablespoon fresh thyme, finely chopped
Salt and freshly ground black pepper
3 tablespoons capers, drained
Instructions:
Preheat the oven to 375 degrees.
Place the potatoes in a medium-size roasting pan or ovenproof skillet. Pour on the oil, chives, rosemary, thyme, (just a touch of) salt, and pepper and toss.
Roast on the middle shelf for about 30 minutes. Remove the pan from the oven and gently flip the potatoes over so they will brown on the other side. Continue to roast until the potatoes are almost tender when pierced with a small, sharp knife, about 15 to 25 minutes longer, depending on the type of potato. Add the capers and roast another 5 minutes or so until the potatoes are tender and golden brown.
Guest
This segment aired on March 3, 2016.