UW–Madison Chancellor Talks Tuition, Diversity And Budget Cuts
11:00
Play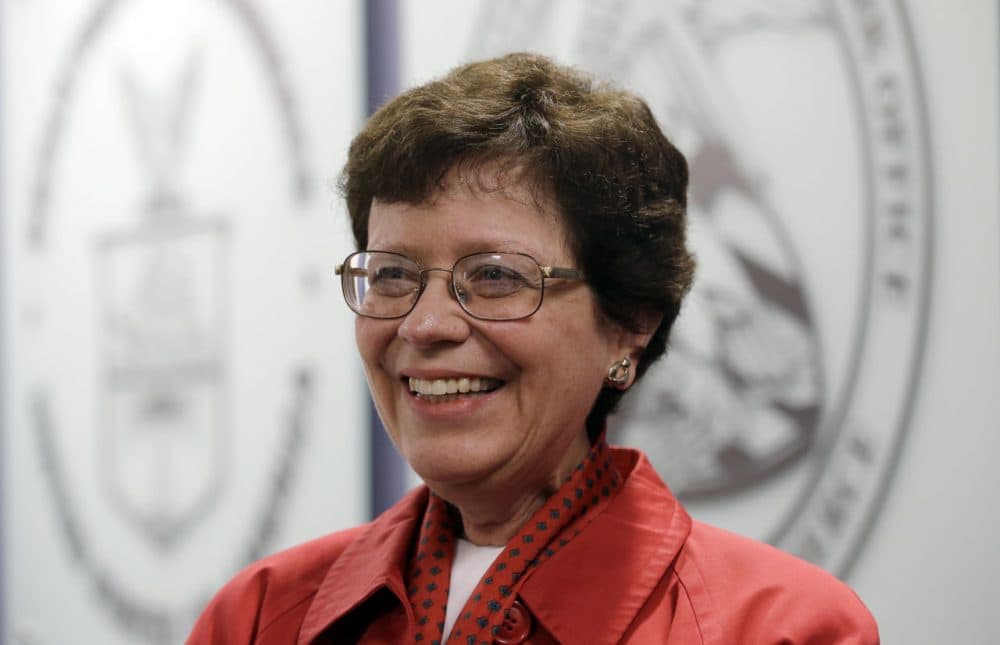 This article is more than 5 years old.
The average cost of college tuition is about $32,000 a year for private schools and a little under $10,000 a year for in-state residents going to public schools, according to the College Board.
Those public schools, though, have an additional challenge because they also rely on state tax dollars for funding - and many states have cut back, including Wisconsin.
As part of our View from the Top conversation series, Here & Now's Jeremy Hobson talks with Rebecca Blank, chancellor at the University of Wisconsin–Madison, about the challenges she faces in leading the school.
Interview Highlights: Rebecca Blank
How much have you had to cut from state budgets?
"The entire system got a $250 million cut in the last budget, which translated into about a $54 million cut for us. But I will say that we are no different from any of the other big public universities. The timing of these cuts might be a little bit different over the decade, but all of us have faced very substantial declines in state funding for higher education."
What do you have to do in order to make that work?
"By and large, we have cut out of our budget, it means that we are not replacing faculty in a number of our schools and colleges when they retire or when they leave. Classes are a little bit bigger, fewer classes are being offered, buildings aren't quite as clean as they used to be, they're not quite as maintained at the same level. All the things that you do when you have to deal with a lower budget, you have to run with a little less money running out the door."
Do you think it has made any material difference in a student's experience in the University of Wisconsin?
"So, we were working really hard to make sure that this doesn't impact us. One of the success stories at Wisconsin over the last decade is a very large increase in our graduation rates, a decline in our time to graduation, we're at a 96 percent retention rate among our students between freshman and sophomore year, and one of our big concerns here is to try to keep in place some of the things that we've put in place over the last 10 years to basically accomplish that; a better educational quality for our students."
Do you think cutting is the right way to balance the books?
"In the short run, we sort of got hit with a bigger budget cut than we expected. In the long run, this is not the way that you want to have to handle these sorts of financial changes. I think public universities, and we're doing this in Wisconsin, have to be thinking much more broadly about how they provide themselves with a stable financial base in a world where state funding, which 40 years ago was 50 percent of our budget, today is only 15 percent of our budget. We need to be more entrepreneurial and we need to be growing our other revenue sources. So, for instance, we are looking at substantially expanding our summer semester to run year-round rather than assume everyone is going to go out and help with the harvest in July and August, that doesn't happen very much anymore. We're looking at, what I think of, as non-traditional education programs running a lot more short courses, professional certification courses, for particular populations where we have things to offer educationally that they need. We're obviously working on the private fundraising front, those are the sorts of things that we need to be doing so that as state cuts further occur, I see no reason to believe that all of us aren't going to get some additional state cuts over the next 10 to 20 years, we have other revenue sources in place and they don't affect us as badly."
And you don't have to raise tuition.
"That's true, but I think you also have to have some tuition strategy as well."
What does that mean, a tuition strategy?
"Well, any tuition increases have to be accompanied by an increase in financial aid so that you don't threaten access, but these big public universities, one of our real advantages is access to students throughout the state, wherever they come from, whoever their families are. But on the other hand, my prices go up. My IT costs went up 6 percent last year. I can't simply keep prices flat, and one of the problems here in Wisconsin, we've actually been in a price freeze for four years. I'm an economist. Prices aren't flat when they come in, in terms of what we buy, and therefore having flat prices for our customers is a problem."
Why are your prices going up when inflation in the country is almost zero?
"Let me be very clear, over the last 10 years, our tuition has gone up quite substantially. But every tuition increase occurred with a state budget cut. So if you look at the combination of tuition dollars with state dollars per student at our university, that has actually gone down over time because our tuition increases have not quite replaced the decline in state budgets. I think this is true in almost all of the big publics. In a world where the state paid for 50 percent of your tuition, families payed less. When the state pays only 15 percent of your expenses, inevitably, families are going to have to pay more, and then you've really got to worry about the financial aid and the excess that you provide to your low income families."
How would you describe the mood on campus on the subject of race and diversity?
"I think every campus is experiencing a heightened level of interest and concern, not just by students, by faculty, by staff in issues of diversity, and I don't think any of that is going away soon. Some of this is obviously the result of a lot of public attention to issues such as racial issues such as in the criminal justice system, but as we become a diverse and multi-racial society, institutions like ours tend to change more slowly than the overall population. Wisconsin is a much whiter state than places like Texas or California so we are always going to be a little bit less diverse on that front because we reflect the state population in part. But all of us have to be working at building a community where students wherever they come from, whether it's race or ethnic background, whether it's gender orientation, whether it's dairy farms or inner city can come here and feel part of the community."
Was this issue on your radar before the protests in Ferguson and other places?
"I don't think you can work in any large institution in this country over the last 20 to 30 years and not be concerned about diversity issues. This has been an issue for our country for, as we know, several centuries and we've hardly reached a point where we've resolved these issues. This has got to be on your agenda as a leader."
Guest
This segment aired on March 9, 2016.