Politico Reporter: Clinton Unlikely To Be Indicted Over Emails
06:30
Play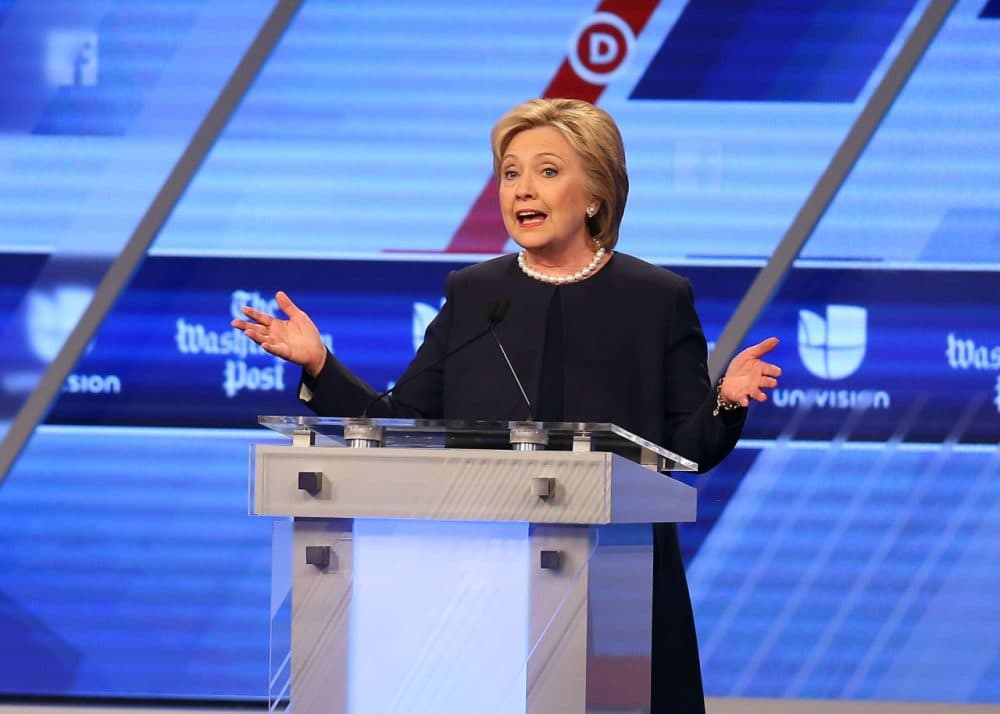 This article is more than 5 years old.
The issue of former Secretary of State Hillary Clinton's use of a private email system while at the State Department came up again in last night's debate, as Republican candidates continue to suggest she might be going to jail. Here & Now's Jeremy Hobson speaks with Politico's Josh Gerstein about the criminal and civil charges she could face, and how likely it is that she would be indicted.
Interview Highlights: Josh Gerstein
What would have to happen to get Clinton indicted?
"There are a couple of laws at stake. One that's a felony is part of the Espionage Act, that talks about gross negligence in mishandling classified information in a fashion so that it's lost or made available to America's enemies. Then there's a milder version of that that is basically a misdemeanor that involves mishandling national security information. Those are the two charges people think are most at play here. There are possibly others involving concealing government records or something along those lines, but I think looking at the laws themselves may be the wrong way to come at these problems because these are very broadly-worded statutes and if you wanted to go out and find people in the U.S. government who may have violated the letter of these laws, that would be incredibly easy to do. In fact, you could quickly fill, certainly all of the jails in the Washington area. I think you have to begin to look at other cases the Justice Department has decided to bring or not decided to bring when these kinds of things have come up in the past."
What other cases are there that are like this one?
"There are a bunch of them. None of them are exactly like the Clinton one, especially with the way that technology is constantly evolving, but for example, as you have heard in one of those clips, the General David Petraeus case where he kept classified notebooks in his home with top secret information, gave some of that information to his girlfriend, if you will, a woman he was having an affair with who was also writing a book about him. She did have a security clearance, but she was not authorized to have this kind of information. Republicans will point to that and say, 'Well, what Clinton did was worse, because maybe the Russians or the Chinese got the information that she put on this server.' Her people will say, 'well, Petraeus knew that this information was classified and the other important factor in his case is he apparently lied about it to the FBI and the FBI tends to get very very grumpy when you lie to them, especially when you're a senior government official."
Clinton has claimed that the emails that she sent were not classified at the time that she sent them. Is that the case and does it matter?
"Well it is the case that none of the emails we know of that were found on her server have classification markings. In fact, some of them say that they're unclassified. Whether the emails she sent were marked or not, probably doesn't matter a great deal because she's the one who would have been supposed to mark them if she was originating classified information. But for information that did come from her aides or others in the State Department, I think that is a pretty serious distinction. These laws usually talk about willfully violating them or knowingly violating them, and if you can say 'I didn't know this information was classified,' then you have a pretty good defense, and I don't know of a lot of cases where the Justice Department went forward where the classification of the information was ambiguous. I don't think in a case of this high profile they would move forward unless it was the kind of information that the person either knew was classified because it was marked, or it was just of such a nature that it would have been obvious to anyone with the slightest training that this was classified, and remember Clinton here also has another kind of defense, at least in a PR kind of way, if not a legal way, which is, 'look, if the experts in the State Department sent me this information and they said it wasn't classified or implied that by sending it in an unclassified account, who am I to know better than, say, the director of the Near East Bureau of the State Department, who's overseeing Middle East negotiations.'"
What other legal action could be taken against Clinton?
"There are several other fronts that could be problematic for Clinton here. The civil suits are not against her, generally they're against the State Department. They're mostly Freedom of Information Act suits saying that the State Department didn't go far enough in searching her records in producing records that were either sent on her account or sent by her top aides when they were using private emails. The record keeping situation at the State Department generally was a mess, so a lot of people requesting information were told, 'oh no, there are no records at all,' when in fact there really were records and the state finds them a year or two after the fact. That's a big morass. The problem for Clinton and her top aides there is just a couple weeks ago in one of these suits, a judge overseeing the case said that there should be discovery, meaning depositions, of people who were involved to try to figure out whether it was possible this Clinton email system was set up, off-site in an effort to defeat Freedom of Information Act requests. If that's the case, that could be a headache for her, but even the depositions themselves are obviously uncomfortable and potentially politically problematic if they're coming at the height of a presidential campaign."
Will there be an indictment of Hillary Clinton at any point before or after the election?
"I think it's very unlikely based on the facts we know right now. It's worth keeping in mind that the FBI has been investigating this matter for seven or eight months now. Maybe they know things that are not in the public domain, but if you look at what is out there publicly, it doesn't seem to me like the kind of case that the Justice Department has brought before, and I think if they were trying to bring a case that was this politically charged, they'd really want one that is a slam dunk and I'm not sure that this one would be in that category."
Guest
This segment aired on March 10, 2016.