Minnesota Senator: Supreme Court Nominee Deserves A Hearing
05:06
Play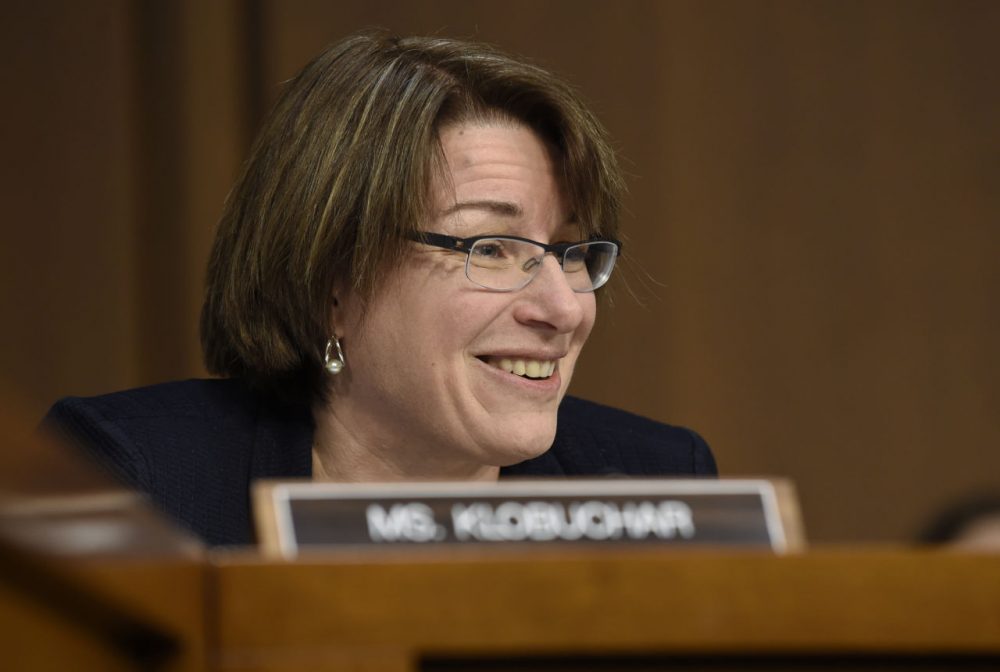 This article is more than 5 years old.
President Obama has nominated federal appellate judge Merrick Garland to the Supreme Court. Senate Republicans have vowed not to hold any hearings this year, so that the next president can choose the nominee.
Senator Amy Klobuchar of Minnesota, one of nine Democrats on the Senate Judiciary Committee, discusses this stance and what she thinks of the president's choice with Here & Now's Jeremy Hobson.
Interview Highlights: Amy Klobuchar
On the president's choice for a Supreme Court nominee
"I think this is an outstanding choice. Judge Garland is someone of impeccable credentials, he's someone that many Republicans admire. You look at the fact that when he was last up for judge in the Senate, he received the support of Sen. Hatch and Sen. McCain and many many others. I remember when the last two nominations were made, when Justice Kagan and Justice Sotomayor were nominated. A number of Republicans had said, 'well, you know, if it was Judge Garland, that would be OK with me.' I think we have that going, and then also when you listen to him today, and he teared up as he talked about not only his family, not only his own background, being there at Oklahoma City with all the victims of that horrific crime and their families, but he talked about – and when he started to cry I thought about, you know what, this is not just about him. This is about our entire Constitution. This is about the independent judiciary and this idea that at an incredibly coarse and polarized time in our politics, the judiciary should stand above it. He understood, as he stood there on that beautiful sunny day in the Rose Garden that this was a hint that the burden was on him to stand up, not just for his own nomination, but really for this concept of the independent judiciary and getting this job done so that he can have a nomination process like any other nominee since the hearings began in 1916."
Do you think he will receive a proper nomination process?
"Well I certainly hope he will after they look at his credentials. Many of them know him, the public should embrace him. This is a man that took on two of the most difficult cases, left his job in a private law firm where he was doing great, a partner at a firm, and said, 'You know what? I'm going to go work in the Justice Department, in an office with no windows, so I can do the work of the people.' And he rose up there so quickly that pretty soon he supervised two of the major criminal prosecutions in the last century. That would be the Unabomber and the Oklahoma City bomber."
Do you think there will be criticism from the left that Garland is not liberal enough?
"I hope that we do not see that type of criticism because I think people have a lot of faith in the president's ability to pick someone that is qualified for the job. The fact that Judge Garland is considered more of a moderate, careful in some of his opinions, somewhat independent, bucking the trend on some cases, especially with criminal law. I think that's a good thing and people who maybe wanted a nominee have got to admire the president for picking someone who he thought was the best for the job."
Are you upset or disappointed that the nominee is another white man from the D.C. Circuit Court?
"Well let's remember that the president's last two nominees were women. He greatly increased the diversity of the court by adding a Hispanic woman as one of his two female nominees, so I think he's more than shown his commitment to diversity. He himself is African-American. Many members of his cabinet are people of color, and he has nominated a number of African-American judges, including in my home state of Minnesota. I don't think people can really question his credentials when it comes to diversity. I am happy because I like this judge. I think he is highly qualified, I think he is someone who has gained respect on both sides of the aisle at a time where we're in a near crisis of the judiciary because certain people of one political party have decided, hey, we're not gonna have hearings, we're not gonna advise and consent like the Constitution says, we're not gonna follow history. I think it's really important to put someone up that's impeccable, that they have embraced in the past and I think it is going to be very difficult for them to explain why this man, this hero in terms of these prosecutions and standing up for those people in Oklahoma City, why he doesn't at least deserve a hearing. They don't have to vote for him. I'm sure they can find reasons not to, if they want, but this man deserves a hearing."
Guest
This segment aired on March 16, 2016.