Trump's Older Children Take On A Bigger Role In His Campaign
05:48
Play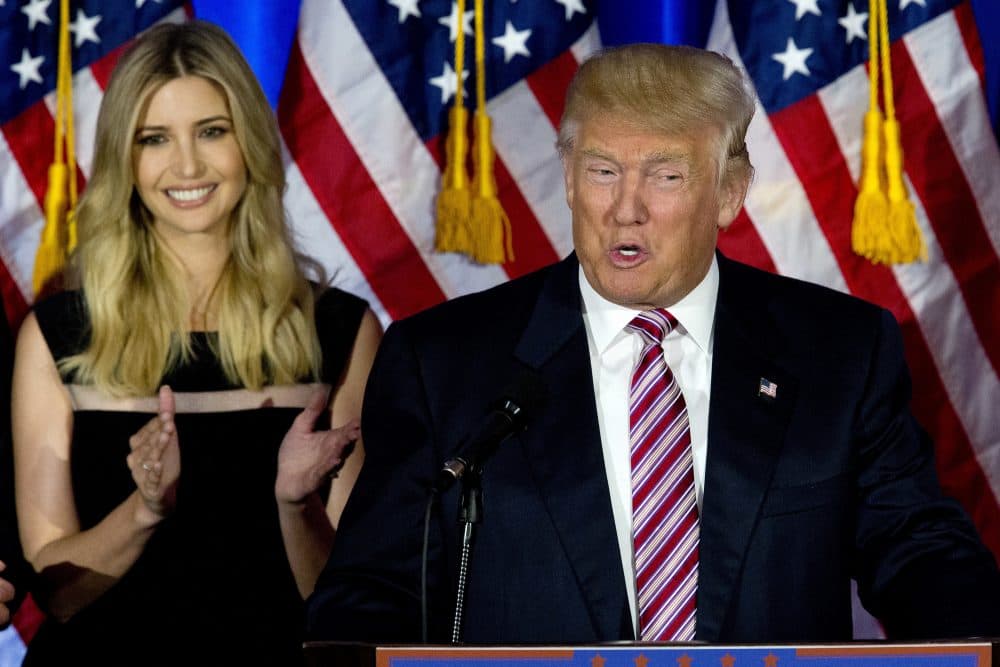 This article is more than 4 years old.
Donald Trump Jr. was in the room when his father, the Republican Party's presumptive nominee for president, fired his campaign manager this week. Ivanka Trump has been described as "the quiet power behind the Trump throne." And Eric Trump, the candidate's third child, has said he and his siblings—while more reserved than their bombastic father—are frequent advisers to the campaign.
For a look at the older Trump children and their role in the campaign, Here & Now's Jeremy Hobson talks to Michael D'Antonio, author of "The Truth About Trump."
Interview Highlights: Michael D'Antonio
On the influence of Trump's kids:
I would say that they form the real kitchen cabinet, to borrow a term from the Reagan years. They're the ones he turns to for advice that considers what's best for Donald, but also what's best for the Trump organization going forward. So they have in mind, I think, preserving the company but also protecting their father.
On Ivanka's importance:
Well, she's a very polished person who's well educated, I think she moves in circles that Donald doesn't understand. She's a millennial, she's just more likely to understand how people who aren't Trump insiders might view her father.
On Eric Trump's background:
Eric's the youngest, he was a real small kid, 5 or 6, when the big sex scandal happened in the early 90s that really marked these kids, pretty much for life. For his part, Eric was probably least aware of all of that and I see him as the one who's most devoted to the father's image. The other two can see him in an almost ironic way, but Eric is pretty devoted. He even said to me, he thought his father was a lot like Winston Churchill or Teddy Roosevelt. This was a couple of years ago when the guy wasn't even a candidate for office.
On what recent moves, like hiring his family to run his campaign, mean:
I think all of these moves indicate that there's if not panic, really profound concern, that they're losing control of this and the thing that Donald fears the most is being embarrassed and humiliated. That's why he talks so much about how they're laughing at us all over the world is because Donald really cares about whether people laugh at him. If he is absolutely clobbered by Hillary Clinton, it's going to be very, very difficult for him to recover emotionally from it. So I imagine his kids are actually very concerned just about his well being going forward.
On the dangers of depending only on his family:
I think there is a risk here that Donald only relies on blood relatives and one in-law, Jared Kushner, and may not have the diversity of opinion he should be hearing. Now to their credit, I can see that the kids are having a positive influence on Donald's style. He's going to become somewhat presidential, finally. This is something that he's promised for a couple of months but hasn't done because of Corey Lewandowski . I think ultimately, you're right, that the problem of isolation there is a serious one and could be very damaging over the long term because they're just not going to get the inputs that they need.
Guest
Michael D'Antonio, author of "The Truth About Trump" and "Never Enough: Donald Trump and the Pursuit of Success."
This segment aired on June 23, 2016.