The Life And Legacy Of Cecil The Lion, One Year After His Death
10:57
Play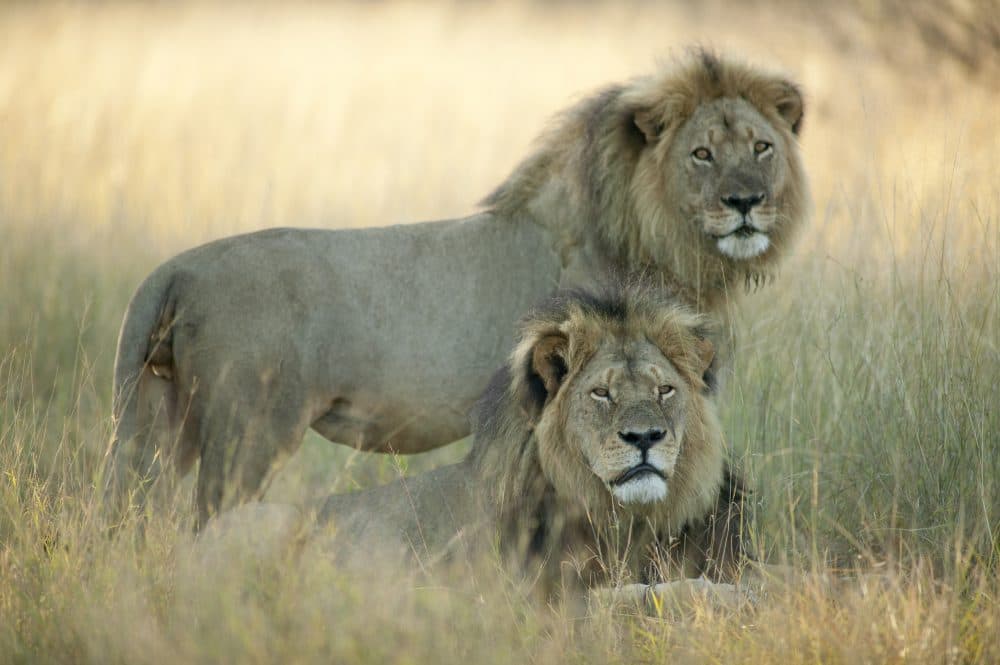 This article is more than 4 years old.
Friday marks the one-year anniversary of the death of Cecil, the black-maned lion who was lured out of the Hwange National Park animal reserve and killed by American hunter Walter Palmer.
Cecil's death provoked world-wide outrage. Now, "Cecil's Pride: the True Story of a Lion King," a new picture book for children, tells the story of Cecil's life, his relationship with another lion, Jericho, and what happened after Cecil's death.
Co-author Craig Hatkoff and photographer Brent Stapelkamp, who followed Cecil for almost a decade as a lion researcher, speak with Here & Now's Robin Young about the book.
More information about the #CECIL2016 rally
Interview Highlights: Brent Stapelkamp & Craig Hatkoff
On Cecil's characteristics and background
Brent Stapelkamp: "First and foremost, he was probably one of the oldest lions that we've had in our study. So it was a lion that we came to know very well. He was very comfortable with tourist vehicles, and therefore researchers sitting in their vehicles. So you could spend a little time with him, and really get to know a lion for what he is in an unrestricted way."
On how Cecil's story was turned into a children's book
Craig Hatkoff: "This was arguably the biggest animal story that we've come across. It was global in nature. It was a collective trauma. there was grief outpourings, outrage. But the real key to do a children's book is what story you want to tell. And what we didn't want to do, when I say we it's with my two daughters Juliana and Isabella, we didn't want to tell a story about his death. We really wanted to tell a story about his life. But that entailed finding out the story of his life. And no one better on the planet to tell Cecil's story than Brent, who kept watch over Cecil for nine years."
On how the relationship between Cecil and Jericho, another male lion
Stapelkamp: "There was one male lion in each territory, and they were arch rivals. But then, as it happens, two younger males came in, displaced Jericho, chased him out, and went to the next territory and chased Cecil out. And the two lions were lost to us for a while. Their collars weren't working. And then I get a call to say, 'You will never believe it. Cecil and Jericho have met up. They look a little uneasy together, but nevertheless they're together,' and the relationship developed from that point. They came to a truce. They realized individually, they didn't have much of a chance, so they settled their differences and formed an alliance."
On how Jericho reacted when Cecil was killed
Stapelkamp: "Well, that's a very sad few days because, as scientists, we don't like to anthropomorphize, we're trying to not sort of relate animals to human emotions. But I saw it with my own eyes and it was reported for quite a while afterwards, that Jericho was moving up and down that boundary and calling, and not calling confidently, calling in a low-contact call, which is really characteristic of animal that's unsure of itself now, and desperately trying to communicate with its coalition partner or its pride mate. So definitely, he realized that Cecil was missing, and was a shell of his former self for a while whilst he came to terms with this."
"When you can find a story like this, it really does inspire people that, out of the darkest hours, hope always emerges. That's how we close the book."

Craig Hatkoff
On concerns about how other lions would react to Cecil's death
Stapelkamp: "Our fear was that, once Cecil was killed, Jericho would very quickly kill the cubs, so that the females would come into estrus again and he could promote his own genetic legacy. But it never happened. He continued to sort of dominate that area, and recently photographs were published of all seven cubs still very healthy. They're all females. They're almost out of the dangerous situation now because they're reaching sexual maturity themselves, which means they will no longer be seen as a threat, and in fact will start reproducing themselves. So it's been a wonderful story."
On how to translate Cecil's life story into a children's book
Hatkoff: "I think to tell this kind of story, you have to first find an entry point to the story.
Obviously, this story has a sort of beginning, a middle and then an end, with a kind of epilogue. The clan relationship, the Hatfields and McCoys, the Capulets and the Montagues, immediately as soon as I heard about that as Brent was laying out the history, which really wasn't out in the public conversation.
Already we get what's called 'the goosebump test': where's this going? And then to find out about the relationship that evolved between Cecil and Jericho was extraordinary. That was the sort of 'Oh my god' moment. We like to think of stories that have the 'awe principle,' which is awe, wonder and enchantment. And then as we move towards the end to find out what actually happened after, we do not dwell on Cecil's death at all."
On the moral of the story for children
Hatkoff: "What we really try and do is invoke a platform for having lots of different conversations. The real power of it begins after you've read the book, and you have a frame of reference. It allows kids to start attaching meaning and purpose. Purpose is, every kid I've met wants to do something about our endangered species. And the meaning in life is that life is filled with bad things happening, but we have to go on. And so when you can find a story like this, it really does inspire people that, out of the darkest hours, hope always emerges. That's how we close the book."
On coping with Cecil's death
Stapelkamp: "Look, as scientists were supposed to be cold, and distance ourselves from being emotional about our study animals. But to me that's always been a little bit of a tall ask. I've spent literally thousands of hours in the company of lions, individual lions. So no, it hurts, it hurts deep. But I think the shining light is Cecil's legacy. When I reflect on the changes that that individual lion has made for his own species, and I think for I think a global, just to wax lyrical, I think a global awakening of how we view the environment and our relationship with it. To me that's the shining light. I try and dwell on that rather than the physical loss."
More Photos From Hwange National Park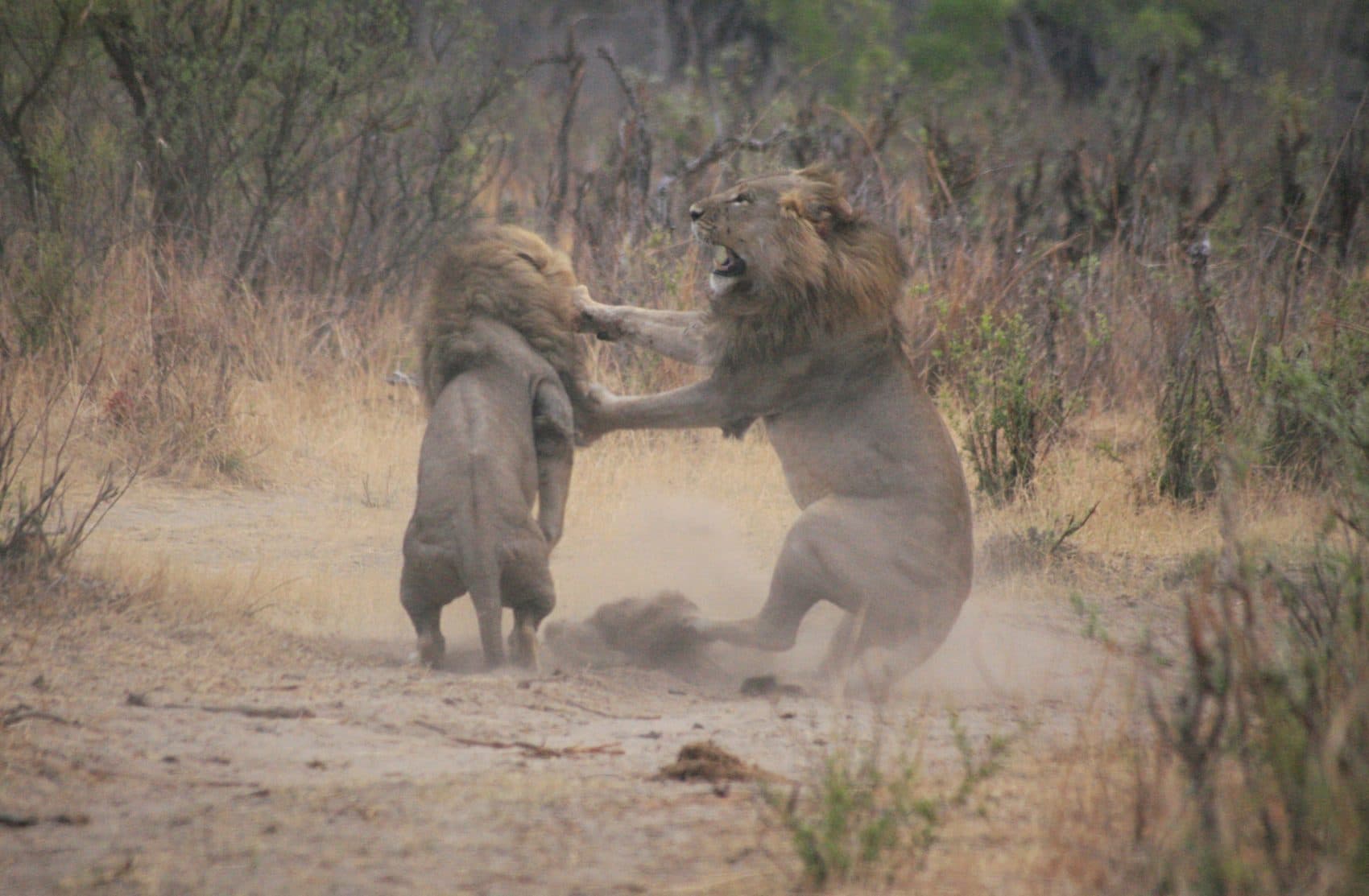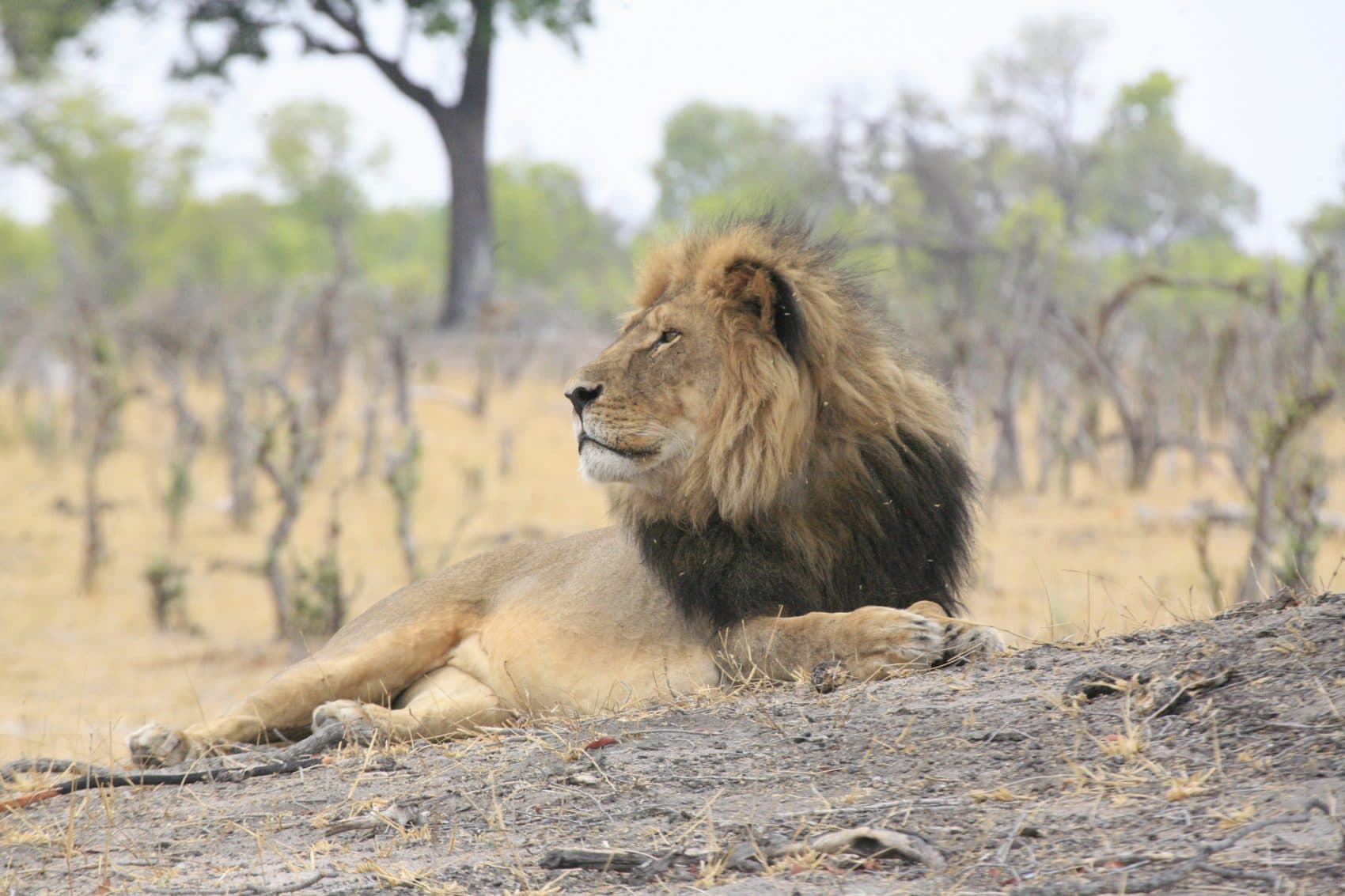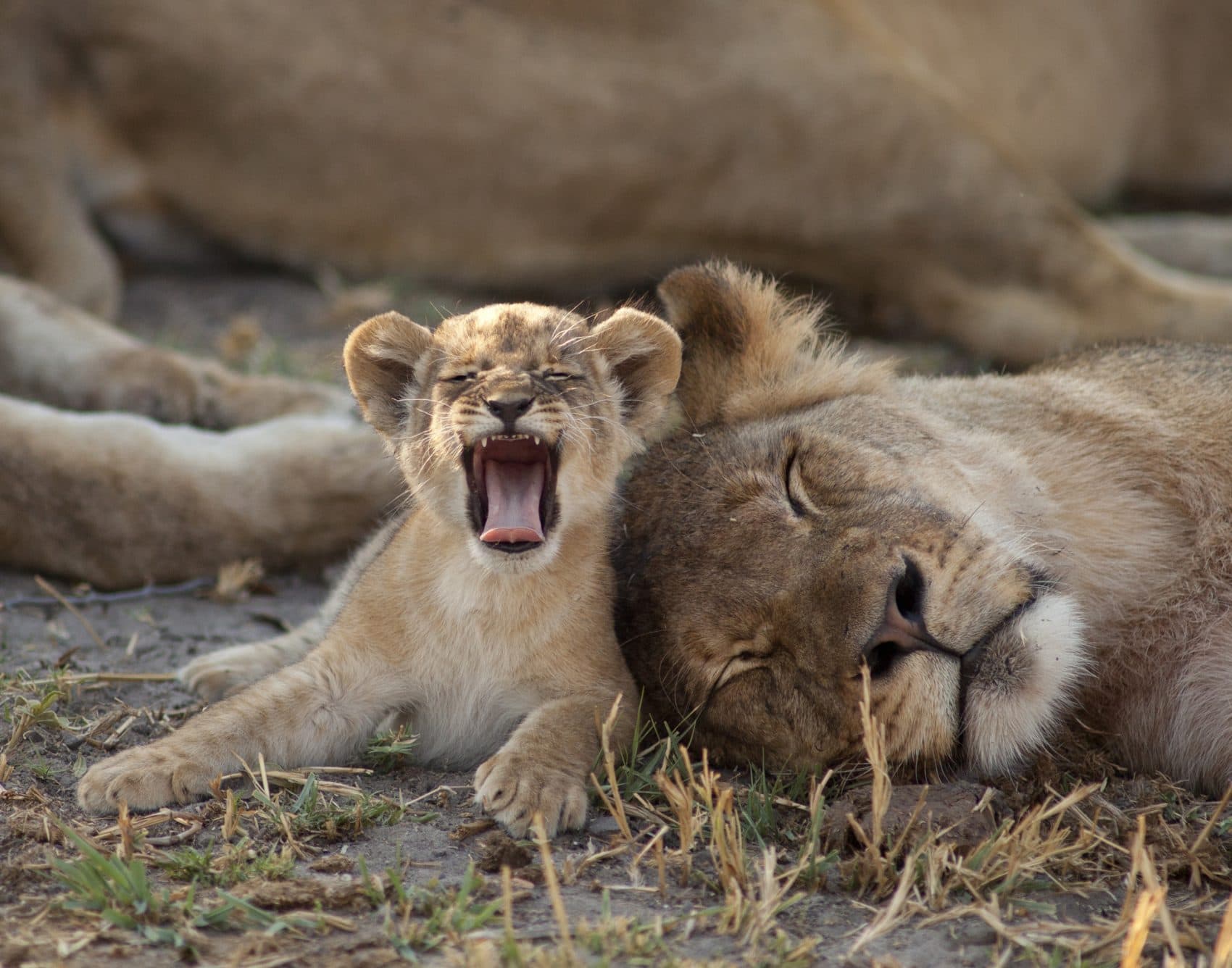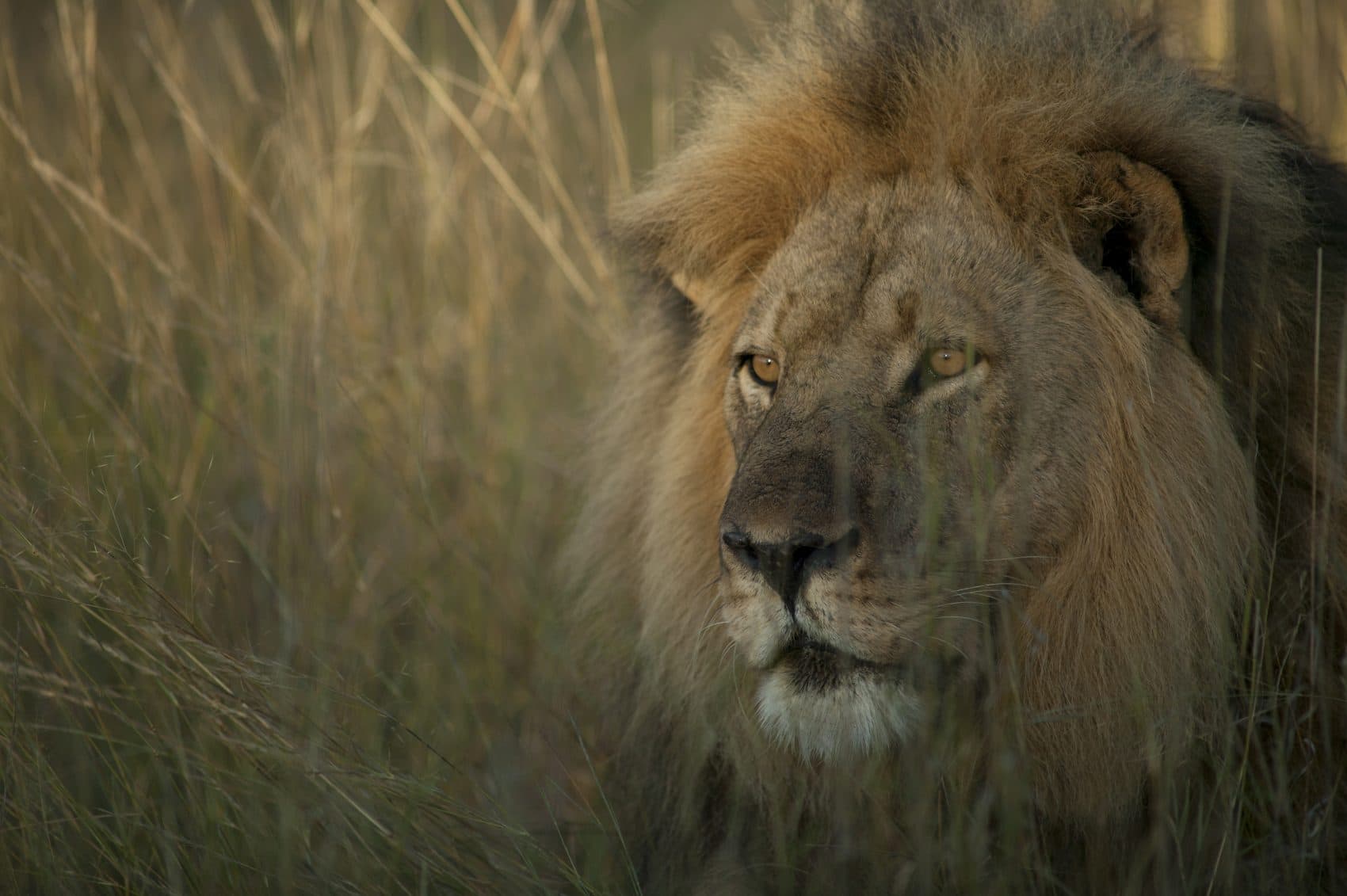 Guests
Craig Hatkoff, co-author of "Cecil's Pride: the True Story of a Lion King." He tweets @chatkoff.
Brent Stapelkamp, photographer who followed Cecil the Lion. He tweets @brentstapelkamp.
This segment aired on June 29, 2016.