The Backlash Over Speaker Paul Ryan's '#Sowhite' Intern Selfie
Play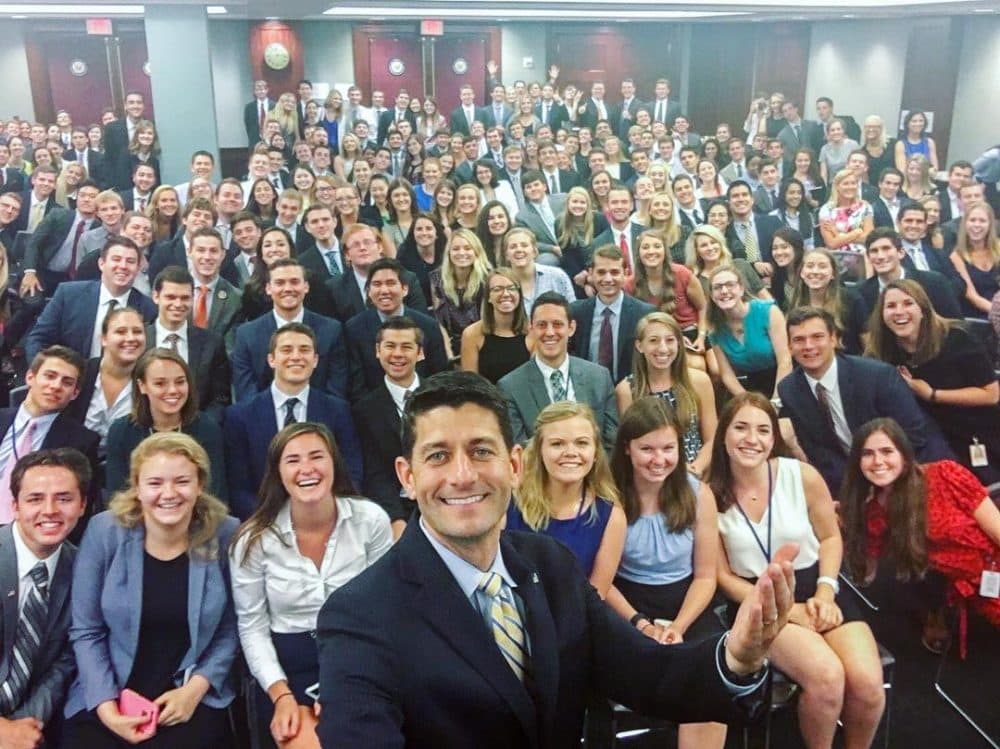 This article is more than 6 years old.
A selfie of House Speaker Paul Ryan with dozens of smiling interns is getting a lot of reaction this week on social media. Many criticize the photo because most of the students in it are white, highlighting a perceived lack of intern diversity in Congress.
Here & Now's Meghna Chakrabarti discusses the issue with Elroy Sailor, Republican strategist and founder of Insight America.
Interview Highlights: Elroy Sailor
On his reaction to the Paul Ryan photo:
"I saw opportunity for our leader, our speaker, the conference and the United States capitol to begin a process of continuing to grow and create new leaders and bring new leaders, young emerging leaders to Capitol Hill."
On why there aren't more diverse interns:
"Meghna, I was an intern in 1988. I was a student at Morehouse College in Atlanta my junior year. I had an opportunity to intern in the Bush White House State Department of Legislative Affairs. Now, I didn't grow up upper income. I grew up closer lower income, and I grew up in a city that was primarily blue collar and primarily Democrat. While I was at Morehouse, I applied for an internship, and was fortunate and blessed to come out to Washington. However, one of the challenges would have been funding, or resources for transportation. Challenge two would have been housing, and challenge three would have been stipend or just the cost of living in Washington, D.C. Most people who are low income or people of color, who may not have as many opportunities as the broader community."
On changing unpaid internships on Capitol Hill:
"I think that's going to continue to be open for discussion in terms of whether or not the U.S. Congress can pay for a comprehensive internship program. However, there are unique organizations, nonprofit organizations that are doing private-public partnerships to ensure that students of color, in particular African-Americans, have great opportunities to come to Washington, D.C., and intern on Capitol Hill."
Guest
Elroy Sailor, Republican strategist and founder of Insight America. He tweets @ElroySailor. The organization tweets @Insight_America.
This segment aired on July 20, 2016.