Eco-Culinary Retreat Off Maine Coast Showcases Creative Ways To Cook Invasive Species
Play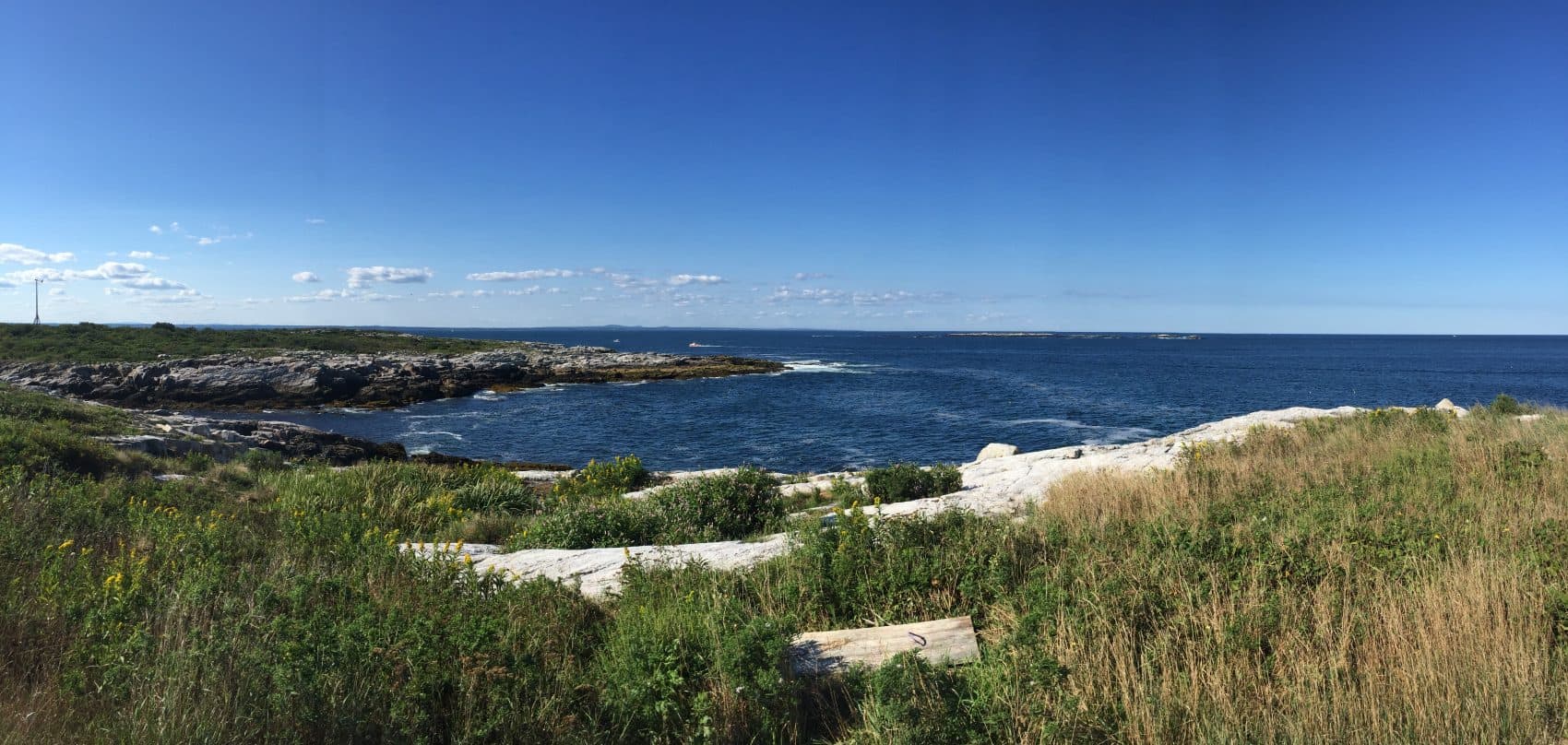 This article is more than 6 years old.
This weekend, chefs and ecologists will gather on Appledore Island for the eco-culinary retreat called "Take a Bite Out of Appledore."
The retreat seeks to showcase the bounties of the island and also demonstrate how invasive species — plants and sea life that are often thought of as pests — can be good eating. Here & Now resident chef Kathy Gunst attended last year's "Take a Bite out of Appledore," and joins Here & Now's Robin Young to talk about what it was like.
See more recipes and cooking segments with Kathy Gunst.
See more photos from last year's "Take a Bite Out of Appledore."
More Photos From Appledore Island









Recipes From Chef Evan Mallett

Lobster And Kelp Tamales
Serves 6.
This wry twist on traditional tamales may take a bit of handwork, but it makes a stunning presentation and tastes great when served piping hot. Unlike most tamales that call for inedible wrappers like corn husk and banana leaf, this one is 100 percent edible.
The lobster-processing procedure used in many professional kitchens may not appeal to some home cooks. Killing a lobster by cutting through the center of its carapace, between the eyes, is the same thing to me as dropping it live into boiling water. The issue is that tail meat and claw meat require different cooking times, similar in some ways to a Thanksgiving turkey whose dark and white meats require (but don't often receive) different cooking times. So if anyone preparing lobster for this recipe doesn't mind the difference in texture (overcooked claw meat can be rubbery), the lobsters can be killed in boiling water and then dismantled.
Filling Ingredients
2 gallons (7.5 L) water
¼ cup plus ½ teaspoon (50 g) salt, divided
Two 1¼- to 1½-pound (570–680 g) lobsters
1 tablespoon olive oil
1 Spanish onion, julienned
1 poblano chile, stem and seed removed, julienned
Lobster Stock Ingredients
2 lobster bodies, lightly pounded with a mallet
¼ cup (60 ml) tomato puree
2 tablespoons dry sherry
1 stalk celery, medium dice
1 small carrot, peeled, medium dice
½ small yellow onion, medium dice
4 cloves garlic, peeled
6 sprigs thyme
Small bunch chervil or tarragon
1 bay leaf
1½ teaspoons black peppercorns
2 Tepin chiles (optional)
Water to cover
For the Masa Dough
2 cups (225 g) masa harina
1 cup (235 ml) lobster stock (preceding recipe)
¼ teaspoon salt
Six 8-inch (20 cm) squares sugar kelp
Make the filling: Fill a medium-sized stockpot with the water and ¼ cup (40 g) of the salt; bring to a boil. In the meantime, separate the tails, crusher claws, and pincher claws from the lobsters. Put the tails in one deep bowl, the crusher claws in a second bowl, and the pincher claws and knuckles in a third bowl. Pour the boiling water over the lobster parts until they're fully submerged, and cover each bowl with plastic wrap. Cook the tails 7 minutes, the pinchers and knuckles 10 minutes, and the crackers 13 minutes. Remove the parts carefully from the water and set aside in a large bowl until cool. When they're cool enough to handle, clean the meat out of the shells, chop coarsely, and set aside.
Combine the olive oil, onion, poblano pepper, and remaining ½ teaspoon salt in a 10-inch (25 cm) pan over medium-low heat. Sweat until soft, about 10 minutes, and set aside.
Make the stock: Sear the two lobster bodies in a deep, dry, nonreactive pot over medium-high heat until you begin to smell toasting shells. Add the tomato puree and toast for about 3 minutes. Deglaze the pan with the sherry, scraping the browned bits with a wooden spoon. Add the next nine ingredients, ending with the chiles (if you're using them). Add enough water to almost fully submerge the bodies, bring to just under a boil, reduce the heat to low, and simmer 30 minutes. Strain into a container and allow the stock to cool slightly. This will be the stock used to make the tamales.
Assemble the tamales: Combine the masa harina, lobster stock, and salt in a large mixing bowl and mix with your hands to combine.
Lay the squares of sea kelp out on a board or table and fill each with one-sixth of the masa mixture, shaping and flattening it into a rectangle, leaving ½ inch (1 cm) of space on the top and bottom and 2½ inches (6 cm) on each side. Fill each tamal with one-sixth of the onion mixture and one-sixth of the lobster mixture. Starting with one side, roll the kelp like a burrito, tucking in the top and bottom as you go. Repeat with the remaining five tamales.
Pour 2 inches (5 cm) water in the bottom of a large pot and fit it with a steamer basket. When the water comes to a boil, transfer the tamales, seam side down, to the steamer basket, stacked tightly so the steam will still get through but they won't unfurl. Cover and steam 10 minutes, until cooked through. Halve the tamales on the diagonal and serve in the kelp shell.

Asian Seaweed Salad
Serves 8 to 10.
I served this as part of a lobster bake at the first Take a Bite Out of Appledore event on the Isles of Shoals.
All these seaweeds thrive in coastal waters throughout the Gulf of Maine. If you don't want to take the time to snorkel for your dinner, these sea veggies can be bought dried, boiled until tender, and chopped into very thin strips. If you're working with fresh seaweed, be sure to rinse it well and pick through it for any unwanted visitors to your salad.
The fish sauce, rice vinegar and togarashi can be sourced online (may I suggest stockandspice.com?) or at Asian markets. Togarashi is a flavor-packed (and relatively salubrious) Japanese seafood seasoning made from dried seaweed, sesame, and spices. Making the conversion from fresh to dried seaweed is not a perfect science, but in most cases a ratio of 10 to 1 applies.
2-foot length of sugar kelp (about 100 g), chiffonaded
1 cup (85 g) fresh alaria, chiffonaded
1 cup (85 g) fresh dulse
½ cup (40 g) fresh sea lettuce (Ulva lactuca)
2 large carrots
½ head napa cabbage
6 leaves lacinato kale, rolled and chiffonaded
1 red onion, julienned
2 jalapeños, ribs removed, julienned
2 scallions, sliced thinly on deep bias
1 thumb gingerroot, peeled and minced
3 tablespoons toasted sesame oil
½ cup (120 ml) rice vinegar
2 tablespoons agave nectar (or honey)
Juice of 1 lime
Juice of 1 orange
½ teaspoon fish sauce
Salt and pepper to taste
Togarashi
Chop the leaves of all the seaweeds except the sea lettuce into very thin strands. One at a time, dip each seaweed variety in boiling water for about 15 seconds. Remove to an ice bath and repeat until all the seaweed is blanched. Run the carrot and the cabbage through the finest blade on a Japanese mandoline, or — using a very sharp knife — slice into the thinnest possible ribbons. Combine all the vegetables in a large mixing bowl.
In another mixing bowl, whisk together the ginger, oil, vinegar, nectar, citrus juices, fish sauce, and salt and pepper. Pour the dressing over the vegetables and toss to combine. Portion the salad and serve with a sprinkle of togarashi on top.
These recipes are from Evan Mallett's forthcoming book Black Trumpet and are printed with permission from Chelsea Green Publishing.
Guest
Kathy Gunst, resident chef for Here & Now and author of the upcoming book "Soup Swap." She is also the author of "Notes from a Maine Kitchen" and the video series "Simple Soups from Scratch." She tweets @mainecook and is on Instagram @kathygunst.
This segment aired on September 5, 2016.