Divorce Is Down Among Younger People, Up Among Baby Boomers
Play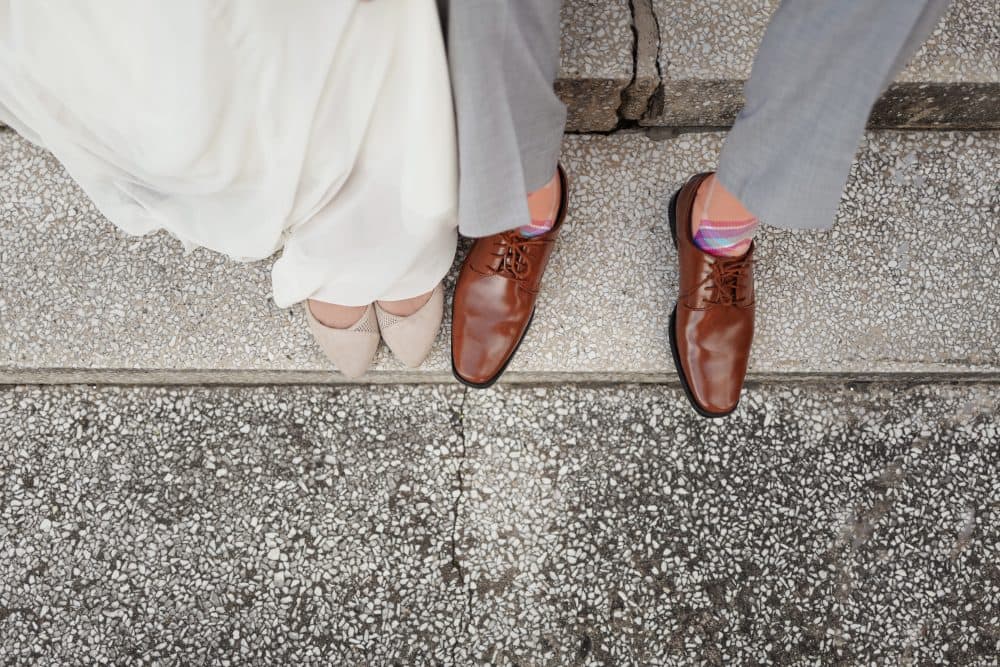 This article is more than 6 years old.
When Angelina Jolie filed for divorce from Brad Pitt this week, it made headlines around the globe.
The superstar celebrities have been married for just two years, though they've been together for more than a decade and have six kids.
Where does their divorce fit into the bigger picture of divorce in the United States today?
Here & Now's Jeremy Hobson talks with Susan Brown from Bowling Green State University about divorce trends in the U.S., and the often-cited statistic that half of marriages end in divorce.
Interview Highlights: Susan Brown
On whether half of marriages still end in divorce
"I think that statistic remains pretty accurate. But one thing is that it obscures important variation in divorce by age. So we're seeing two different patterns for younger and older people these days in terms of divorce. For younger people, their risk of divorces has actually dropped over the past 20 years. Whereas for older adults, we've seen a doubling of the divorce rate, and we call this the 'gray divorce revolution.'
There are a number of different factors that have led to the rise in gray divorce. Certainly, one of them is that many of the people who are experiencing divorce in their 50s and 60s are the baby boomers, who experiences the first divorce revolution back in the 1970s and the early 1980s and many of them went on to form remarriages and we know that remarriages are more likely to end in divorce than first marriages are.
Another factor is that older women and younger women these days are more likely to be working, and so they have the financial independence to call it quits if they're not happy with their relationships anymore. So I wouldn't say that older adults who are married these days are any less happy than their preceding generations were, but rather women in particular have the financial security and autonomy to seek a divorce if they're dissatisfied."
On the relationship between income and marriage
"We're seeing that marriage today is a lot more selective than it was in the past. As fewer people are marrying, it is increasingly those who are the most advantaged in terms of education, financial security, [and] wealth, choosing to tie the knot. And that helps in terms of marital stability. Those couples are less likely to get divorced, but that's in part of because they've already been in a very strong position before they even got married. That was a prerequisite for marriage today that wasn't there 20 years ago.
What's interesting though, in particular for young people, the bar to getting married is so high that many can never surmount it. So those who are in more precarious financial situations may want to get married but they don't feel like they can really afford to. So what we are seeing is, that is those who are the most advantaged in the first place are tying the knot as young adults."
On why people don't talk about divorce
"I think it goes to that notion of what a stressful life event it is. Nobody can be adequately prepared for it. We're definitely the marrying kind in the United States, we're eternal optimists — nearly everybody wants to get married. The vast majority of people do marry and most people who get divorced go back and try again with their remarriage. So we definitely have a strong affinity towards marriage, and are hoping that we're not going to be in that one-in-two statistic of marriages ending in divorce. But then when it happens, that's a very different reality. And understanding how to adjust and navigate to that can be a real challenge for people."
Guest
Susan Brown, professor of sociology at Bowling Green State University and co-director of the university's National Center for Family and Marriage Research. She tweets @Brownsl_BGSU.
This article was originally published on September 23, 2016.
This segment aired on September 23, 2016.