Chuck Hagel, Former Defense Secretary And GOP Senator, On ISIS And The Election
Play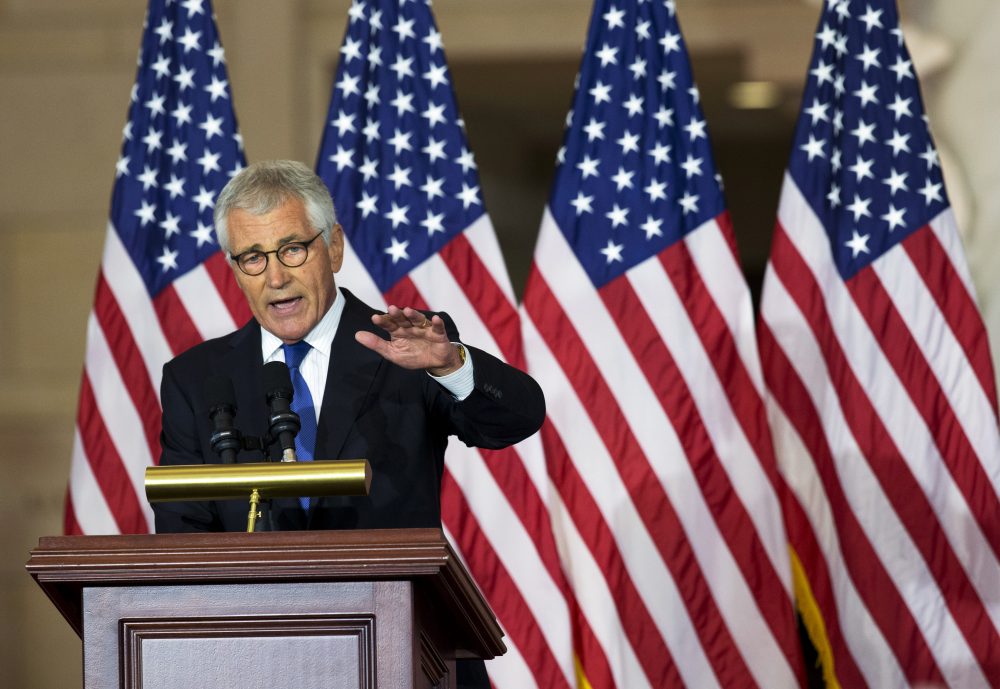 This article is more than 6 years old.
Chuck Hagel is a Republican and a former senator from Nebraska who served under President Obama as his secretary of defense. He's also a decorated Vietnam veteran and the only enlisted combat veteran to serve as secretary of defense.
Today, he's a visiting fellow at Harvard's Institute of Politics, and he speaks with Here & Now's Jeremy Hobson about the fight against ISIS and the presidential race.
Interview Highlights: Chuck Hagel
On being an undecided voter
"Well, I'm not sure that's unusual. Just because I had been in politics and in a cabinet doesn't mean that I don't carefully listen and analyze and assess things because I do. I have never been just an automatic vote for the Republican Party ... but I think a citizen has a responsibility to make the best judgement he or she can based on what he or she thinks is the right thing for the country — I did that in the Senate, I've done that my entire career. I don't think that's any different from casting a vote, at least that's a way I look at it."
On the Republican Party and its future
"Unfortunately I'm not sure what the Republican Party is, or what it stands for, or what the governing philosophy of the Republican Party is. It's not the Republican Party I started in many, many years ago. I think it's today an amalgamation of tribes and the Republican Party is going to have to come to some new center gravity in what it is, in what it believes, in at least their governing philosophy. ... It's an amalgamation of different groups with no clear leader in the party itself. The parties have to be bigger than that. ... And I'm still a Republican, and I'm not going to walk away from the Republican Party, but the Republican Party needs to get itself put back together and be relevant again."
On the divisiveness in the country
"I think that's the most immediate and biggest challenge that the next president's going to have, as to how do you bring this country back together to responsibly govern, how do you lead a government that is functioning and that's functional? That's going to be difficult because of the bitterness and hatred ... that all has been spilled out of both campaigns all year long. You don't just fix that on Nov. 9 or Jan. 20 ... This is at a time when I think America and certainly the next president is going to be faced with an agenda of immensely complicated and combustible and interconnected problems, not just in the United States, but in the world. So this is going to be a tall order, but the next president is going to have to do that. And I think that's gotta be a first priority for this next president — reaching out to the Congress, reaching out to both parties, reaching out to our allies around the world. I think reaching out to President Putin and others."
On ISIS and the Middle East
"The real issue is not whether Mosul could be retaken — it'll be retaken — it's what happens afterwards. And that's the whole set of questions we did not ask ourselves before we invaded Iraq in 2003 — who governs, who's legitimate to govern, how will the new governing coalitions be established, how are you going to rebuild a country? ... These are the bigger issues, I think, and then it isn't just one country — we can't ask just a question about Iraq. This is a regional issue — it's Syria, it's Iraq, it's Libya, it's Yemen. Lebanon has just announced it's going to have a new president, which is different from what we've seen before, which gives the Iranians more influence in Lebanon and Saudis less. This is regional, and we've gotta come at it on a regional basis."
On Obama's "Red Line" in Syria
"But what it tells us is, and it's a lesson for any president — when a president makes a statement like that to the world, he raises the hope of people in those areas. And you gotta remember, it isn't just our allies, and the people in that area listening carefully. Our adversaries are listening carefully as well. But when you make a statement like that, you better do something to follow through on that because it will affect your credibility and your trust and that's the coin of the realm in everything, in all relationships and certainly in foreign policy."
Guest
Chuck Hagel, former secretary of defense and former Republican senator from Nebraska.
This segment aired on November 2, 2016.