Election Night Eats With Resident Chef Kathy Gunst
05:53
Play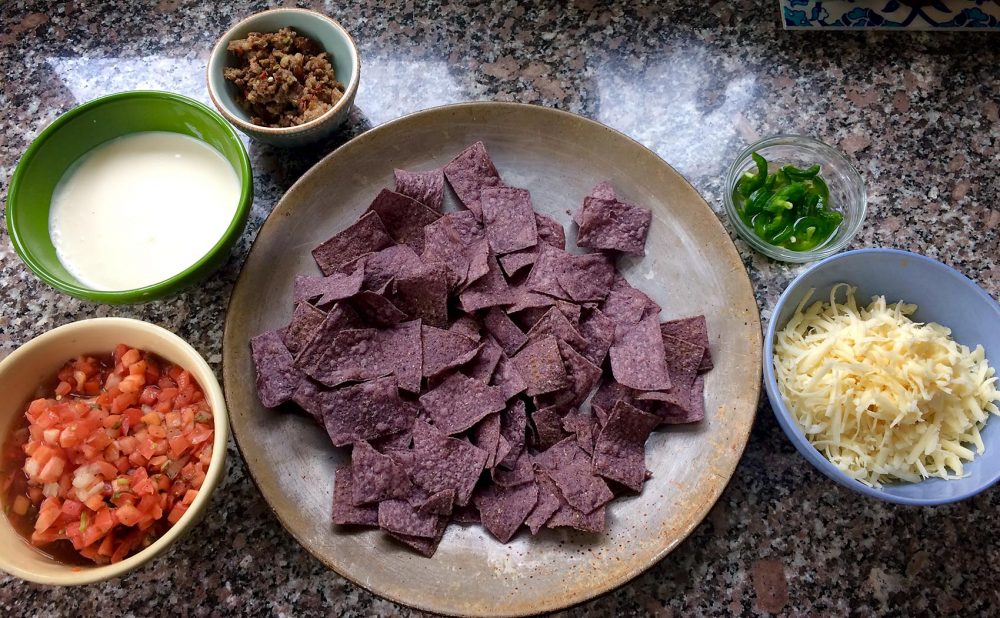 This article is more than 3 years old.
Are you gathering with friends to watch election returns tomorrow night?
Here & Now resident chef Kathy Gunst brings Here & Now's Jeremy Hobson some possible menu items: nachos that can be tailored to the tastes of Hilary Clinton and/or Donald Trump, a comforting turkey pot pie and a rum cake that's the perfect Election Night "tranquilizer."
Kathy's Election Night Recipes
Election Night Nachos: Two Ways, Hillary And Donald
Nachos are the ultimate snack food — perfect for watching the election results. Half the nachos are topped with pickled jalapeño peppers, a nod to Hillary Clinton and her love of spicy chile peppers. The other half nods at Donald Trump and his love of "overcooked steak."
I use ground steak and cook it until it's almost burnt. Half the nachos are topped with the chile peppers, and half with the golden-brown ground meat. Top with sour cream and salsa on top of blue corn chips — red, white and blue — and you've got yourself an Election Night nacho platter. Feel free to double or triple depending on the crowd and how things are going.
Ingredients
1 teaspoon vegetable oil
1/3 pound ground steak (or any ground meat)
Salt and freshly ground black pepper
1 jalapeño or your favorite chile pepper, cut in half with most of the seeds removed, and cut into thin slices, or 3 tablespoons canned pickled chile peppers
1/4 cup cider or white wine vinegar
One 8-ounce bag blue tortilla chips
4 ounces grated sharp cheddar
1/2 cup sour cream
1 cup salsa
Instructions
In a medium skillet, heat the oil over moderately high heat. Add the ground beef and cook, stirring frequently, until cooked through and almost starting to burn. Or just cook it through. Season with salt and pepper. Drain on paper towel and set aside.
In a small bowl mix the jalapeño slices and the vinegar with a pinch of salt. Stir well to make sure the peppers are submerged in the vinegar. Let sit 15 minutes or up to 24 hours. Or use canned pickled chile peppers.
Make the nachos: preheat the broiler.
Spread the chips out on a large baking sheet or two baking sheets, making sure they don't overlap. Sprinkle on the cheese and spread the cooked beef over half the chips. Drain the jalapeño slices and add to the other half of the chips. Place under the broiler and broil for about 2 to 3 minutes, or until the cheese is melted and bubbling.
Remove and scatter the sour cream and salsa on top, distributing it evenly over the chips. Serve immediately.
All-American Turkey Shepherd's Pie With Sharp American Cheddar Mashed Potato Topping
When the election leaves you feeling anxious — and honestly, who hasn't felt this these past few months? — this is comfort food in the extreme. Ground turkey, the all-American bird, is mixed with carrots, peas and onions in a herb-flecked sauce and topped with a crown of cheddar cheese mashed potatoes.
Make the pie ahead of time, up to a full day, cover and refrigerate. On Election Night you can simply heat the oven and bake the pie for about 20 minutes, leaving plenty of time to worry about the fate of the nation.
Mashed Potato Ingredients
2 pounds potatoes, preferably Yukon Gold, about 4 medium potatoes, peeled and cut into 2-inch pieces
1 cup milk
1/2 cup heavy cream
2 tablespoons butter
Salt and freshly ground black pepper
1/2 packed cup grated sharp American cheddar cheese
Turkey And Vegetable Filling Ingredients
2 tablespoons olive or vegetable oil
1 pound ground American turkey
Salt and freshly ground black pepper
1 tablespoon tomato paste, ketchup or harissa*
1 teaspoon butter
1 cup chopped onions
1 cup chopped carrots
1 1/2 tablespoons fresh rosemary, chopped, or 1 teaspoon dried and crumbled
8 ounces frozen peas
1/2 cup chopped fresh parsley
2 tablespoons flour
2 cups chicken broth
1/2 packed cup grated American sharp cheddar
Sweet paprika
*Harissa is a Moroccan hot chile pepper paste with roasted red peppers, garlic and herbs. It adds a great spicy flavor.
Instructions
Make the potatoes: Bring a pot of lightly salted water to boil. Add the potatoes, reduce the heat, cover and cook about 20 minutes, or until the potatoes are tender and almost falling apart. Drain well. Mash the potatoes or place them through a ricer. Set aside.
In a medium pot heat the milk, cream and butter until gently simmering. Add the drained potatoes, salt and pepper and cook about 4 minutes, stirring until the liquids are mostly absorbed by the potatoes. Add the grated cheese and taste for seasoning. Set aside.
Make the filling: in a large skillet heat 1 tablespoon of the oil over moderately high heat. Add the turkey, salt, and pepper and cook, stirring for about 8 minutes, or until there are no signs of pink meat. Add the tomato paste, ketchup, or harissa and cook another 2 minutes, stirring well. Drain on paper towels and set aside.
In another large skillet, heat the remaining tablespoon of oil and the butter over low heat. Add the onions and cook, stirring occasionally, for 5 minutes. Add the carrots and cook 3 minutes. Add the rosemary, peas and parsley and cook, stirring 2 minutes. Sprinkle in the flour, mixing it into the mixture, and cook another 2 minutes. Raise the heat to high. Add the chicken stock and, stirring, bring to a boil. Reduce the heat to low and add the cooked turkey, stirring to make sure everything is well distributed. Simmer for 6 minutes. Taste for seasoning.
You can bake the pie in the large skillet or transfer and divide the mixture and all the juices into four 1 1/2 cup ramekins. Top with the mashed potatoes, dividing well and press down gently. Sprinkle the cheddar cheese and paprika on top. The dish can be made ahead of time, up to a full day, covered and refrigerated.
Preheat the oven to 400 degrees. Cover the pie with foil. Bake for about 20 minutes or until bubbling hot and the cheese is almost melted. Remove the foil and bake an additional 10 minutes. You can place the pie under the broiler for a minute or two to give it a good golden brown color. Serves 4.
Mami's Rum Cake
This rum-drenched cake is the perfect "tranquilizer" for Election Night.
It comes from food writer and radio producer Von Diaz. Von grew up in Atlanta, and spent summers with her grandmother in Puerto Rico. She says she makes this cake for special occasions "because it's a simple, classic dessert that brings together the flavors of my homeland — rum and vanilla — as well as those of my Southern home with butter and brown sugar."
The rum glaze needs to settle into the cake for at least three hours or overnight, so plan your time accordingly.
Cake Ingredients
Canola oil spray
1 cup finely chopped walnuts
2 cups flour
1 cup sugar
One 3/4 ounce package vanilla pudding mix
1 stick unsalted butter, cut into small pieces
2 teaspoons baking powder
1 teaspoon salt
1/2 cup coconut oil
1/2 cup milk
4 large eggs
1/2 cup white rum
2 teaspoons vanilla extract
Rum Syrup Ingredients
1 stick unsalted butter
1/2 cup white rum
1/2 cup light brown sugar
1/4 cup water
1/2 teaspoon vanilla
Instructions
Preheat oven to 325°F. Grease a bundt pan, and sprinkle in chopped walnuts.
In a stander mixer with the paddle attachment, or using a large bowl and hand held mixer, combine flour, sugar, vanilla pudding, butter, baking powder, and salt. Mix on medium speed for 2 minutes.
Add milk, eggs, and coconut oil to the mixture and blend on low speed for 2 more minutes. Pour in the rum and vanilla and blend one more minute.
Pour the batter into the prepared bundt pan and spread level with a spatula. Bake for 50 to 60 minutes, or until a pale golden color and slightly risen. Using a toothpick or cake skewer, poke a small hole into the center of the cake to determine if it's done (skewer should come out clean). Remove from the oven and place on a wire rack to cool slightly.
Meanwhile, make the rum glaze: place all the glaze ingredients in a small saucepan and bring to a boil over high heat. Reduce the heat and simmer for 5 to 7 minutes, making sure the sugar is fully dissolved. The glaze will only thicken slightly.
While the cake is still warm, poke holes throughout the cake using the same toothpick or skewer you used to test. Pour the hot glaze on top; don't worry if the cake doesn't absorb the glaze immediately. It takes at a least ten minutes for the glaze to be absorbed.
Cover the pan with aluminum foil and allow to soak overnight, or for at least three hours. When ready, invert onto a plate. Serves 6 to 10.
Guest
Kathy Gunst, resident chef for Here & Now and author of the book "Soup Swap." She is also the author of "Notes from a Maine Kitchen" and the video series "Simple Soups from Scratch." She tweets @mainecook and is on Instagram @kathygunst. There's more information about book signings, classes and lectures at her Facebook page.
This segment aired on November 7, 2016.