4 Thanksgiving Side Dishes From Across The U.S.
07:51
Play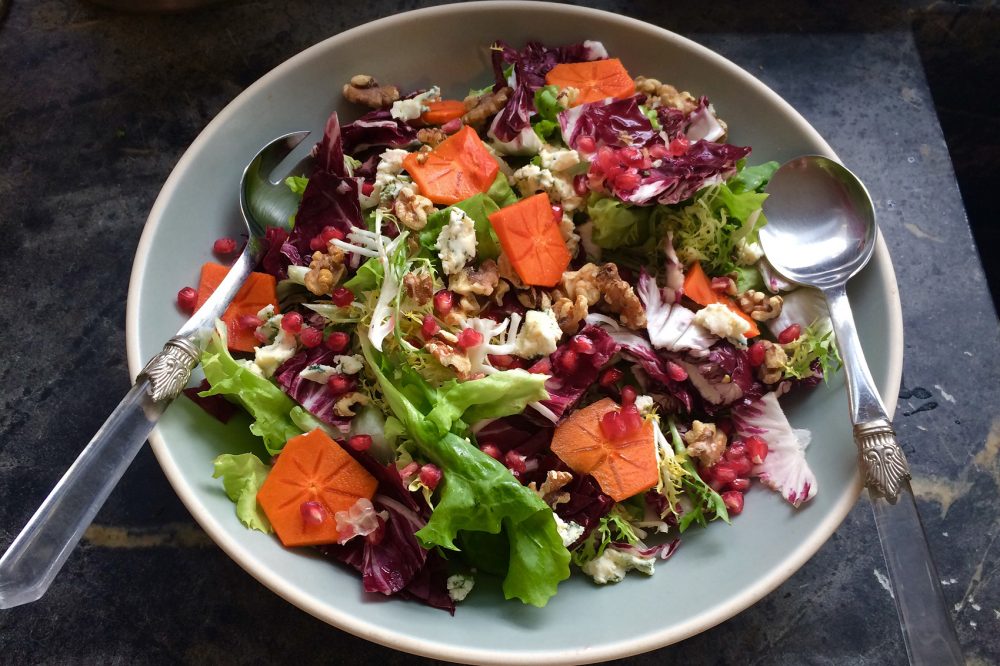 This article is more than 5 years old.
Here & Now resident chef Kathy Gunst asked three of her food friends what side dishes they like to serve at Thanksgiving.
She brings Here & Now's Robin Young a chicory salad from Northern California, a Midwestern warm potato salad and Southern candied yams. Kathy also shares a tradition her Maine family loves: cranberry sauce with ginger, pineapple, orange and pecans.
Is there a Thanksgiving side dish that's unique to where you live? Tell us about it on our Facebook page, or in the comments below.
Chicory Salad With Walnuts, Blue Cheese, Persimmons And Pomegranates
By Jessica Battilana
I never had a persimmon until I moved to Northern California 12 years ago. There are two varieties, fuyu and hachiya; both come into season in the fall, along with pomegranates. Hachiya are too astringent to eat unless they're completely mushy, and thus are usually used for baking, but fuyu are sweet even when slightly firm, so you can slice them and add them to a salad.
Salad became part of our Thanksgiving feast shortly after moving to California. Though hardly traditional, this salad, made with bitter chicories, offset by the sweetness of persimmons and pomegranate seeds, enriched by nuts and salty blue cheese, is both beautiful and a welcome antidote to the mushy, rich vegetables usually served on Thanksgiving. Serves 6.
Dressing Ingredients
2 teaspoons grainy mustard
3 tablespoons red wine vinegar
Kosher salt and freshly ground black pepper
1/4 cup extra-virgin olive oil or 2 tablespoons olive oil and 2 tablespoons walnut oil
8 cups mixed chicories (I used half a head of radicchio, a small head of frisee and half a head of escarole, but any mixture is fine), torn into large pieces and the radicchio cored and thickly sliced
2 fuyu permissions, stemmed and cut into thin wedges
1/3 crumbled blue cheese, such as Gorgonzola
1/2 cup walnuts, toasted*
Seeds from 1 small pomegranate
*To toast walnuts, spread on cookie sheet and bake at 350 degrees for about 10 minutes — or until the kitchen smells nutty.
Instructions
Make the dressing: In a small bowl whisk together the mustard and red wine vinegar with a pinch of salt and pepper. Gradually whisk in the olive oil and walnut oil until the dressing is emulsified. Taste for seasoning. Can be made 1 to 2 days ahead of time; cover and refrigerate until ready to use.
In a large salad bowl combine the chicories, persimmons, blue cheese, walnuts and pomegranate seeds. Pour 3/4 of the dressing over and toss gently with your hands to coat. Add the remaining dressing if necessary. Season the salad with salt and serve.
Jessica Battilana is a San Francisco-based food writer. Her first solo cookbook, "Repertoire," will be published by Little, Brown in fall 2017.
Edna Frillmann's Warm Midwestern Potato Salad With Bacon
Edna Frillmann is the mother of my dear friend, WNYC radio editor and producer Karen Frillmann.
Edna grew up in a parsonage near Forestville, Michigan. She originally got this recipe from her mother-in-law Laura Frillmann, of Melrose Park, Illinois. This warm potato dish, seasoned with vinegar, sugar, bacon and bacon fat, was "a constant in my childhood," Frillmann recalls.
"I remember my mother was always asked to bring this dish to pot luck dinners at our church in Queens, New York. Our German-ness was synonymous with being Lutheran. My parents' lives, especially my mother's, centered around the church calendar. She was a minister's daughter and then she married my father who was a minister of education in the Missouri synod Lutheran church. She would put this in her Corning Ware dish and it would sit proudly among the jello molds and casseroles."
Ingredients
4 to 5 medium white potatoes, about 1 1/2 pounds, peeled and left whole
4 slices thick-cut bacon
1 medium onion (1/2 cup), chopped
1 tablespoon sugar
1/2 teaspoon salt
Dash of ground black pepper
1/2 cup water
1/4 cup white or cider vinegar
Instructions
Place the potatoes in medium pot and cover with boiling water. Place over moderate heat, cover and boil potatoes, about 25 to 30 minutes, or until almost completely tender but still holding its shape. Drain well. Let stand until cool enough to handle. Slice potatoes into 1/4 inch-thick slices.
Meanwhile, fry the bacon in large skillet until crisp. Remove bacon to paper towel retaining the bacon fat in the skillet.
Cook onion in bacon fat over medium heat until tender, about 5 to 8 minutes, stirring occasionally. Stir in sugar, salt and pepper. Reduce the heat to low and cook until mixture is bubbly, about 2 minutes. Add water and vinegar to skillet with the onion mixture. Heat to boiling. Keep stirring and watch carefully. Boil and stir about 1 minute.
Remove from heat. Add the warm sliced potatoes. Break bacon up and sprinkle on top. Stir and make sure potatoes are all coated. Taste for seasoning. Serve warm. Serves 4 to 6.
Nancie McDermott's Southern Candied Yams
By Nancie McDermott
In my part of North Carolina, we call this traditional dish "candied yams," even though everybody knows that it is made entirely from sweet potatoes rather than with yams. It's the only time we use the term "yams," and nobody seems to get mixed up about it.
While sweet potatoes have a presence on the Thanksgiving table nationwide, North Carolina residents consider it a point of statewide pride, as we are the largest sweet potato producer in the country, year after year. Sweet potatoes have been North Carolina's official state vegetable since 1995.
This traditional sweet potato dish is a two-step cooking process. Step one is to boil the sweet potatoes whole in their jackets, until they are about halfway done. Less done is fine, better in fact — all you want is to be able to slice them easily for layering in the casserole dish.
Step two is to peel and slice them into 1/2 inch rounds, layer them with butter and sugar, and bake until they sweeten up and turn gorgeous autumn orange. These are plain and simple, and unabashedly, unashamedly sweet.
This dish predates the casseroles of cooked, mashed sweet potatoes, which are sweetened, spiced, studded with nuts and raisins, and crowned with mini-marshmallows. My grandmother didn't bother with any of that. She made this simple, sweet potato creation every Thanksgiving, and while it was surrounded by acres of casseroles, bowls of vegetables, hot breads, gravy, relishes and more, I always got my eyes on it and had seconds, biding my time until dessert.
People may want to cut back on the sugar, or use another form of sweetening, such as sorghum, maple syrup, cane syrup, brown sugar or palm sugar. You could ramp things up with orange juice, orange zest, nuts, raisins, cinnamon and nutmeg, fresh or dried ginger, dried red chili flakes or hot sauce. Serves 10 to 12, as part of a big, celebration meal.
Ingredients
4 pounds whole sweet potatoes (about 8 medium-sized sweet potatoes)
About 1 to 1 1/4 cups granulated sugar
1/2 cup butter, salted or unsalted (1 stick; 4 ounces; 4 tablespoons), plus additional butter for greasing the baking pan
1 1/2 teaspoons salt
Instructions
Wash the sweet potatoes and place them in a large stockpot or Dutch oven. (Divide them among several saucepans if you don't have one pan large enough to hold them all.) Add water to cover by 1 inch. Place over high heat and bring to a rolling boil. Then adjust the heat to maintain a lively, visible simmer. Cook 10 to 15 minutes, checking often, to see when they are about half-cooked, still very firm in the center. Remove, drain, and set aside to cool.
Prepare a 13 x 9 inch baking pan by greasing it well, bottom and sides, using about 1 tablespoon of butter. Cut the remaining butter into small pieces. Roughly divide the butter into three portions, to help you distribute it evenly as you layer the sweet potatoes into the dish. Preheat the oven to 400 degrees.
When the sweet potatoes are cool enough to handle, trim away the ends and then peel them. Cut away any dark spots and remove any fibers. Slice each sweet potato crosswise into ½ inch thick rounds. Line the bottom of the buttered baking pan with a single layer of sweet potatoes.
Place a third of the butter pieces on the first layer of sweet potatoes. Scoop out about one third of the sugar, and scatter it generously and evenly over the sweet potatoes. Sprinkle with 1/3 of the salt.
Repeat twice, making a second layer of sweet potatoes, dabbing with butter and sprinkling with sugar and salt, and then a third layer.
Place the pan in the center of the 400 degree oven, and bake until the sweet potatoes are tender and until the butter and sugar melt into a syrup, which bubbles up around the sides of the dish as it bakes, 45 to 60 minutes. The sweet potatoes will brighten in color and may brown and crisp up around the edges on the top layer. The sugar and butter will dissolve and melt together into a syrup bubbling up around the edges of the pan.
Remove from the oven and set aside, covered to preserve its heat. Serve hot or warm.
Nancie McDermott is a food writer based in Chapel Hill, North Carolina. She is the author of "Southern Soups & Stews" and the upcoming book "Fruit: a Savor the South Cookbook," to be published by UNC Press in spring 2017.
Kathy Gunst's Cranberry Sauce With Ginger, Pineapple, Orange And Pecans
Grown in eastern Massachusetts, cranberries are a uniquely American food.
The pilgrims ate them their first winter here, and they got their name because of their resemblance to a sand crane's profile --"crane berry." First farmed commercially in Dennis, Massachusetts, in 1816, cranberries are loaded with vitamin C and antioxidants. They are first harvested in late September and can be found fresh through early November. Cranberries can be frozen, directly in the bag, for up to six to eight months.
The classic accompaniment to Thanksgiving turkey also doubles as a sweet sauce for ice cream, pound cake, angel food cake or cookies. Try spreading this sweet sauce on your morning muffin or toast, or on top of pancakes and waffles.
The sauce is also the key ingredient in the ultimate sandwich: thick slices of white or wheat toast spread with a good spoonful of this sauce, slices of leftover turkey, leftover holiday stuffing and several leaves of crisp lettuce. Makes about 8 cups.
Ingredients
2 cups sugar
4 cups water
7 cups (24 ounces) fresh cranberries
1 cup orange juice, preferably fresh-squeezed
6 tablespoons julienned orange zest
1/3 cup pure maple syrup
3 tablespoons finely chopped fresh ginger
1 medium-size pineapple, peeled, cored and diced
1 1/2 cups chopped pecans
Instructions
Mix the sugar and water in a large saucepan and bring to a boil over high heat. Boil for 5 minutes.
Reduce the heat to medium and simmer for about 10 minutes, or until the sugar syrup is somewhat reduced and turns a pale vanilla color.
Add the cranberries and simmer until they begin to pop, about 5 minutes.
Add the orange juice, orange zest, maple syrup, ginger and pineapple and simmer over medium heat for about 15 minutes, or until the sauce is somewhat thickened.
If the sauce still seems thin, reduce it over medium heat for another 10 minutes. It will thicken when you add the nuts and the sauce cools, but this is not a super-thick sauce.
Remove from the heat and cool about 10 minutes. Stir in the nuts and let cool to room temperature. Store in a clean glass jar in the refrigerator for up to 10 days, or freeze for up to six months.
This segment aired on November 17, 2016.