Auction Offers Chance For Beloved British Artists' Influence To Live On
Play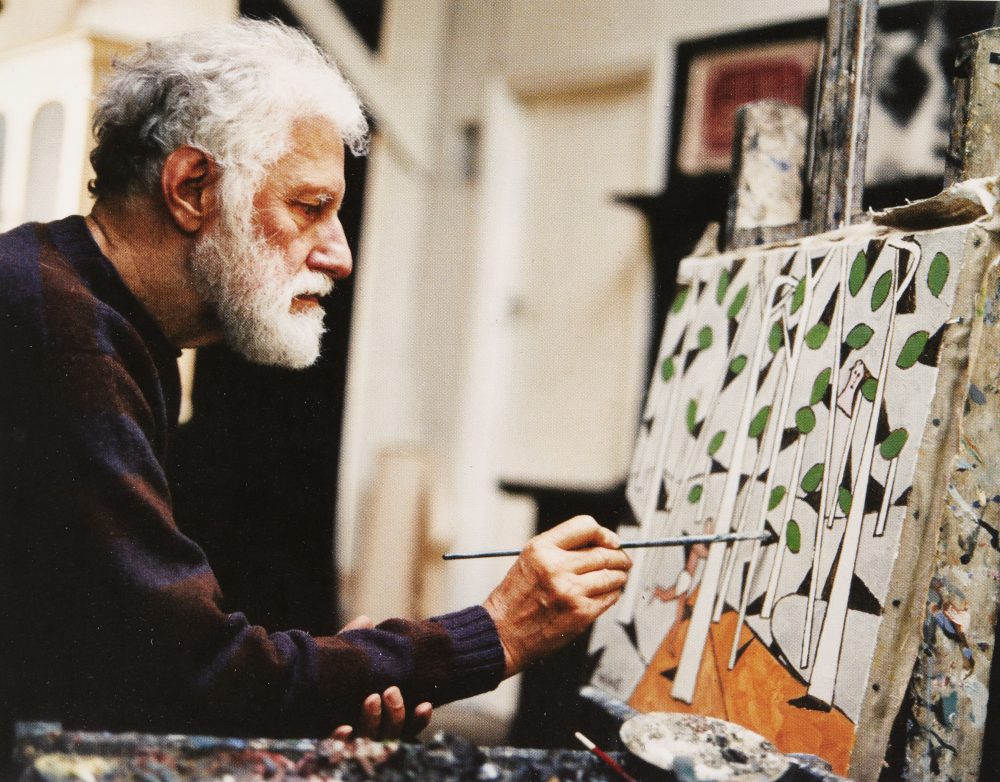 This article is more than 6 years old.
This is the time of year when the auction houses hold their fall sales. But one at Sotheby's in London this week is a bit different. It comes from the collection of two of Britain's best-loved 20th century artists: Mary Fedden and her husband, Julian Trevelyan.
The proceeds will go toward preserving the storied west London wharf, where the couple lived and worked, for a new generation of artists. London-based writer and broadcaster Vicki Barker reports.
---
For more than half a century, a complex of small warehouses on the River Thames was a magnet for some of the greatest names in art, science and literature.
"Dylan Thomas used to come and stay," Julian Trevelyan's son, Philip, said.
Inside, in the dusty sunlight of a now-empty Durham Wharf, Philip bends over a massive, bulging scrapbook.
"It's an extraordinary scrapbook. There's Bertrand Russell, with Mary," he said.
Philip's stepmother, Mary Fedden, recorded everything in this book: from the epic parties — Hollywood star James Mason once crashed one — to the minutiae of the couple's daily life: working in their studios, or puttering in their garden. It's a garden Jose Manser remembers well. She's a former correspondent for interiors magazine, and was the couple's friend and biographer. Years later, the memories remain vivid.

"A pretty garden, rather crumbly buildings, but warmth and generosity beyond belief," Manser said. "And successful art: I mean, good art coming out of it."
Trevelyan drew inspiration from the world around him — including the sailboats and swans and bridges and barges that shimmered outside the windows, here.
Fedden's primary focus was still lifes, celebrating everyday objects in jewel-like colors, playing with perspective, so that jugs, flowers and bowls seem to dance in the air.
Robin Cawdron-Stewart is a modern art expert at Sotheby's.
"They were both obsessive artists," he said. "They loved what they painted, they loved what they did. Painting and printmaking, for Julian and Mary, it was in their blood."
They also loved cats, which were leitmotifs in both artists' work. Pat Lousada was a friend and neighbor. She remembers Fedden keeping a big shallow metal bowl.
"And she used to put one of her cats in the bowl, and put a hat on it, and turn it around, and have all of these enchanting verses that she sang: 'My name is Mr. Pooster ...'" Lousada said.
A very English eccentricity infuses much of Fedden and Trevelyan's work, says Robin Cawdron-Stewart.
"Wonderfully quirky, and I say quirky in a good way," he said. "Sort of very English, eclectically English."
One reason, he said, for their enduring popularity here.
Pat Lousada says that after Trevelyan's death in 1988, Fedden threw herself into her work.
"They just poured out of her. And they're all wonderful," she said.
As the years passed, Fedden's work in particular commanded ever-higher prices — though it took her a long time to accept that: Jose Manser recalls that, for many years, Fedden insisted on charging only what ordinary people could afford.

"She was selling lovely little paintings for about 15 pounds. I can remember going into a gallery in Aldeburgh, and there were paintings of hers selling for up to 30,000."
Though both artists had family money, the couple lived only on what their art brought in, using much of their inherited wealth to help other artists and art institutions.
It's a tradition Philip Trevelyan wants to honor.
"This is where Mary and Julian worked, here, this is his old palette, well-used, covered in oil paint," he said.
Fedden died in 2012. Now, Philip wants to convert Durham Wharf into live-work studios for artists in residence. He's determined that this haven on the Thames remain a place where the arts are nurtured and celebrated.
You can view the auction lot and more work by Fedden and Trevelyan here.
This segment aired on November 22, 2016.