One Veteran On Why He Will Stand For Standing Rock
05:36
Play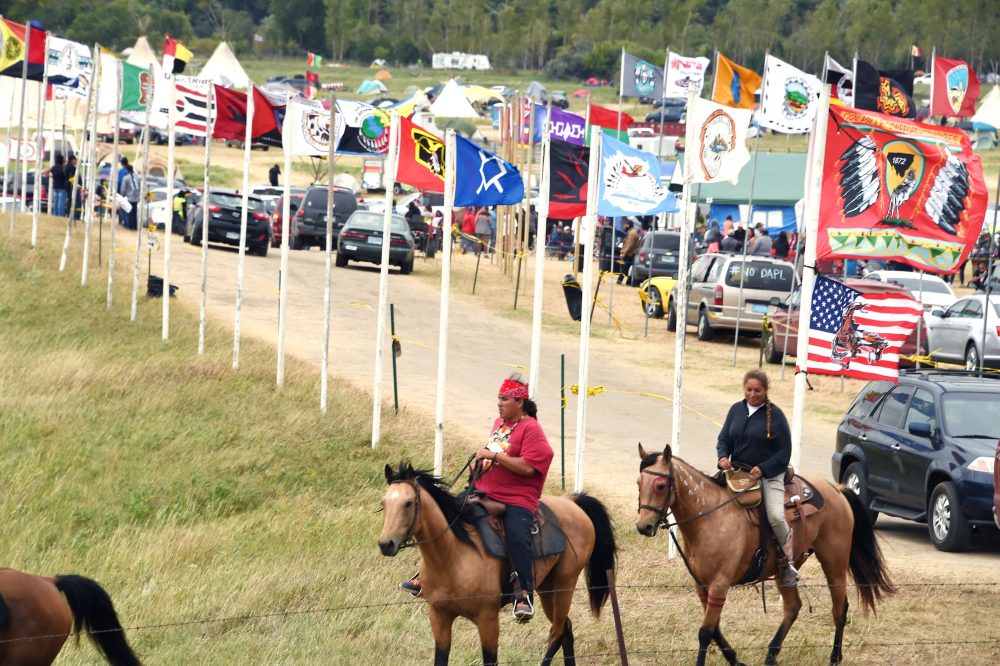 Blizzard conditions, evacuation orders and harsh crowd dispersal tactics have not cleared out the protester camps at the Standing Rock Sioux Reservation in North Dakota.
This weekend, a group of veterans are heading to the site to act as "human shields" for the protesters. Thousands have registered to go. Here & Now's Robin Young speaks with one of those vets, Dakota Blue Serna (@dakotabusmc), a former Marine.
Interview Highlights
On his motivation to go to Standing Rock
"I think a lot of veterans share my feelings that with these last couple of wars in Iraq and Afghanistan that we got cheated. We were lied to from our government, and we went and we fought a war based on a lie. So a lot of our guys are feeling that our service really was for nothing, and so now we're going out there because this is what we signed up for, this is where our passion is, this is what we signed up to defend, are the people here in our country against all enemies, foreign and domestic. And right now, I love my government, I love my country, but the government is kind of cracking down on peaceful protesters, and it broke my heart to watch these people being sprayed with water in 25-degree temperatures. That's inhumane, that's unethical and that's un-American."
On where he stands on the issue
"I've got friends on both sides. I understand both sides of the story here and that's a little bit unfortunate — you catch flak from both ends. ... I will say that the general consensus of those guys, they do agree with me when I say we need to find alternative sources of energy and we have the means and the technology to do so. And we need to move away from sucking the earth's life blood out of the ground and polluting our air. And it's possible, and I don't understand why people are — you know, the people with the money who make those decisions — are pushing away from that."
On this action potentially provoking more problems at Standing Rock
"Me, personally, I don't believe I would be provoking any problem. It's taken a lot from myself to make the decision to go to Standing Rock and be completely peaceful and non-violent, no matter what happens. I know there's a lot of veterans out there that are not going because they can't watch American citizens being beat, or their fellow veterans being beaten, or shot with rubber bullets, and remain peaceful. So hopefully, this is a big group of veterans going and we can keep it completely peaceful. If the law enforcement decide they want to enforce and use force, so be it — I'll take my lickings, I've taken them before. But this isn't about me, this is about doing the right thing.
"And I really want the American people to understand. I know there's a bitterness toward the veterans because we were used in such a horrible manner in the Iraq and Afghanistan War, but this is what we signed up for. If there's any danger presenting itself to the American people, we will put ourselves in between that danger."
This segment aired on November 30, 2016.