One Official On Oakland Warehouse Fire, Next Steps In Fire Prevention
05:02
Play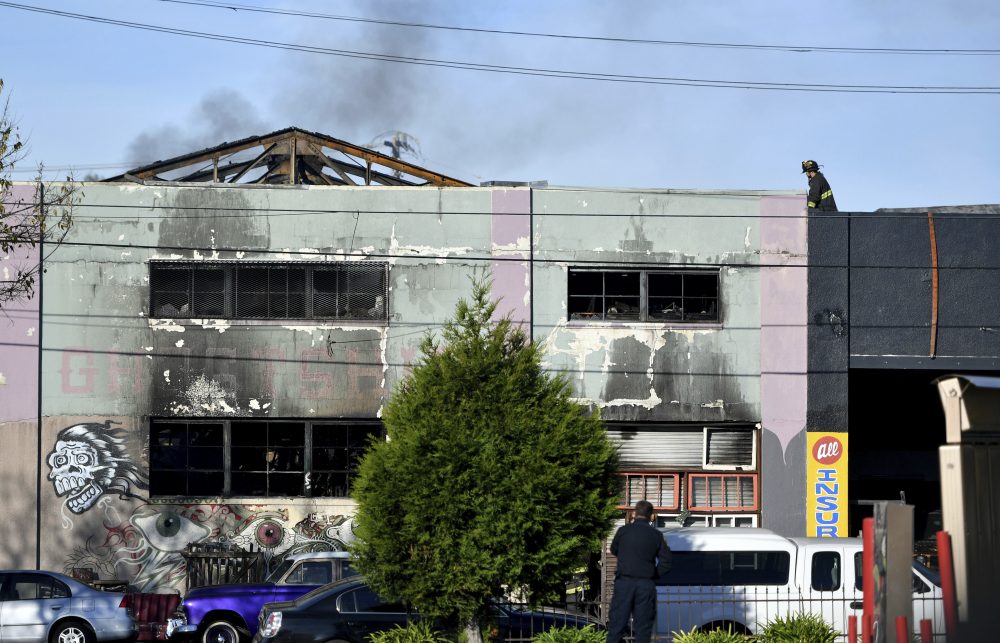 This article is more than 4 years old.
This morning, at least 36 people were confirmed dead in Friday's devastating Oakland warehouse fire, as firefighters continue combing through what's left of the building. Oakland Fire Battalion Chief Melinda Drayton said Monday that firefighters believe they've found the area of the building where the fire started, but they don't yet know what caused it.
But they do know that the warehouse was not zoned for residential use, it didn't have a sprinkler system, a staircase inside the building had been built out of wooden pallets, and there were only two exits — all factors that likely contributed to the high death toll.
Here & Now's Jeremy Hobson talks with Jim Pauley (@JimPauley), president of the National Fire Protection Association, about fire prevention and protection in the wake of the Oakland fire.
Interview Highlights
On the factors that create a higher risk of danger
"I think the key in really all of the things that you mentioned really gets back to complacency that we all have, as the public, around fire. We've done a great job over the decades of reducing the instance of fire, and that's made people more complacent as 'Well, I'll never have a fire, it will never happen to me.' And so, the actions that necessarily get taken don't reflect the fact that when a fire does happen, you need to have appropriate exits, you need to have appropriate fire systems that are in place. And so that issue of complacency is one that we at NFPA are talking a lot about and how do we continue to educate people around the risk associated with fire and making sure they take the appropriate actions."
"Whether it was people that were staying or living there, whether it was being used as a night club, whether it was simply being used as a warehouse, I think all of those of the factors are gonna have to be sorted out. And any of those occupancies that it might have been, if you were doing that building specifically for that occupancy, there are sets of rules and regulations and fire codes that go into place to say 'these are the things that you need.'"
On addressing fire hazards across the country
"I think that fire services in many cities are having to deal with these new type of environments that are coming up, and, in many cases, you have things that are being changed in the building and then nobody knows except the occupants or the people that are in that building. The government officials don't know, the enforcement community doesn't know, the fire department doesn't know, and how often that's occurring, one of the concerns can certainly be as older spaces and cities are being used for different uses, that may actually be climbing in some of these cities."
This article was originally published on December 05, 2016.
This segment aired on December 5, 2016.