How To Make Appetizing Salads In The Middle Of Winter
Play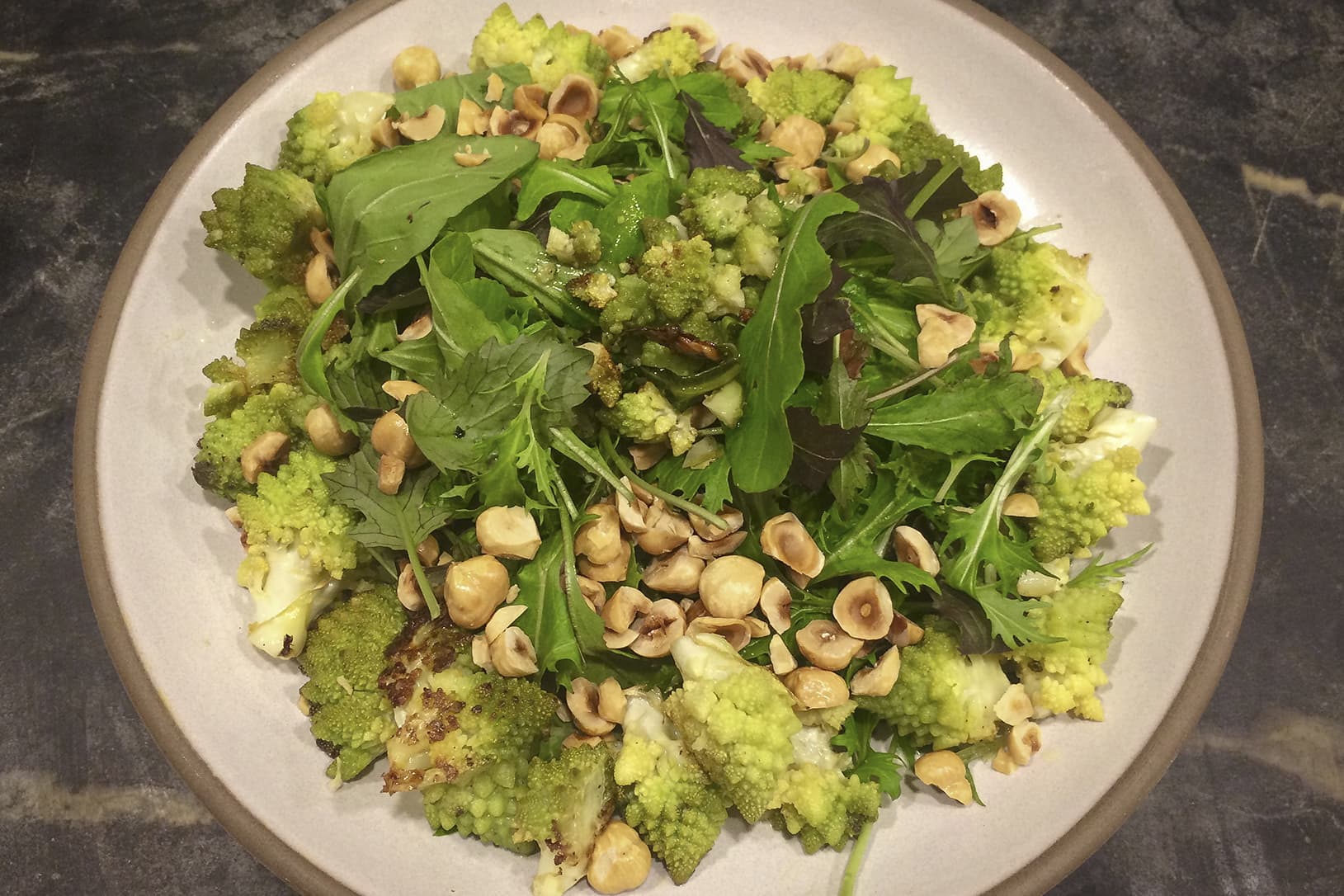 This article is more than 6 years old.
Here & Now resident chef Kathy Gunst says that by experimenting with textures and colors, you can make appetizing salads even in the middle of winter. She brings Here & Now's Jeremy Hobson three examples.
---
Roasted Cauliflower Salad With Winter Greens, Toasted Hazelnuts And Tahini Vinaigrette
Look for fresh, small cauliflower or Romanesco, a green or purple variety of cauliflower found in markets and at winter farmers markets. You can also substitute broccoli. Serve with warm, crusty bread. Serves 2 to 4.
Salad Ingredients
1/3 cup hazelnuts or pistachios, or your favorite nut
1 small head cauliflower, about 1 pound (see headnote)
1 1/2 tablespoons olive oil
Salt and pepper
2 cups winter greens (radicchio, arugula, baby kale, etc.)
Dressing Ingredients
1 tablespoon tahini (pureed toasted sesame seeds)
Salt and freshly ground black pepper
3 tablespoons olive oil
1 1/2 tablespoons balsamic vinegar
Instructions
Preheat the oven to 350 degrees. Place nuts on cookie sheet. Roast on the middle shelf for 8 minutes. Remove, cool and coarsely chop; set aside. If using hazelnuts, after you roast the nuts place them in a clean tea towel and rub the skins off before chopping.
Raise oven to 450 degrees. Cut cauliflower into small florets and place in a shallow roasting pan or ovenproof skillet. Toss with the olive oil, salt and pepper. Roast for about 15 to 20 minutes, or until just tender and spotted with streaks of golden brown. Remove from the oven.
While the cauliflower is roasting, prepare the greens and dressing: place the greens on a serving plate or in a bowl.
To prepare the dressing: in a small bowl or jar mix the tahini, salt and pepper. Add the vinegar and then the oil, whisking to create a smooth dressing. Taste for seasoning. The dressing will keep for several days covered in the refrigerator.
Sprinkle the still-warm cauliflower on the greens and spoon the dressing on top or serve on the side.

Sauteed Mushrooms Over Baby Spinach With Warm Garlic Vinaigrette And Parmesan Shavings
I found a wide variety of gorgeous mushrooms at a New England farmers market from the New Hampshire Mushroom Company. Look for locally grown mushrooms and tender baby spinach. Serves 2 to 4.
Ingredients
2 to 3 tablespoons olive oil
2 shallots, thinly sliced or a small red onion
1 large clove garlic very thinly sliced
10 ounces mushrooms, shiitake, cremini, portobello, blue oyster, as many as you can find, shredded with your hand or thinly sliced lengthwise
Salt and freshly ground black pepper
1 tablespoon balsamic vinegar
1 tablespoon walnut oil or olive oil
1 ounce Parmesan cheese, shaved with a wide vegetable peeler off a 1/2 pound chunk
Instructions
In a large skillet heat 1 1/2 tablespoons of the olive oil. Saute the shallots, seasoned with salt and pepper and cook, stirring, for 8 minutes. Remove half the shallots and set aside. Raise the heat for medium-high and add another 1 to 1 1/2 tablespoons olive oil, the garlic, and mushrooms. Saute for about 4 to 6 minutes, or until softened and cooked. Season with salt and pepper. Add the vinegar and walnut oil and cook 1 minute until the vinegar is reduced. Remove from the heat.
Place spinach on serving plate or in a bowl and spoon the warm mushrooms and the warm pan juices on top. Scatter the reserved shallots and the Parmesan cheese shavings on top and serve warm.

Farro Salad With Roasted Delicata Squash, Carrots And Parsnips In A Lemon-Parsley Vinaigrette With Feta Cheese
Farro is a type of whole-grain wheat that is also called spelt, einkorn and emmer. It is high in fiber, vitamin B3 and zinc, and has a wonderful nutty texture. Here it's paired with roasted winter root vegetables and a bright, refreshing vinaigrette.
Salad Ingredients
1 delicata squash, about 1 pound, cut down middle lengthwise, seeds scooped out and then cut into thin rings
1 large carrot, peeled and cut into thin pieces
1 large parsnip, peeled and cut into thin pieces
1 1/2 tablespoons olive oil
Salt and freshly ground black pepper
1 1/2 tablespoons fresh rosemary, chopped or 1 tablespoon dried and crumbled
2 cups farro
Dressing Ingredients
1 cup chopped parsley
2 chopped scallions
3 tablespoons white or red wine vinegar
1/4 cup olive oil
1 tablespoon lemon juice
1 celery stalk, finely chopped
Salt and pepper to taste
1/3 cup crumbled feta
Instructions
Preheat the oven to 425 degrees. Place the squash, carrot and parsnip pieces in a large ovenproof skillet or small roasting pan and toss with the oil, salt, pepper and rosemary. Roast on the middle shelf for 20 to 25 minutes, or until just tender; the vegetables will continue to cook when removed from the oven.
Meanwhile, make the farro. Bring a medium pot of salted water to boil over high heat. Add the farro, reduce the heat to moderate and simmer, covered, until softened but not soft, about 10 to 12 minutes; it should be the equivalent of al dente pasta. Drain and place on a sheet of parchment paper or a baking sheet and let dry thoroughly.
Make the vinaigrette: thoroughly mix the parsley scallions, vinegar, oil, lemon juice, celery and salt and pepper to taste.
To serve: place the dry farro, at room temperature, in a serving bowl. Arrange the roasted vegetables around the farro (be sure to add any pan juices as well) and drizzle the salad with half the vinaigrette. Arrange the feta on top or along the edges. Serve the remaining vinaigrette on the side. Serves 4.
This segment aired on January 18, 2017.