Remembering Refugees Turned Away From The U.S. In 1939
Play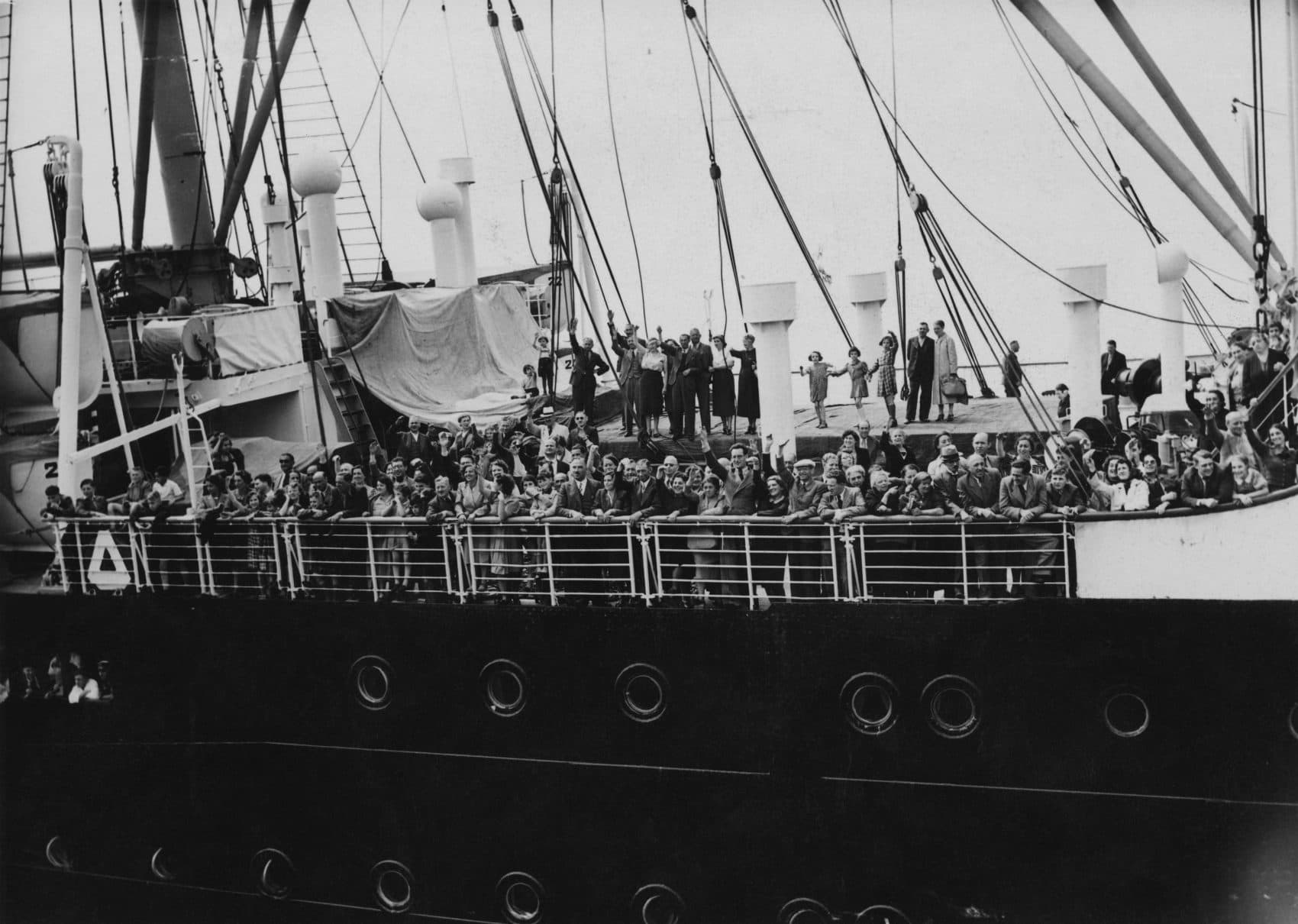 This article is more than 6 years old.
On the same day President Trump signed his new immigration ban, a Twitter account launched to shine the spotlight on what happened to a group of refugees that were turned away from the U.S. in 1939.
About 900 Jewish people had attempted to escape Nazi Germany on the MS St. Louis. But the ship was turned away by the U.S. because of immigration restrictions. Later, more than 250 of those passengers were killed during World War II and the Holocaust.
Here & Now's Jeremy Hobson speaks with Russel Neiss (@russelneiss), co-founder of the Twitter account "St. Louis Manifest."
Interview Highlights
On where the idea for St. Louis Manifest came from
"The initial idea was just simply as a remembrance for the victims of Nazi genocide, these 254 refugees who were turned away, in 1939, but it was impossible to ignore the current political realities that we're sort of seeing on the ground right now."
"The idea primarily was basically to just honor the memory and preserve the memory of these folks who were turned away at our border and who perished in Nazi Germany thereafter."
On those attempting to escape Germany on MS St. Louis
"These were German Jews of means, primarily, who, after Kristallnacht, after the night of the broken glass in Germany, saw the writing on the wall and tried to get out before there was a systematic policy to murder millions of Jews. And they applied for visas to the United States, they applied for documents to enter Cuba, and they boarded the ship to basically get out and to save their lives and the lives of their families. And along the way, unbeknownst to them, the Cuban government pulled their paperwork and these folks by and large were stranded. And they went from, first from Cuba, from the port of Havana, and they sailed toward Miami, at which point they were interdicted by a Coast Guard cutter. And despite attempts from both passengers on the ship, from representatives in America to try to help them gain with telegrams to both FDR and telegrams to the state department, these folks were forced back to Europe and approximately half of the Jewish refugees on the ship who were shipped back to Europe eventually ended up perishing during the Holocaust."
"There's something just about remembering the humanity of people that is getting lost in this debate."

Russel Neiss
On what he learned while looking through the stories of those on the ship
"It's not so much new as in some ways we think a lot about these ideas of refugees or these ideas of immigrants or these people who are just over there and we don't see them as real individual people. And just seeing the names, seeing the faces, it gets to you in a way more so than just arguing, 'Oh, yes. Refugees, they're great for America, and they're not bad, and the vetting process takes years and years and years.' There's something just about remembering the humanity of people that is getting lost in this debate. And when we talk about the importance of refugees being welcomed, we're not talking about people who are coming here because they want to come here on vacation. We're talking about people who are coming here because they're fleeing for their lives. And if we escape that, if we ignore that, if we can't remember that, then I don't know what our humanity is really all about."
On if he sees a direct connection between 1939 and now
"I'll say this: I obviously don't want to make a connection between the Nazi genocide and what's going on in America today, but I will say this, is that we in America, we like to think of ourselves as the good guys, and we are, by and large. We like to think of ourselves as the ones who stand for freedom and who stand for justice and who stand for liberty across the world, and we had an opportunity — I think the story of the St. Louis is so poignant because we had an opportunity to save hundreds of people, and we failed to live up to our ideals of America. And I think insomuch as that, this is an opportunity where it's important to remember what our ideals are as a country and to stand up for those ideals."
This segment aired on January 30, 2017.