Wind Turbine Technician Blows Away Competition As Country's Fastest-Growing Job
Play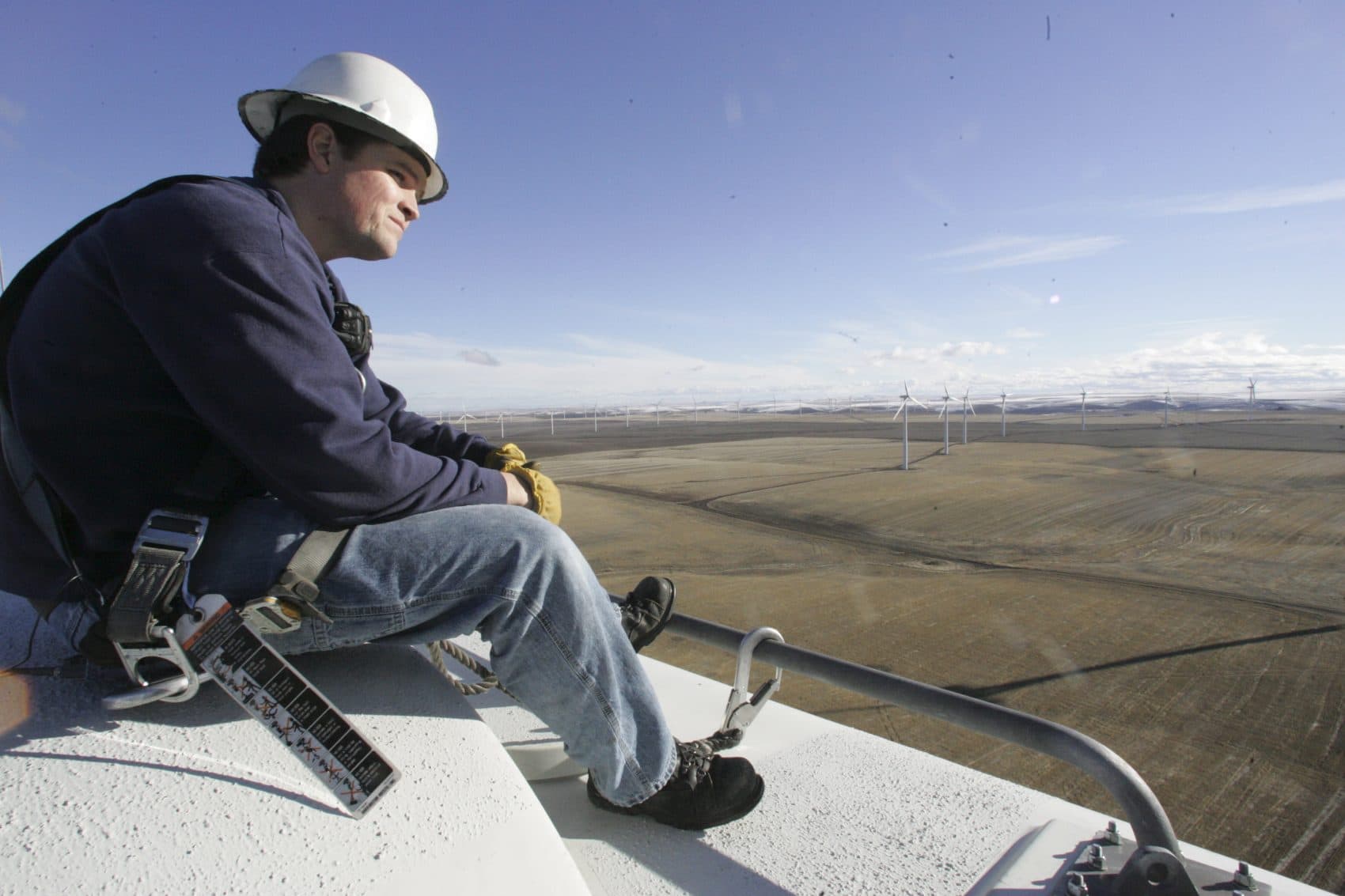 This article is more than 5 years old.
The country's fastest-growing occupation is wind turbine technician, according to the Bureau of Labor Statistics — with numbers expected to more than double over the next decade.
So what does a wind turbine job entail? Where can you get training? And will the field continue to grow under the Trump administration?
Here & Now's Robin Young talks about wind turbines and their future with Daniel Lutat of Iowa Lakes Community College, home to one of the country's largest training programs for wind turbine technicians.
Interview Highlights
On what a wind turbine technician does
"A wind technician is a person who basically is kind of a jack of all trades — you're maintaining everything from power generation systems to mechanical systems, instrumentation, communication systems... really each turbine can be viewed like an airplane on a stick, I guess. So in everything from the construction phase all the way through the operations and maintenance and the post-warranty phase, these technicians really are bumper-to-bumper maintenance guys... and I use 'guys' in kind of a general term.
"We do have women, and that's something that I specifically like to talk about, because this is a, what you would consider a gender non-traditional field. And in an effort to get more of that diverse thinking into our workforce, right now, if a young lady comes into these technical fields, they're basically writing their own ticket. So it's something where we've lost their brain power in the technical fields, and we're really trying hard to get it back."
On prerequisites for the program
"A high school grad with a good, solid foundation in algebra and some basic physics is always a plus. You're dealing with everything from mechanical forces to electrical forces, and obviously that requires a good background in algebra, primarily because you're using complex equations to solve those electrical issues when you troubleshoot."
"The dilemma that graduates have from these programs is that they've got to choose which company to take a job with."

Daniel Lutat
On how much the program costs
"Total for about the two years — and you're looking at including room and board — at Iowa Lakes is going to run about $21,000 for both years, and that's if you don't get any scholarships, and of course, we're pretty darn good with scholarships. We give out about $1 million in scholarships a year. And one thing that helps offset that is the internships that we have between the first and second year, and lots of students will actually go out and earn enough money to pay for their entire college in one internship. That's where they get their first exposure to what kinda opportunities are actually out there."
On job placement
"Really, job placement takes care of itself. The dilemma that graduates have from these programs is that they've got to choose which company to take a job with. They're being fought over because the demand for properly trained technicians is very high. And that's another point to emphasize, too: not all of the programs are the same, some are tailored to people that have prior industry experience in another field that are looking to get some exposure to the turbines, and those are more academy-style approaches that are much shorter in duration. We take the old-school approach that there is no shortcut to building a good technician. Our program is a two-year program, we also have a one-year diploma option for those people that already have some technical experience. But what you're really looking at is making sure that you can get the right foundation, so that when you go out to work for these companies, they can polish you the rest of the way on the style of turbine that you're gonna work on."
On markets moving toward wind energy
"Here's the thing you need to understand: where wind energy is concerned, there is no better business case, and that's for several reasons. Number one, we provide the kind of clean output that your larger, gas-fired and coal-fired plants really love, because we can be switched on and off at a moment's notice. So when you make the tie to the fossil fuel companies, you're right on the money. The fossil fuel companies, ironically, are the ones that have the capital to make these large-scale developments. And it really helps their business case, too, because it preserves that resource, and at the same time, diversifies their portfolio. So it's a win-win for everybody, and you won't find a utility-scale business anywhere that gives you that kind of a return.
"So when it comes to wind energy, I think — especially where Iowa is concerned, you've seen a lot of Democrat and Republican cooperation on this — it's simply because it's a good thing. We can generate 10 times more electricity from wind alone than the continent's gonna use for the foreseeable future. So that's really what this kind of bridge technology does for us."
This segment aired on January 31, 2017.