Friends Of Florida Priest Fight For The Life Of The Man Accused Of His Murder
09:35
Play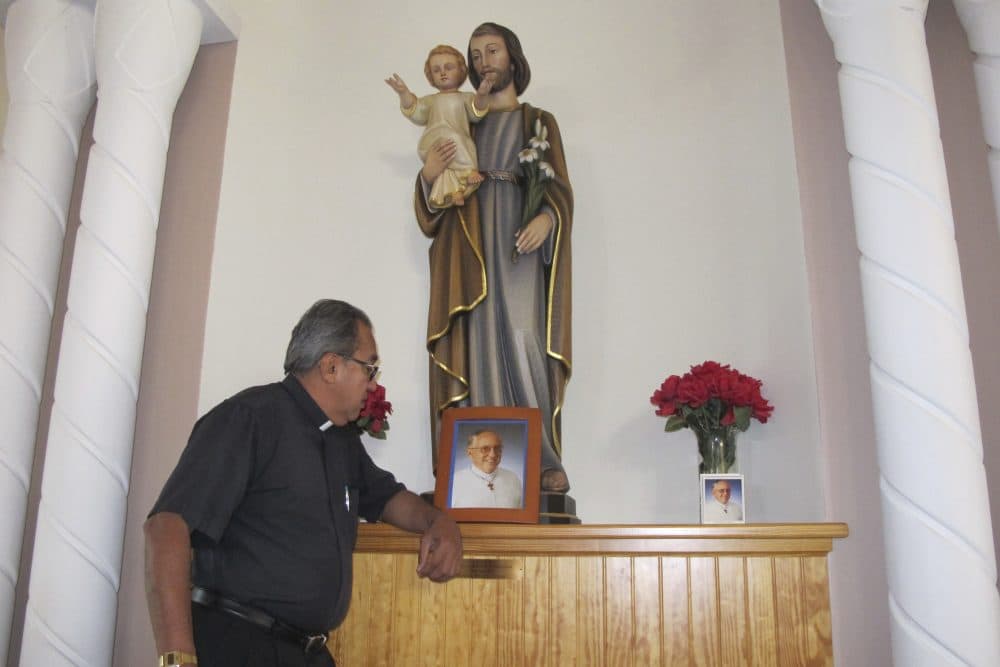 This article is more than 3 years old.
In 1995, a Catholic priest in Florida signed a "Declaration of Life," saying that if he were ever to be killed, he would not want his killer to get the death penalty. Twenty-one years later, the Rev. Rene Robert of St. Augustine was killed.
Now, Robert's friends and family are fighting to make sure his wishes are honored and that the life of the man charged with his murder is spared.
Here & Now's Robin Young speaks with one of Robert's close friends, the Rev. Edward Rooney, retired pastor at St. Luke's Catholic Church in Middleburg, Florida.
Interview Highlights
On petitions against the death penalty
"First of all we brought our petitions with us. There were 7,400 petitions signed by people in the area and the churches, the congregation members, and so these petitions were brought to Augusta yesterday and there were three bishops present, and there was a number of clergy and other people, supporters. So we presented our petitions to the district attorney, so we haven't heard yet which way it's going to go, whether it's gonna go for the death penalty or if it's gonna hold off."
"Justice has to be tempered by mercy."

The Rev. Edward Rooney
On the risk of Robert's work
"I think he knew the risk, but he was a very mild-mannered individual and I guess he was willing to take the risk. He was, first of all, a Franciscan brother at one time early on, and then he became a priest, so I guess it was his Franciscan — the followers of St. Francis, the Franciscans, their modus operandi, so to speak, is one of compassion and care for the people who are on the margins, and so that was ingrained in to him, so to speak. He was a very mild-mannered individual, very caring and very loving, but again, perhaps he was blind to a certain extent to some of the risks that might be involved when you reach out to people like this."
On opposition to the death penalty
"Justice has to be tempered by mercy. So, we as Catholic Christians, we are not in favor of the death penalty, and certainly the mood in the country is changing, I think. So, our purpose really is that the death penalty would not be pursued, regardless, but that he would be given the maximum sentence, which would be imprisonment for life without parole."
"I'm sure Father Robert, Father Rene, himself would've given [Steven] Murray [the accused killer] a message of forgiveness. I'm sure he would've encouraged him to stay on the straight and narrow. So I'm sure he wouldn't have been blasé about it, he would've encouraged him to straighten out and get his life in order."
This segment aired on February 1, 2017.