'Moonlight' Writer Tarell Alvin McCraney Still Struggles With Childhood Vulnerabilities
Play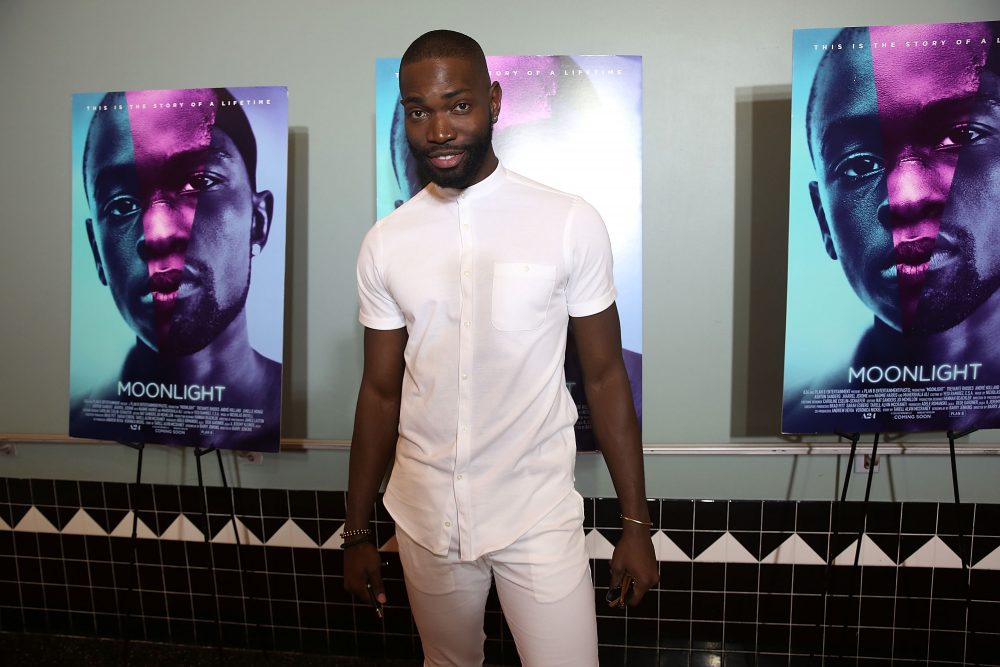 This article is more than 5 years old.
Post-Oscars Update: Since this story first aired, Tarell Alvin McCraney won an Oscar for co-writing the screenplay for "Moonlight," which also won the Academy Award for Best Picture.
---
Playwright and actor Tarell Alvin McCraney is up for an Oscar for best adapted screenplay for the film "Moonlight," based on his play "In Moonlight Black Boys Look Blue." The film is up for a total of eight Academy Awards.
McCraney mined much of his own past in the work, and talks with Here & Now's Robin Young about how his traumatic childhood still shapes his writing and his life.
Interview Highlights
On when he started writing "In Moonlight Black Boys Look Blue"
"I wrote it when I was in mourning, I guess would be the best way to describe it. My mother had just died from AIDS-related complications. I was 22 years old, so I wrote it in a kinda fevered pitch, I was really wanting to get down these memories as fast as I could, or try to put them in a certain order, and try to figure out the next steps of my life. I was going forward as a writer and in my career as an artist, and was trying to really figure out where the road turned, how did I actually get here?"
On whether he's the character Chiron from the film
"Well certainly, I am, in many ways. I mean I think it's always silly to try to divorce yourself from the characters you create, right? Because, if they don't stand on your humanity, who do they stand on? And I think that's one of the great things about [director and screenwriter Barry Jenkins] — even though some of the story isn't his, he found a way to bring his own humanity to it. And though there are lots of parts of the story that are biographical for him — his mother did suffer from addiction as well, he did grow up in abject poverty in the same neighborhood — he found ways to fill the world with who he was."
On homophobia in the black community
"I think homosexuality and anti-feminism and misogyny — which are all really closely, tightly knit — is a part of the American ethos, sadly. So what's the worst thing you can do? Is call a boy a girl. And sure, it shows up in the black community in certain ways, it shows up in the Italian community in a certain way, it shows up across the board. And one of the things that's important about that is to not let people off the hook, 'cause see if you say, 'It's just something that happens in the black community,' then you go, 'Oh, those people.' And I think that's one of the important reasons why I think Mahershala, and all the great work that he did as Juan, is so important. Because here in that moment, a moment where we're like, 'Oh, the big, black, drug-dealer thug, what's he gonna do?' And he turns out to be better at nurturing than most of the women in the piece — and that's not based on any fictionalism in my mind. Those events of being taught how to ride a bike, and how to swim, and things that didn't even make it to the film, happened from this drug dealer, and that drug dealer recognized my difference, and so in that moment, in the community that we think of as having rampant homophobia, actually has compassion."


On how Mahershala Ali's performance in the film reflects his own experience
"I can't separate the two anymore. If you're a kid, and someone makes that great of an impact on you so early, and then they leave so early, you start to forget what they look like. And so now, all of a sudden they look like Mahershala Ali, and that's not the same (laughs). But what he brought to the character is so much of what I remember."
On Trevante Rhodes's performance as Chiron
"Trevante is one of the extraordinary actors, and I think one of the things that is extraordinary about him is his ability to socially locate where someone lives. And I know it sounds like I'm giving praise to the actor, but you have to realize how much he's done for me in terms of his performance, even though I may not be the football-player size, I still struggle with those same things, those same vulnerabilities. I still... People find me hard to read, I seem distant, and it's mostly because behind all of that is the years of trauma, I mean all of the accolades... none of those are any kind of elixir to wipe away the years of chaos that happened before. One of the hardest parts about my work or about life in general is trying to get people to see it without summoning it up again — get people to see that there's a lot of chaos I'm still trying to put to sleep."
This article was originally published on February 09, 2017.
This segment aired on February 9, 2017.