Evangelical Leader Reacts To President Trump's First Few Weeks
10:45
Play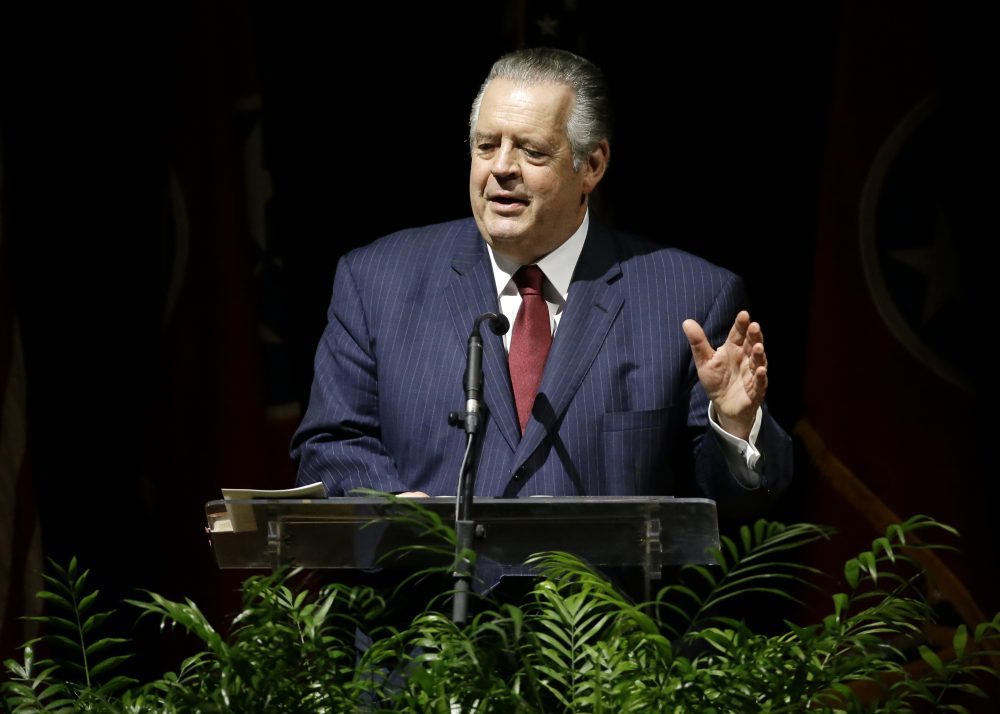 This article is more than 4 years old.
Eighty percent of white evangelical Christians voted for President Trump in the 2016 election.
Here & Now's Robin Young speaks with Richard Land (@rdland), president of the Southern Evangelical Seminary and member of the White House Faith Advisory Council, about some of the factors that drew so many evangelicals to Trump, and how they feel the administration is doing so far.
Interview Highlights
On how he thinks President Trump is doing
"Pretty well, not perfectly, of course. But better than most evangelicals and conservative Catholic Christians expected him to do. First of all, Judge Gorsuch, that was a huge factor — the understanding that the Supreme Court was in the balance, and that if we lost the [Justice Antonin Scalia] seat, that it would probably be a generation before we would have a working conservative majority of strict, constructionist, original-intent jurists. And in reality, Judge Gorsuch — he's almost like a clone of Scalia without the attitude. Scalia was pretty feisty, Gorsuch is sort of a [white, Anglo-Saxon Protestant] version of Scalia."
On his previous opposition to Trump
"That was in relation to the other Republican presidential candidates. But — and I think I can say this with perfect confidence — probably three quarters of that 80 percent of white evangelicals who voted for Mr. Trump saw themselves more as voting against Mrs. Clinton than voting for Mr. Trump. And so, I knew that Mr. Trump was not going to do a lot of things we wanted him to do. First of all, he's not really a conservative... As I said in that column... 'The Presidential Election: An Excruciating Choice,' it was an excruciating choice. I still think that Mr. Trump was the lesser of two evils, and he is proving me right so far — putting back in place the Mexico City policy, which is not going to force taxpayers to pay for groups that promote abortion overseas and kill children in the second and third world..."
On evangelicals who opposed Trump's travel ban
"Do these people lock the doors of their homes? My guess is they do so, because your home is secure and you invite people into your home under the understanding that you think they're not going to do you harm, and when we have groups like ISIS — who are saying they are going to use the refugee policy to infiltrate terrorists into the United States, we have a right to defend ourselves. And I would remind you that the seven nations that were specifically mentioned were the seven nations that Mr. Obama said were particular breeding grounds for terror, and should be dealt with differently. And Chuck Schumer voted for that bill in 2015, so let's leave the hypocrisy off for a while."
"I still think that Mr. Trump was the lesser of two evils, and he is proving me right so far."

Richard Land, on the 2016 election
On supporting American Muslims in their efforts to build mosques
"We support them in having the right to have mosques. What Southern Baptist made clear to me — and I did work at that time for Southern Baptist — was, they did not want our resources being used to help them do it, that they should contend for that themselves. I didn't necessarily agree with that position. Muslims have a right to have mosques, we believe in religious freedom in this country. But we don't believe that our religious freedom allows people to advocate for and to use violent means to seek to overthrow our government — that's called treason... We have radical Islamic terrorism, which is dedicated to killing Americans. That's what ISIS is doing..."
On whether he was surprised President Trump didn't roll back President Obama's executive order on LGBTQ rights
"Not particularly, because I didn't expect him to do it. I'll be more disappointed if he doesn't come through with the executive order that protects people of faith from being discriminated against in the federal workforce if they have conscience issues with the gay and lesbian, bisexual, transgender community. And if he comes out with that executive order, then that's a pretty good balance, actually. You have protections in the federal workforce for gay and lesbian, bisexual, transgender people, as well."
On his personal experience with Trump
"My experience with Mr. Trump — which has not been that vast and deep, I think I have met him twice, and been on the phone in a conference call a couple of times — is at deep variance with the Donald Trump that is revealed more than a decade ago in those 'Access Hollywood' tapes. I think he's a different man now than he was then. And of course, as a Christian, I believe in redemption, and second chances, and third chances and fourth chances."
On a Bible passage he'd share with Trump
"Matthew 5:13-16, 'You are the salt of the Earth, you are the light of the world. Let your light so shine before men that they may see your good works and glorify your father which is in heaven.' ... To whom much is given much is asked, and very few people in world history have ever been given more than Americans have been given just by the providence of being born here."
This article was originally published on February 13, 2017.
This segment aired on February 13, 2017.