With New Album, Old 97's Still In Thick Of Alt-Country Movement
09:53
Play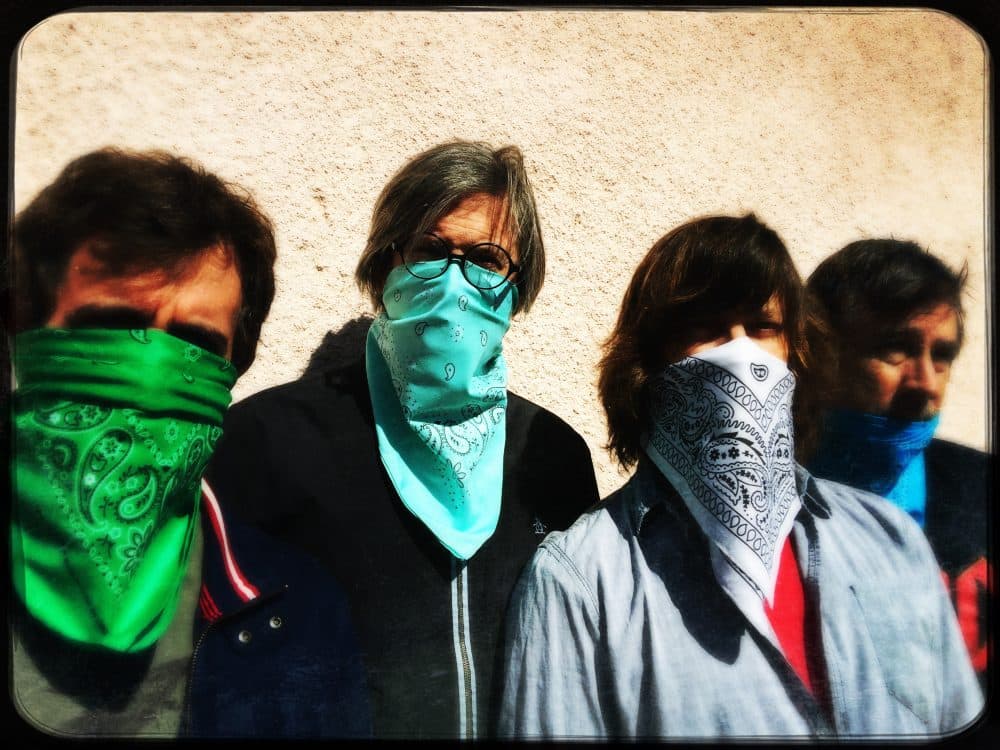 This article is more than 3 years old.
Co-founded in 1993 by Rhett Miller and Murry Hammond, Old 97's were pioneers of the alt-country music movement. Nearly 25 years later, they're still in the thick of it.
The band's 11th studio album, "Graveyard Whistling," is out Friday, and Miller (@rhettmiller) joins Here & Now's Eric Westervelt (@Ericnpr) to talk about it.
Interview Highlights
On the new album's title, "Graveyard Whistling"
"I write thousands of words, and then it comes time to title the album. That's the great irony: writing these thousands of words seems somehow much easier than coming up with two words to hang on the album as a name. So we went through a number of names, like 'Aftermath' and 'The Hangover.' There was a theme, but none of them felt right. Then we kind of kept coming back to, as you mentioned the phrase that appears in the song, 'graveyard whistling.' The narrator, because I always think of the guy that sings these songs as the narrator, it's sort of a necessary device because otherwise I would have to answer for the opinions expressed therein. The narrator in the song says, 'I never was good at talking, graveyard whistling's more my thing.' And despite the conversation you and I are having right now, I do feel like it's awkward for me to try and express in this form. I really love what music does because there's a stream of consciousness quality to it. And then you've got the trick of having it all carried along the vehicle of the melody, I love that. That's the medium in which I'm most able to express myself."
On where the album was recorded
"We went back and we were in the same room where we recorded 'Too Far To Care,' our debut for Elektra records 20 years before, and we all stayed in the same bedrooms in the hacienda where we had stayed 20 years earlier. The weirdest moment for me was opening the bedside table drawer in my bedroom and there was a note that had been given to me by an executive at Chrysalis Records recommending an American Music Club record that he thought I would like. It was addressed to me, 'Dear Rhett,' and below that was a browned piece of paper where I had written my girlfriend at the time's work phone number in New York City. So there was my handwriting in the bedside table drawer, and it had been there for 20 years and while that doesn't speak to the housekeeping that goes at the Sonic Ranch Studio, it definitely felt like a good omen. It felt like we were in the right place and doing the right thing."
On the new sound
"'Turns Out I'm Trouble' is the one song that was hardest for the band to get and we almost bailed out on it a dozen times. It was delicate in a weird way. The chord progression, the restraint, that's not something my band is familiar with. It was hard to find a way to play the song where it sounded natural and it took a number of tries and a number of failures before we got it. And I'm really glad we did because it's a new place where my band doesn't normally go. It's a quiet, weird place. And after 11 albums, there's not many places we haven't been. So it was nice to explore uncharted territory."
This article was originally published on February 24, 2017.
This segment aired on February 24, 2017.