3 Easy Pasta Recipes For Your Next Weeknight Dinner
Play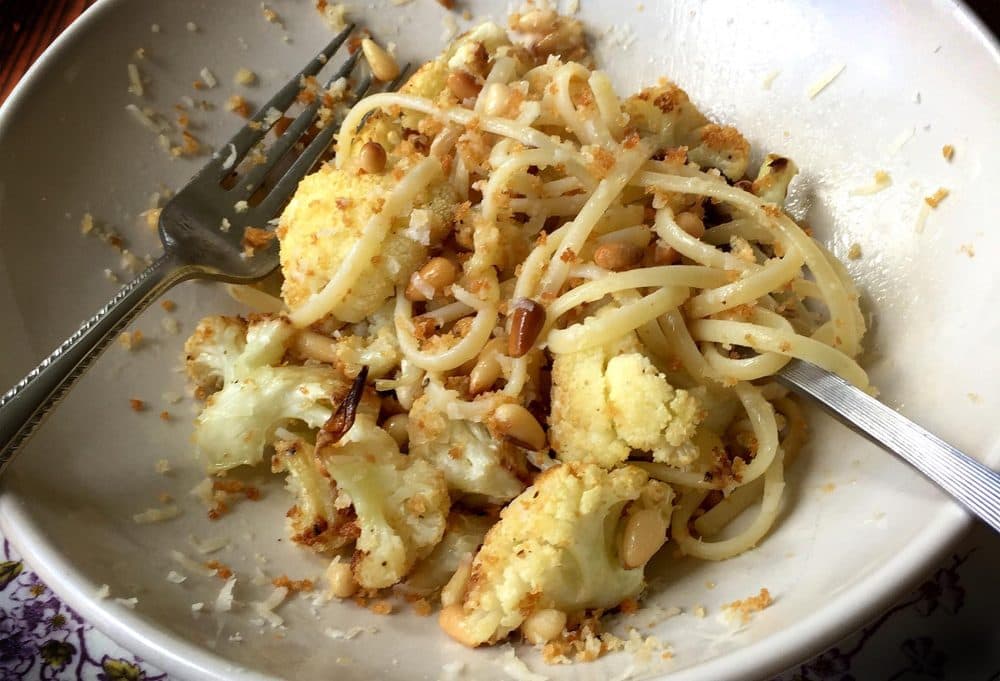 This article is more than 5 years old.
Pasta is often a quick go-to for a weeknight meal, but sometimes it's hard to come up with new ways to serve it. Here & Now resident chef Kathy Gunst has dreamed up three new recipes that use five (or so) ingredients, and shares them with Here & Now's Jeremy Hobson.
---
Five-ingredient pasta sauces do not include oil (or butter), salt and pepper or olive oil. Grated Parmesan cheese to serve with the pasta is also optional.
One additional useful ingredient you can add is a few tablespoons of the cooking water from the pasta, after the pasta has cooked for a while and released its starch — it will add moisture as well as a little thickening to the sauce, and helps the sauce better adhere to the pasta.
Roasted Cauliflower With Toasted Breadcrumbs And Pine Nuts
This may sound like an odd combination, but it's a delicious combination of textures and flavors. Serve with 1/2 pound linguine, farfalle, penne or any shape you like.
Ingredients
1 small cauliflower or 1/2 large cauliflower, cored and cut into small florets
2 tablespoons olive oil
3 cloves garlic, coarsely chopped
Salt and freshly ground black pepper
1/3 cup Panko or breadcrumbs
1/4 cup pine nuts
2 tablespoons butter
1/3 cup grated Parmesan cheese
Instructions
Preheat the oven to 425 degrees. Place the cauliflower florets in a roasting pan and toss with the oil, half the garlic, salt and pepper. Roast on the middle shelf for 20 minutes, tossing the cauliflower once or twice.
Remove from the oven, reduce the oven temperature to 350 degrees. Push the cauliflower over to one side of the roasting pan and toss the remaining garlic in with it. Add the breadcrumbs and pine nuts to the other end of the roasting pan. Divide 1 tablespoon of the butter in half and place half on the breadcrumbs and the other half on the pine nuts. Roast another 4 minutes or until the breadcrumbs begin to turn a rich, darker shade of brown.
Meanwhile bring a large pot of salted water to boil. Cook the pasta. Drain the pasta and toss with the roasted cauliflower, breadcrumbs and pine nuts and add the remaining tablespoon of butter and the grated cheese. Taste for seasoning and add salt and pepper to taste. Serves 2.

Puttanesca Sauce (Tomato Sauce With Anchovies, Capers And Garlic)
This is a bold twist on a basic marinara or red sauce, with the addition of anchovies, basil and capers. You can add a pinch of crushed red pepper flakes to make it spicy, but that would be six ingredients.
Ingredients
1 1/2 tablespoons olive oil
2 cloves chopped garlic
2 tablespoons thinly sliced fresh basil or parsley chopped
4 anchovies with a few tablespoons of their oil
28 ounce can crushed tomatoes
3 tablespoons drained capers
Salt and freshly ground black pepper
Grated Parmesan cheese (optional)
Instructions
In a saucepan heat the oil over moderate heat. Add the garlic and cook 2 minutes, stirring. Add the basil and anchovies and oil and cook, stirring, for 3 minutes.
Add the tomatoes and salt and pepper to taste (you won't need much salt since anchovies are very salty) and simmer over low heat for about 15 to 20 minutes.
Pour over a pound of linguine or any shaped pasta. Serve with grated cheese, if desired.

Italian Sausage And Broccoli Rabe Sauce
I like to use spicy Italian sausage for this sauce, but you could use sweet or your favorite variety. You can use broccoli rabe or broccolini (a hybrid of broccoli and kale). Serve on top of 3/4 pound cooked pasta — any shape you like.
Ingredients
1 pound spicy Italian sausage, cut into 1 to 1 1/2-inch pieces
1 1/2 tablespoons olive oil
2 cloves garlic, thinly sliced
1 bunch broccoli rabe or broccolini
1/2 cup water or white wine
Grated Parmesan cheese, if desired
Instructions
Place the sausage pieces in a skillet and pour 1 cup water on top. Bring to a boil over high heat, reduce the heat to a steady simmer and cook about 12 to 14 minutes or until the water has evaporated. Add the oil and garlic to the skillet and cook about 2 to 3 minutes.
Meanwhile bring a pot of water to boil. Add the broccoli rabe (you don't have to do this step if using broccolini) and cook 1 minute. Drain under cold running water and dry thoroughly. Chop the broccoli rabe or the broccolini coarsely and add to the skillet with the sausage and 1/2 cup water or wine. Cook, stirring, for about 10 minutes or until the liquid has reduced and the broccoli rabe is tender.
Pour over 3/4 cup cooked pasta and top with grated cheese, if desired.
This segment aired on March 7, 2017.