How Rock Climbing Legend Royal Robbins Influenced The Sport
05:48
Play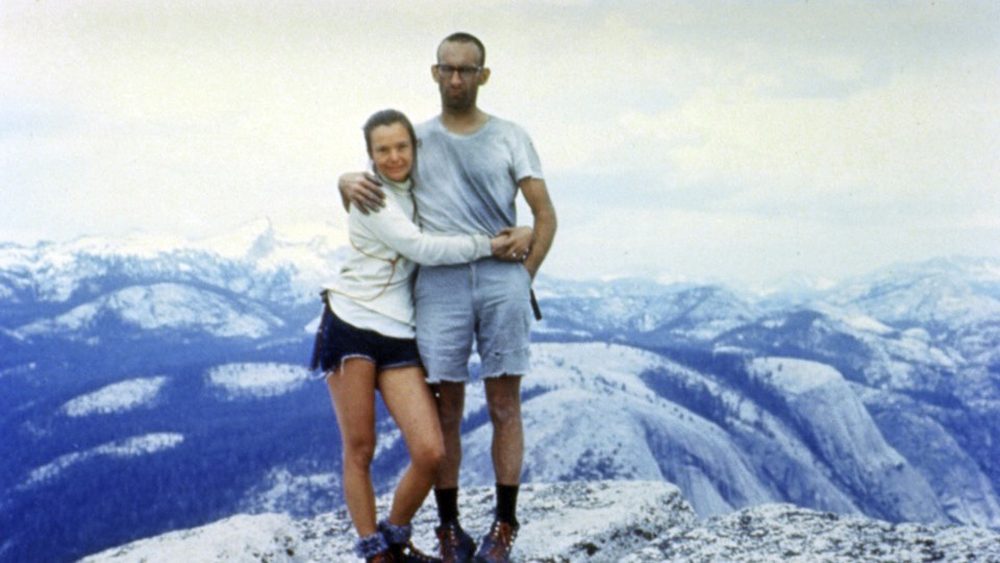 This article is more than 4 years old.
Royal Robbins, a legendary rock climbing pioneer, died Tuesday at age 82. Robbins helped usher in the golden age of climbing at Yosemite, and he advocated using clean climbing techniques that left no trace on the rock.
Robbins and his wife Liz founded the company Royal Robbins, one of the first to specialize in outdoor clothing. Rock climber and writer John Long talks with Here & Now's Robin Young about how Robbins influenced climbing.
Interview Highlights
On how he met Royal Robbins
"I first met him like so many people, young climbers, I first met him sort of by proxy, because back then there weren't a lot of routes and climbing areas, so the places we went to had Robbins' hand and footprints all over because he had done everything 25 years before. So, I met him that way, but physically, I never met him, I didn't meet him until I was perhaps 20 years old and was sort of the new hotshot, just as Robbins had been a couple generations before. And that was in 1978, I believe."
On places where Robbins climbed
"Robbins made his name and put American rock climbing on the map by the stuff he did in Yosemite because the iconic formations like El Capitan, Half Dome, Leaning Tower, Washington Comb, all those. Those had been burned into mankind's collective memory by Ansel Adams and any number of other people who'd been photographing that stuff as the world's grandest rock faces. It had the advantage of having, one, having perfect rock and two, perfect, weather and those don't come in combination very often. So, Yosemite was the perfect place to be able to invent all the new techniques that were necessary to climb rocks of that magnitude. And Robbins was at the head of that. It was like open seas back in those days. Nobody knew hardly how to sail a boat, so to speak. They invented the thing as they went along. A lot of the techniques, a lot of the equipment and the mindset necessary to tackle those... You can't understate how courageous those people were going up on those rocks back 50 years ago, when the materials, the techniques and the equipment were so terrifically caveman and crude. It was just amazing."
"He transcended climbing. He was an American treasure. What he did was like walking on the moon. There will never be another Royal Robbins."

John Long
On Robbins climbing without modern gear
"Let me put it this way — he did the first multi-pitch five-nine route. Five-nine being a rating system. But it's still today considered the threshold for expert terrain. The climb's Open Book… which is down by Palm Springs, really iconic place, 800-foot high granite plug. Today, people walk up to it with modern nylon ropes, sticky rubber shoes, NASA-engineered gear, and oftentimes have a fairly stiff time of trying to even do it. Robbins' first free climb, as you mentioned, with a white-line gold rope, Sears tennis shoes, virtually no protection, nothing in the crack to arrest a fall. And he was 17 years old. That was in 1950. Even now, the things he did back in the day are considered to be bold, but given the gear that he had, if you put that same gear on even a world-class climber today, they would go back and have their hands full doing what he did half a century ago."
On Robbins' legacy
"The guy transcended climbing in every way. That generation of Yosemite climbers actually gave liftoff to the entire adventure sports world. Out of that world came Royal Robbins, came [Yvon Chouinard] and Patagonia, it came Doug Tompkins and North Face, which eventually made all the equipment that you see on everything from sorority girls to Wall Street stock brokers. So, the imprint of that generation — and Robbins in particular — is giant. He transcended climbing. He was an American treasure. What he did was like walking on the moon. There will never be another Royal Robbins."
This article was originally published on March 17, 2017.
This segment aired on March 17, 2017.