For Opioid-Addicted Inmates, More Jails Rely On Vivitrol
Play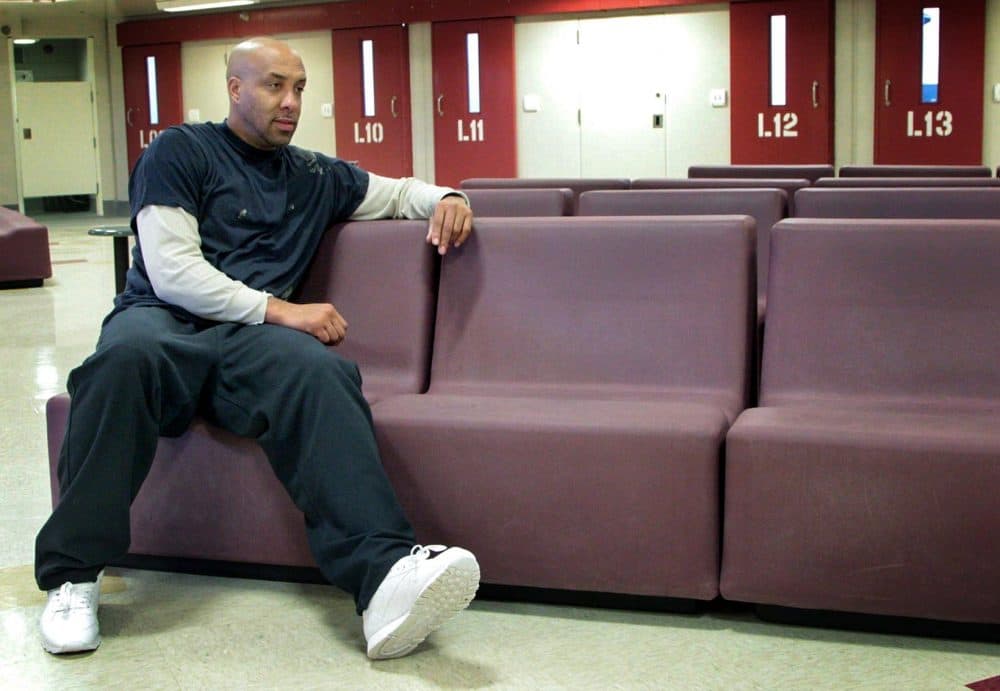 This article is more than 5 years old.
Sixty-five percent of the U.S. prison population is addicted to drugs or alcohol, but only 11 percent receive treatment, according to a study by the National Center on Addiction and Substance Abuse.
Germaine Jackson is one of those inmates. A recovering alcoholic, he was one of thousands to fall victim to the national opioid epidemic.
"It got to the point where I had no money, I had to steal to support my habit," he says.
Jackson was convicted of larceny and sentenced to serve a year at Barnstable County Correctional Facility in Buzzards Bay, Massachusetts, where he participated the jail's Residential Substance Abuse Treatment (RSAT) program.
Inmates in the program are separated from the rest of the jail population — they wear different uniforms, follow a military-style structure, and participate in behavioral therapy and drug education to prepare them for life on the outside.
"A lot of my friends are dropping like flies," Jackson says. "I don't know what I'm going to be walking out to."
Untreated inmates are 12 times more likely to overdose in the first two weeks after they are released. But a growing number of jails and prisons across the country may have a solution: a unique medication, called Vivitrol.
Vivitrol, also known as extended-release naltrexone, is a monthly injection that reduces opioid and alcohol cravings.
"The other thing it does is prevent anybody who uses narcotics to actually get high, or significantly reduces the high," says Dr. Warren Ferguson, director of the Health and Criminal Justice Program at the University of Massachusetts Medical School. "Most importantly, it will prevent overdose and death."
In a new collaboration, Ferguson is working with Barnstable County Jail and other correctional facilities to study the effects of medicated opioid treatments on inmates.
"Abstinence alone does not cure addiction; people need treatment," says Ferguson.
Some prison programs rely on more traditional medications like methadone or Suboxone, which are taken daily. Studies show the drugs are promising, but treatment poses challenges because both medications are narcotics that can be abused and sold illegally without proper oversight.
"A lot of my friends are dropping like flies. I don't know what I'm going to be walking out to."

Germaine Jackson
Vivitrol was approved for opioid treatment in 2010. Today, it is used in jail and prison programs in 28 states.
But Vivitrol is no wonder drug.
Like Jackson, his younger brother Corey was also recovering from opioid addiction. He had been prescribed Vivitrol by his doctor, but after about eight months, treatment stopped.
"My brother in turn went back to using heroin," Jackson says, "and he subsequently overdosed."
His brother died last year, at the beginning of Jackson's sentence.
A study published in the New England Journal of Medicine showed the effects of Vivitrol tend to wane after treatment stops, which is why maintaining care is important.
North of Barnstable, Sheriff Peter Koutoujian leads a similar drug abuse program at Middlesex County Jail, which has also partnered with the University of Massachusetts. One of his main concerns is helping inmates with health insurance.
"Before I became sheriff," Koutoujian says, "we'd hand them a packet so they could sign up for their own Medicaid," a long and complicated process.
Koutoujian's Vivitrol program assigns social workers to help in the transition out of jail, making sure the largely poor, drug-addicted inmates can continue treatment at low or no cost to them.
Of the 64 people who finished the program, 56 were enrolled in the state's Medicaid program, called MassHealth.
And the results are positive. At both Barnstable and Middlesex County jails, recidivism rates have dropped significantly.
For Jackson, Vivitrol is not the only answer. Once he is released, he will rely on his drug education and recovery techniques to establish a new life.
He will also have the memory of his younger brother to motivate him.
"I miss him a lot," Jackson says. "I just want to make him proud."
This segment aired on March 30, 2017.