How The U.S. Election Shifted The International Politics Of Climate Change
Play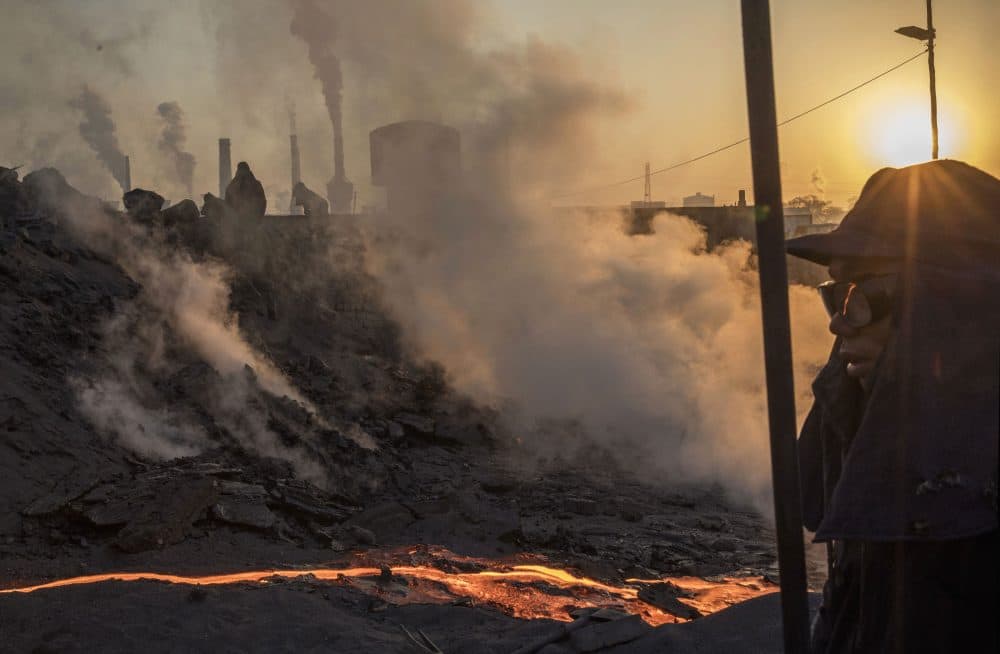 This article is more than 5 years old.
President Trump has acted swiftly to gut his predecessor's legacy on climate change.
Meanwhile, China has emerged as a world leader in renewable energy as it faces its own pollution crisis. With the U.S. rolling back many policies on climate change, some observers say China will step in to fill the gap.
Here & Now's Robin Young speaks with Kelly Sims Gallagher (@kellysgallagher), a professor of energy and environmental policy at The Fletcher School at Tufts University, and formerly a senior China adviser in the Special Envoy for Climate Change under former President Obama.
Interview Highlights
On how the tables have turned when it comes to China, the U.S. and climate change
"What a difference a few months makes. It is true that the Chinese are seemingly determined to stay the course, no matter what happens with the Trump administration. That's very good news, because the Chinese are the largest emitter of greenhouse gases globally, by a lot. It's very important that they continue to reduce their emissions domestically."
On whether China is the new leader on addressing climate change
"Certainly in terms of its commitments to reduce emissions over the coming decade, I think it's fair to say that China's definitely the leader of developing countries. It was the first to set a peaking goal, in other words, that emissions would reach a peak and then turn around and start to be reduced. That's no small feat, given that China's an enormous country, and relies very heavily on coal. In terms of absolute emissions reductions, other countries are ahead of China, but most of those countries are industrialized countries."
On how tackling climate change is good for China's economy
"Central to the Chinese economic reform agenda is the desire to reform the economy away from heavy industry, polluting industry, towards services and lighter industry. As a natural consequence of that, if they're successful in the reform, their economy would move to cleaner industries, and thereby achieve significant reductions in air pollution and greenhouse gas emissions."
"The Chinese view the renewable energy industry as the industry of the future, and they've invested heavily in these industries. They also have very stable policies underpinning those investments to provide predictability to the market. As a result, they've set a goal of achieving 20 percent of their energy consumption from renewable energy by 2030."
"The Chinese view the renewable energy industry as the industry of the future, and they've invested heavily in these industries."

Kelly Sims Gallagher
On whether China will convince U.S. leaders to change their thinking about climate change
"It's very hard to predict how President Trump will respond to that kind of message, but indeed I think the Chinese believe it is in the best interest of both countries to address climate change. We share the lion's share of the responsibility for causing climate change together. The fact that climate change became a bright spot in the U.S.-China bilateral relationship during the end of the Obama administration was very important to the relationship between the two countries. It demonstrated that we had a mature relationship. We could agree on some things, and work together, shouldering global responsibility, and disagree on other things. It was a sign of the maturity of the relationship that we could do both at the same time."
On whether China will pull back from addressing climate change if the U.S. does
"China was always most comfortable sharing that leadership role. You may remember [Chinese President] Xi Jinping put forth a theory of great power relations. That theory essentially indicated that together, China would join other countries to shoulder responsibility for global issues, such as climate change. And I think China feels very uncomfortable being the sole leader of any kind of global effort."
This segment aired on April 7, 2017.