One Nuclear Security Analyst On Why The U.S. Should Resume North Korea Talks
09:46
Play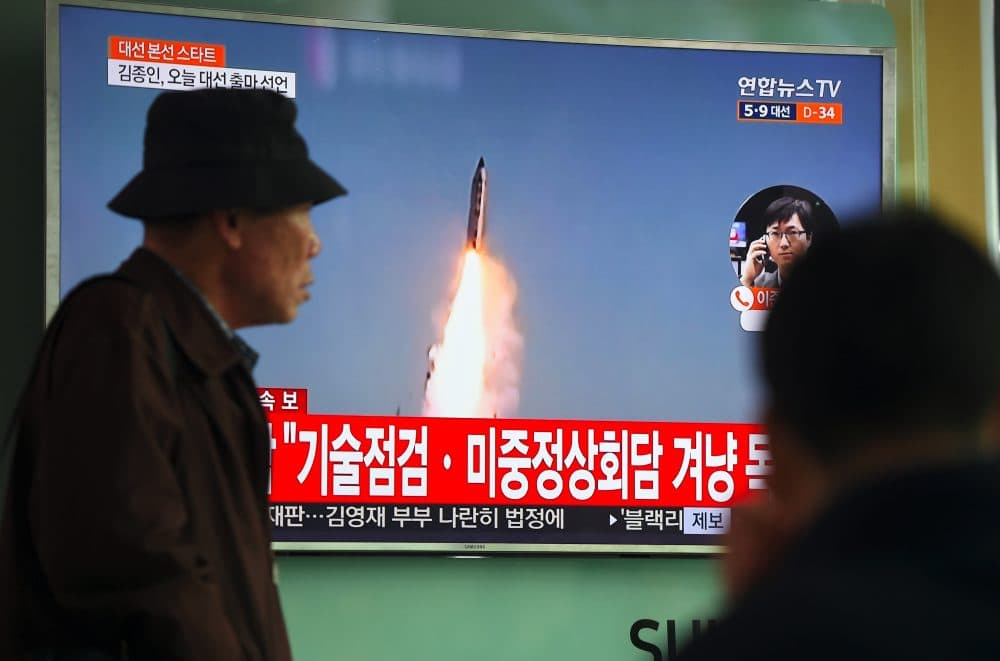 This article is more than 4 years old.
North Korea launched a ballistic missile this week, just before the first summit meeting between President Trump and Chinese President Xi Jingping at Mar-a-Lago, Trump's Florida resort.
How to halt North Korea's nuclear program is one of the most important topics on the summit's agenda.
Here & Now's Jeremy Hobson talks with Siegfried Hecker, senior fellow at the Center for International Security and Cooperation at Stanford University and emeritus director of Los Alamos National Laboratory, about why he thinks resuming talks with North Korea will help rein in its nuclear program.
Interview Highlights
On Secretary of State Tillerson's comments that the U.S. has "spoken enough" about North Korea
"It's hard to know what to do with that particular comment. At this point, my view has always been that what we need to do now is talk to North Korea.
"As it turns out, that would be the most productive. And actually the reason for talking — a lot of people misunderstand, 'Why talk again? Haven't we negotiated off and on over the years?' The reason for talking now is because the Trump administration, and of course that includes Secretary Tillerson, they face an entirely different threat than the previous three presidential administrations had faced. The threat today is, the North Koreans have a nuclear arsenal. And, the challenge today is, how do we make sure there is no nuclear catastrophe on the Korean Peninsula? In other words, that those weapons are not used. To do that, it takes the United States to talk directly to North Korea."
On the 1994 agreement between North Korea and the Clinton administration
"What happened is the North Koreans had been building the capacity to be able to build a bomb for several decades before the Clinton administration. The Clinton administration's challenge was, how do we stop the North Koreans from getting the bomb? And he did this through what was called the Agreed Framework in 1994. By the time he left office, it's my general sense, the North Koreans did not have a bomb. So, he more or less succeeded. However, in the next administration — the George W. Bush administration — there were a number of officials who simply did not like the Agreed Framework. Eventually, they wound up walking away from that, having accused the North Koreans of cheating. When they walked away, they weren't prepared for the consequences in that, North Korea then built the bomb. So, the best we know, North Korea built the bomb some time [around] 2003, 2004."
"The reason for talking now is because the Trump administration, and of course that includes Secretary Tillerson, they face an entirely different threat than the previous three presidential administrations had faced."

Siegfried Hecker
On whether Kim Jong Un is a rational actor
"I disagree with the fact that he's irrational. If you look at what he's done in five years, he's built a formidable nuclear arsenal. I think he's unpredictable, and for the most part, the danger is we simply know so little about him. That is actually precisely the reason that I believe we need to go talk. That is to make sure that he doesn't believe, the young man that he is, that somehow those nuclear weapons can be used in some limited fashion. That there may be no particular danger of escalating a conventional confrontation into a nuclear confrontation. That he really understands how dangerous nuclear weapons are to those within country. In other words, either from a nuclear weapons accident, or, the issue of the security of those nuclear weapons."
On North Korea's nuclear capabilities
"It's very difficult to assess the size of that arsenal. The best that we can actually do is to try to estimate how much of the bomb fuel that North Korea could have made. In other words, the plutonium, and the highly enriched uranium. Based on those estimates, I think it's possible that North Korea has sufficient bomb fuel for 20 to 25 nuclear weapons. The most important aspect of assessing their nuclear capabilities are the fact that they've done five nuclear tests. And the last few nuclear tests have been on the destructive power, on the order, of a Hiroshima and Nagasaki. So in other words, they know how to make a bomb big enough to destroy an entire city. And with the enormous rocket and missile campaign they had in 2016, I now generally believe — although again, all of this is very uncertain — that they most likely can put a nuclear warhead on missiles that can reach all of South Korea, all of Japan and perhaps some U.S. assets in the Pacific. I do not believe they have the capability to reach the United States as yet."
On whether he thinks North Korea would give up its nuclear weapons
"At this particular time, I think there's no way that North Korea would give up its nuclear weapons. What the Chinese tend to say is, 'Look, it's you Americans that have caused the North Koreans to get nuclear weapons. You caused them their security anxiety.' Unless and until that anxiety is resolved, North Korea's not going to give up its nuclear weapons. That is a long-term project. Talking now is to avoid the use of weapons, and to lay the groundwork that eventually, one might be able to get to a point where one might be able to actually convince the North Koreans that they are better off without nuclear weapons than with them."
On whether the solution is to rely on China to put pressure on North Korea
"My view is what with the last couple of administrations indeed have believed two things. One is sanctions and more pressure from China. That hasn't worked, and in my opinion, it will not work."
On what sticks with him from his visits to North Korea
"I've been there seven times, four times in the nuclear facilities. I would say the first and most important thing is the capabilities of the nuclear technical people and the complex. The other aspect is the people. We tend to demonize the leadership of other countries, and some countries certainly deserve it. But we shouldn't demonize the people."
This segment aired on April 7, 2017.