'It's Where Our Values Are': Wave Of Optimism Means More Puerto Ricans Are Staying Put
04:40
Play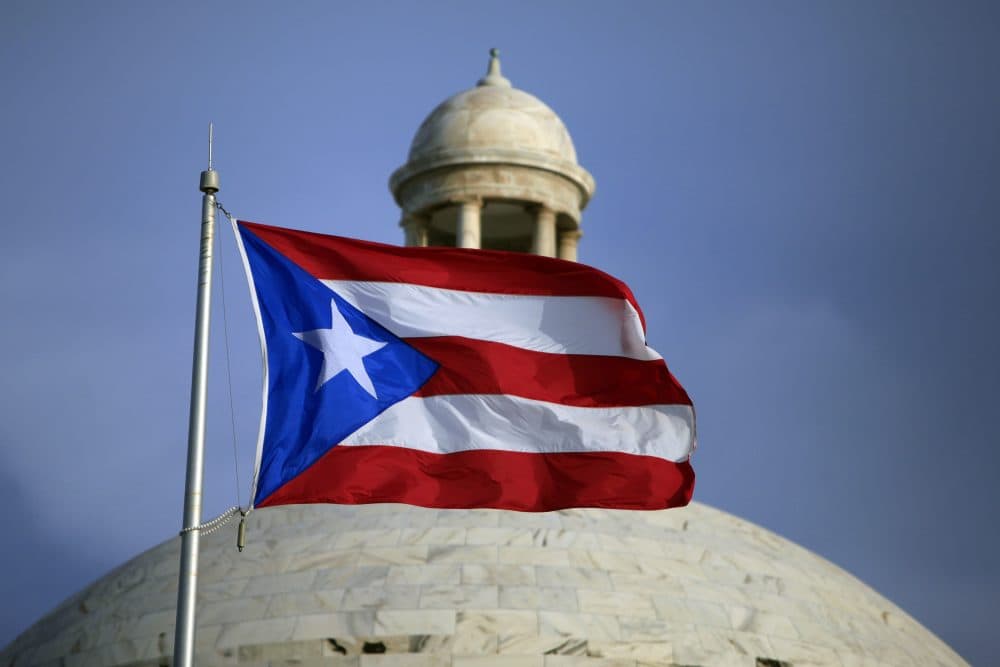 This article is more than 3 years old.
In Puerto Rico, despite a financial crisis and a lagging economy, there's something new in the air in some parts of the island — optimism.
Over the last decade, nearly a half million Puerto Ricans have left the island, most moving to the U.S. mainland. But there's a growing number of young professionals who believe their future is on the island.
You find them opening restaurants and management consulting firms, or running schools and nonprofits. In San Juan, nearly 20 social service groups and for-profit startups, mostly run by young people, share space in an airy, recently renovated building.
It's the Community for Collaboration and Social Innovation, a co-working space for people and groups thinking about how to build Puerto Rico's future. On a visit there recently, more than a dozen of these dreamers sat around a table to talk about why, unlike nearly a half million Puerto Ricans in the last decade, they made a conscious decision to stay on the island.
Jorge Besu, a marketing consultant, says for years companies in Puerto Rico would look to the government for contracts and subsidies. With the island's ongoing financial crisis, for the new generation of entrepreneurs, that's no longer an option.
"We don't depend on the government," he says. "Even not-for-profit organizations here are looking at social entrepreneurship models. So the model has changed."
Besu was laid off in 2011 after his company restructured. He says in Puerto Rico today, you have two options: leave or create your own opportunities. He started his own firm in Puerto Rico. That decision — whether to stay on the island or make a future on the U.S. mainland — is one that nearly every young Puerto Rican faces.
Michael Fernandez is a lawyer who comes from a large family.
"We are 13 cousins in my father's side of the family," he says. "And there's only three of us left in Puerto Rico. Everybody left in the past five years. But, it's a conscious decision to stay here."
After graduation, Fernandez had job offers from law firms. But he wanted to help make Puerto Rico better and decided he'd rather work with low-income communities.
"Because there is a lack of social justice in Puerto Rico," he says, "we have a lot of the problems and the crisis we live with right now. And I'd rather assume responsibility and occupy a position of leadership as opposed to look around me to see who else would do it or leave and let somebody else deal with it."
"I think, when you leave your country, even if you become the next billionaire in that country, you give up something."

Carlos Ruiz
Puerto Rico has been a U.S. territory for more than a century. Even so, people who grow up there have a powerful affinity for the island, which they commonly refer to as "El Pais" — the country.
But after a decade of recession and a lingering financial crisis, Rebecca Gonzales says Puerto Rico is a place with very low self-esteem. She sees it in the students she works with at an alternative high school. Her challenge is teaching the next generation to love themselves and the place they come from.
"Most of us here, we've said, 'I don't know, maybe it's a good idea to leave,' because it's tough, you know?" Gonzales says. "But then, you think about it and you're like, 'This country has given me so much.' And we love our heritage and we know who we are, and we love our language. So we say, 'Let's stay and let's fight for it.'"
After a decade-long recession and surging outmigration, in this group of young entrepreneurs and activists there's a real sense of anticipation for what's next in Puerto Rico.
Carlos Ruiz worked for more than 20 years for Mars, incorporated and other large U.S. companies before starting his own management consulting firm. He acknowledges the decision to stay and try something new carries more risk than leaving for a corporate job on the mainland. But, Ruiz says, the reward is much greater.
"Because it's where our values are," he says. "In my case, all my family is still here. So I do have deep roots here and I think, when you leave your country, even if you become the next billionaire in that country, you give up something."
Ruiz's business partner, Carlos Frontera says reinventing your career isn't easy. But leaving your home and family is hard, too, and that's a path many thousands of Puerto Ricans are being forced to take.
"They are crying their hearts to come back," he says. "But they can't."
They can't because they can't make enough to support their families in Puerto Rico. As it struggles to resolve its financial crisis, the island has many challenges ahead. Its biggest one may be convincing its next generation that their best opportunities are at home in Puerto Rico.
This article was originally published on April 07, 2017.
This segment aired on April 7, 2017.