Yo-Yo Ma, Chris Thile And Edgar Meyer Put Their Spin On Bach
Resume
Cellist Yo-Yo Ma (@YoYo_Ma), mandolinist Chris Thile (@christhile) and bassist Edgar Meyer (@EdgarMeyerJr) enjoy playing together — in 2011, they teamed up with Stuart Duncan for "The Goat Rodeo Sessions," which won a Grammy for Best Folk Album. Now they've teamed up for a new album, "Bach Trios."
The three musicians talk with Here & Now's Meghna Chakrabarti, and give a short performance in the studio.
Interview Highlights
On Bach
Yo-Yo Ma: "I think because some people write specifically for an instrument, but I think his concept of music — since he was an organist, and an organ actually represents so many instruments — I think is actually his language is more architectural than indoor painterly kind of style. You mix mandolin, cello and bass — I think a combination that's never really occurred before — remarkably, it sounds fabulous."
Edgar Meyer: "It is surprising, even in our world of more bluegrass-related things, it's one of the first places people go. Everybody seems to be attracted to it."
Chris Thile: "Just about any serious musician I've ever had a conversation with, arguments about who the greatest musician ever was start really boring because it's just, 'Bach.' You're all set to disagree with someone and no one says anything else. But then you get to No. 2, then the debate starts."
On the unexpected combination of their instruments, and how they make it work
YM: "It is so fantastic to make music with people who have incredibly strong identities, but the content of what they do transcends ego, placement. I feel the flexibility of their minds."
CT: "At this point there's actually not much thought, it's just your speaking voice. It's just like, we're three people who like to talk to each other regardless of maybe having sort of a perfectly low, sonorous voice, and someone with a silvery voice. It has to do with what we're gonna to say. For the three of us, [Yo-Yo's] speaking voice sounds like a cello, Edgar sounds like a bass, mine sounds like a mandolin, that's just what we have to work with, and we like speaking with one another."
"It is so fantastic to make music with people who have incredibly strong identities, but the content of what they do transcends ego, placement. I feel the flexibility of their minds."

Yo-Yo Ma
On the Bach piece they played
EM: "That piece is particularly good in that way because that piece really is three voices, three totally separate voices, each with something to say, but that combine for a harmonious whole."
CT: "A melody like that, an ostentatiously simple melody that can contain so much, is — this is one of the things that I've learned so much about having grown up playing mandolin which is, you tend to fill up the space, because your instrument doesn't really fill it up naturally, so you just kind of play more and more and more notes. Interacting with these two gentlemen has given me a newfound appreciation for space, and for the beauty contained in a simple... I think about Yo-Yo's first entrance (sings) and every time it happens, we've played this piece a lot of times now, every time it happens, I get chills."
YM: "It's so funny because this time, I was so locked into what you were doing, Chris. And I was just mesmerized by the sheer delicacy of phrasing, how intimate it was. And so in that sense, it's a real privilege to be part of that."
YM: "One thing I was just thinking about, one of the purposes of learning how to play an instrument really well is so that you can go beyond the instrument. Sure, you're playing the bass, you're playing the mandolin, you're playing the cello. But you actually want to transcend that instrument so that you don't hear instrument, but rather you're hearing music.
"Here we are supposedly good at doing those instruments, but we're actually also then playing music that tries to transcend itself. And that's some of the feelings we get from playing some of those pieces... You're in a space that is so wondrous and so amazing. This man was able to create the code that brings us all together into that space of wonder. I'm just devastated every time I hear it."
More Photos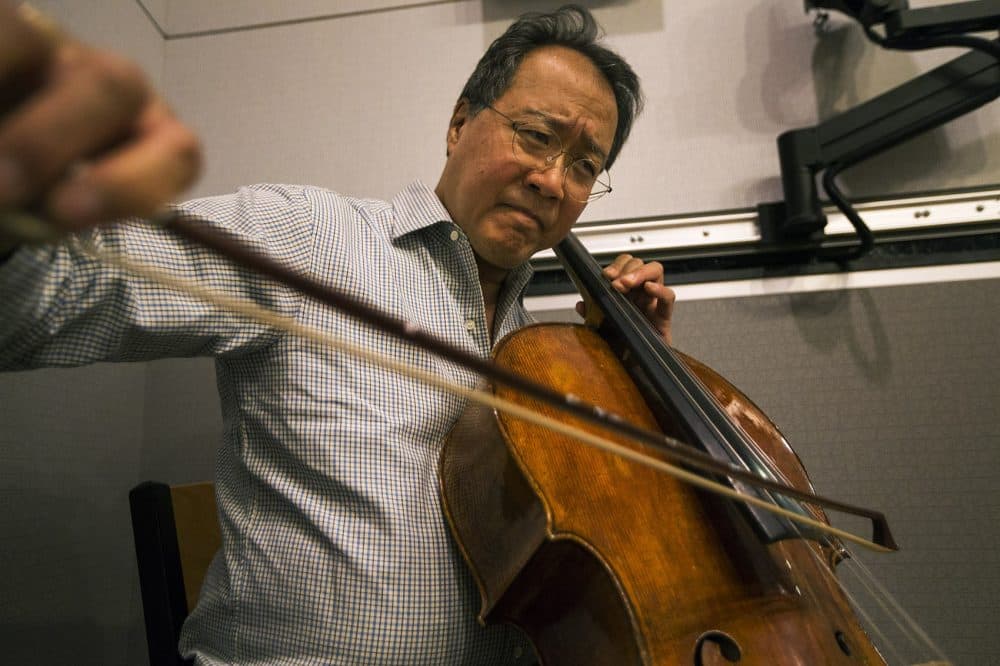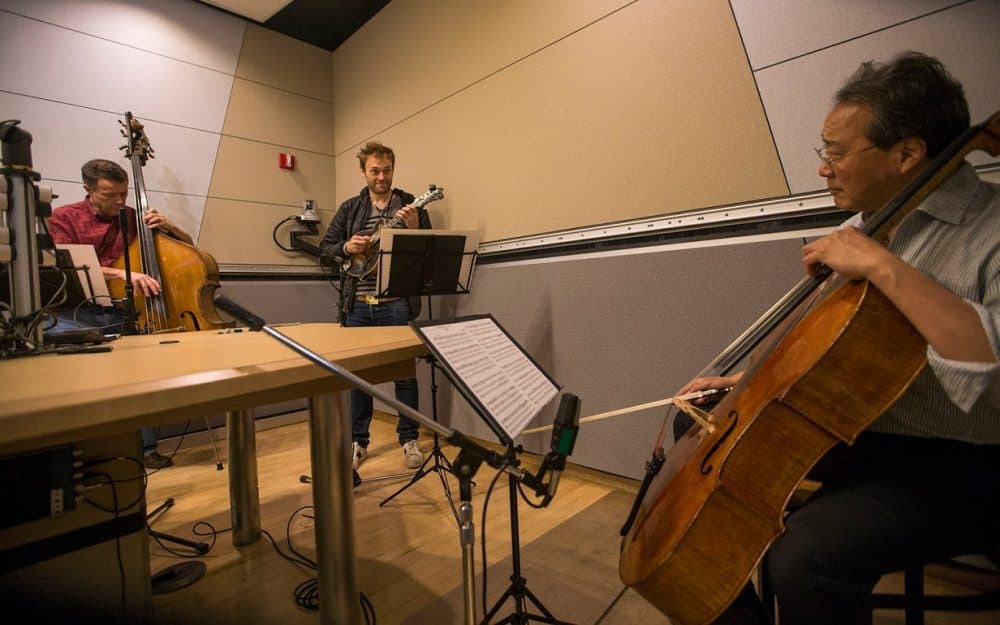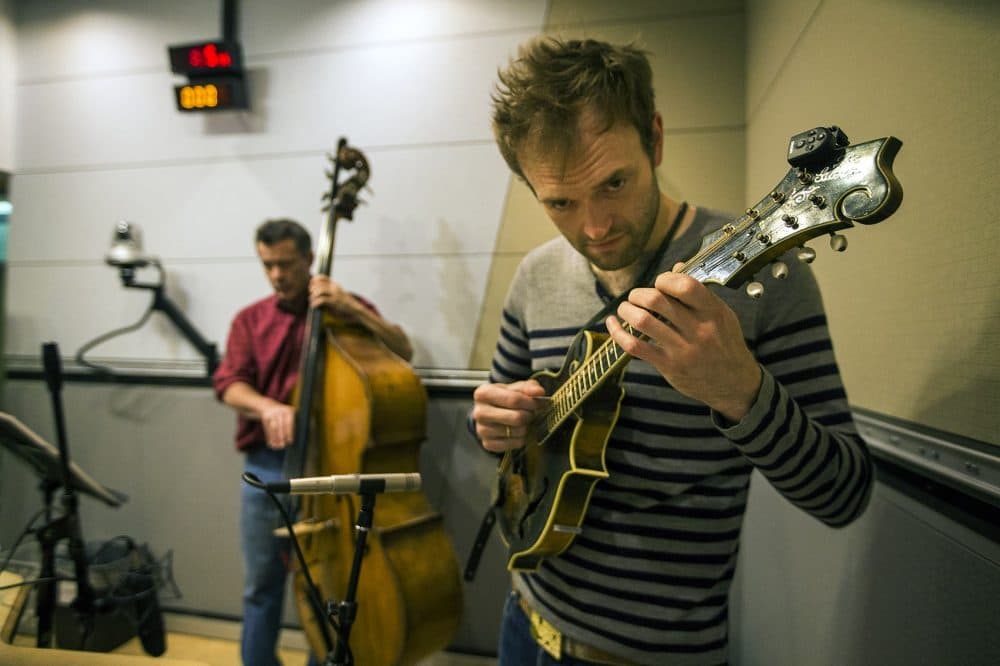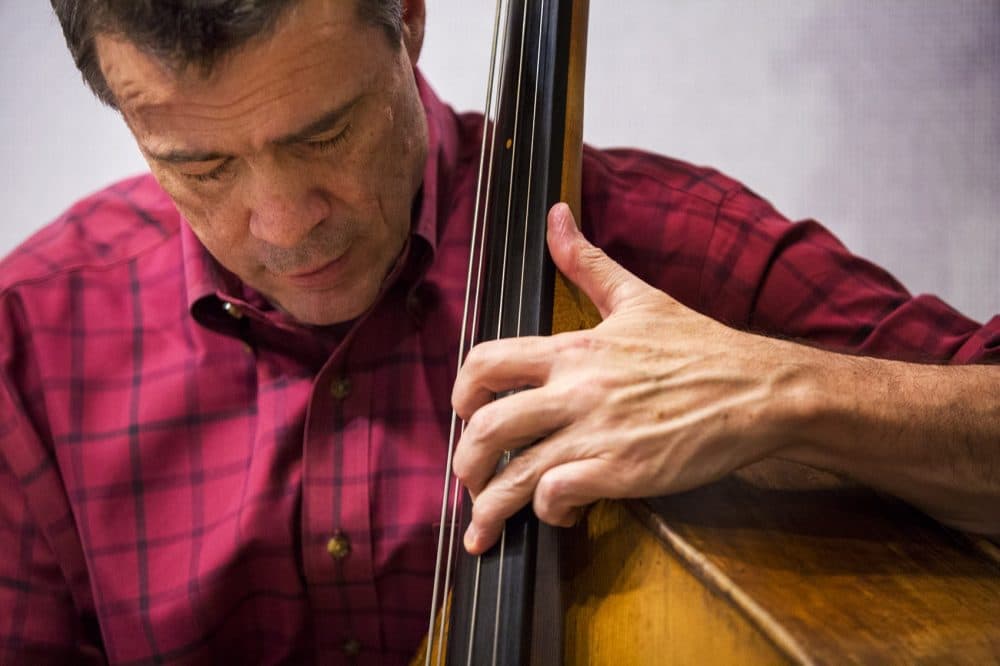 This article was originally published on April 25, 2017.
This segment aired on April 25, 2017.