Antiquities Act Under Fire From White House
04:58
Play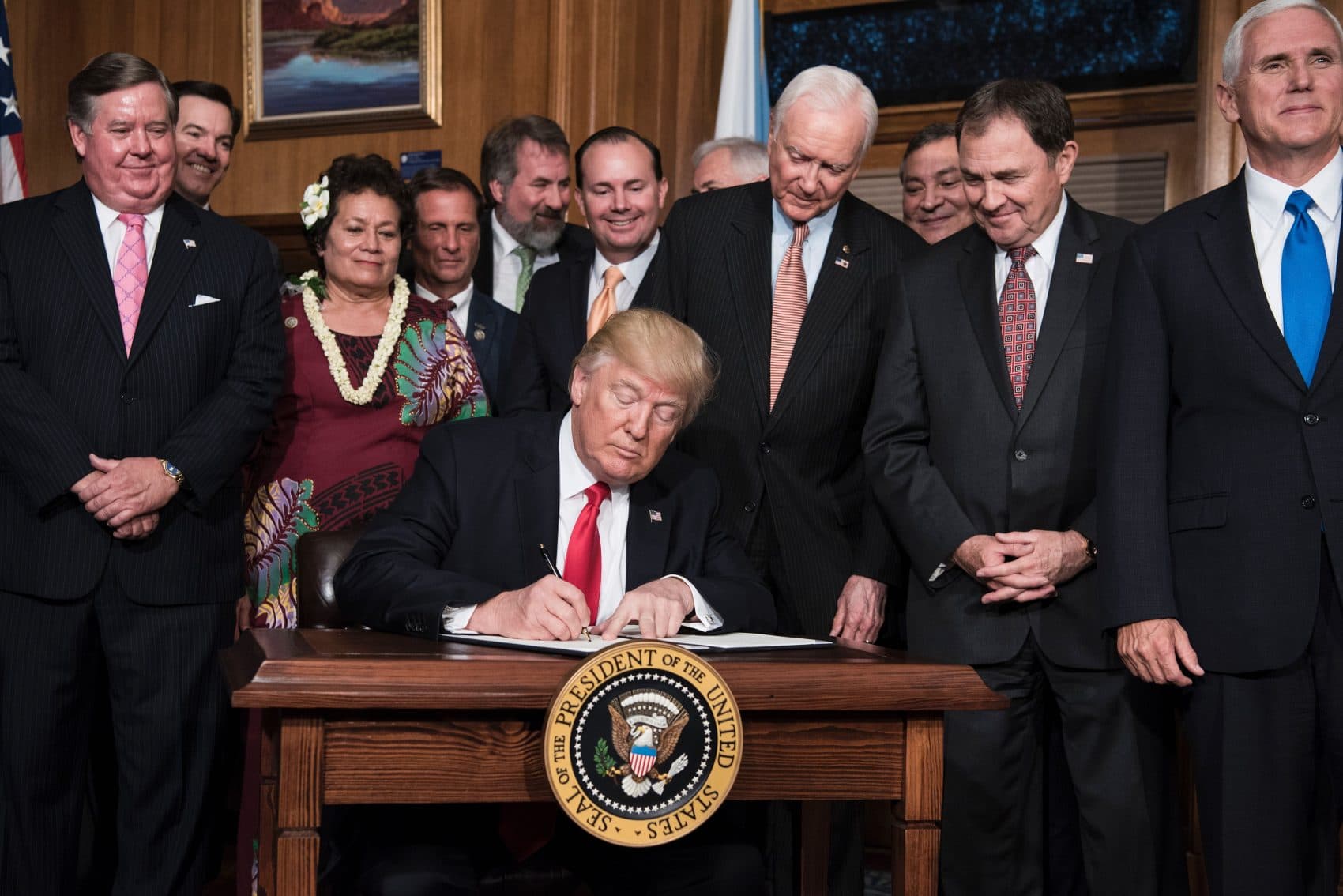 This article is more than 4 years old.
Sally Jewell was former President Obama's interior secretary when she presided over a listening session last summer in the postcard-pretty town of Bluff, Utah.
Thermometers topped 100 degrees that day in southeastern Utah's red rock country. Yet hundreds jammed the tiny Bluff Community Center, and they listened over loudspeakers in the dusty, dirt parking lot to the debate over the future of nearby land that everyone seems to cherish.
"Madam Secretary," one monument opponent said, "can you please answer to us: What gives you the constitutional right to come in here and dictate land here in the state of Utah?"
"Making this designation will take courage," Ethel Branch, the attorney general for the Navajo Nation, told Jewell, "and I pray that the president has the courage to make this designation."
After fielding hours of impassioned comments, Jewell wrapped things up.
"I have heard you loud and clear," she said.
And a few months later Obama created the Bears Ears National Monument as one of his last official acts as president.
Last week, the new Republican White House launched a review of national monuments created in the last two decades. And the stage is set now for more fighting over the Antiquities Act, the federal law that allows presidents to create monuments single-handedly, and over the future of the newest monument — 1.3 million acres in southeastern Utah surrounding the twin mesas of Bears Ears.
President Trump has tasked Ryan Zinke, the new interior secretary, with reassessing two dozen national monuments, beginning with Bears Ears.
"Mr. President," Zinke said at an official signing ceremony in his office April 26, "thank you once again for fulfilling your campaign promise to give a voice to our local communities and states."
Trump's executive order gives Zinke the summer to suggest changes to the 24 monuments and possibly the century-old Antiquities Act. Utah Republicans and the Trump administration say reform is long overdue. They contend the Antiquities Act is being abused and harming rural Americans.
"The Trump administration is doing what should have been done in the first place," says U.S. Rep. Rob Bishop (R-Utah), "by not only talking to people who live on the ground but actually listening to them."
As chairman of the House Resources Committee, Bishop is eager to help the administration with the overhaul. He represents the concerns of many Utah locals who've traditionally mined and ranched federal public lands.
"Ultimately," he adds, "there has to be some legislative changes that are made."
A president has never rescinded another president's monument, and attorney John Leshy says that's just one sign of how well the Antiquities Act has held up since 1906. But the Trump administration has been so unconventional it's hard to predict any threats Zinke's review might pose to the law and its principles.
"Recommendations could include going to Congress, trying to take action on his own or doing nothing," says Leshy. "At this point, he leaves all options open."
Leshy was the Department of the Interior's top lawyer two decades ago when President Clinton created another controversial Utah monument, the Grand Staircase-Escalante. It's also part of the Zinke review.
But Leshy says past court challenges and political efforts against the Grand Staircase failed. And now he wonders whether how much the Trump administration will be swayed by the love Americans feel for federal public lands.
Monument "defenders will hopefully make themselves heard loud and clear in this process," he says, "and say, 'We're fine and happy with these things and don't tinker with them.'"
Shaun Chapoose, chairman of the Ute tribe, is a big supporter, too. His tribe was part of the Bears Ears Intertribal Coalition, which urged Obama to create Bear's Ears. Now Cedar Mesa is protected — for tribal traditions like herb-gathering, for cultural resources like hundreds of thousands of archaeological sites and for grazing and other popular activities enjoyed by locals who've settled the area.
"And what's crazy is antiquities, right — who's more antique than Native American tribes?" he says. "Really, what we're trying to protect by designating the area is exactly the history of the first peoples here in North America."
Chapoose wonders if discrimination is to blame for the Trump administration's attack on Bears Ears. He points out it's the only national monument of 150 championed by Native Americans and designed with a co-management role for tribes.
Others are also hoping the monument designations stick, especially at Bears Ears. They include rock climbers, archaeologists, conservationists and even local entrepreneurs, like Ashley Korenblat.
She runs a cycling guide service in Moab, a tourist town that used to be a mining hub just north of the monument area.
"The Antiquities Act is bringing economic development to places where resource extraction hasn't been providing," says Korenblat, who also runs a nonprofit called Public Lands Solutions.
The outdoor recreation industry, she points out, reports $887 billion in annual consumer spending.
"The folks that are asking for this [national monument] review hope to prove that we're hurting the economy of these communities," she says. "But the reality is, we are promoting those economies because, in the 21st century, people want to visit historic and natural places, which is what the Antiquities Act provides."
The Trump administration's April 26 directive doesn't require Zinke to get broad public input or public hearings for his review. But the interior secretary is promising to visit southeastern Utah, just like his predecessor did last summer.
This article was originally published on May 01, 2017.
This segment aired on May 1, 2017.