'Taco Trucks At Every Mosque' Brings Latinos And Muslims Together During Ramadan
Resume
During the Muslim holy month of Ramadan, observers fast daily from dawn to dusk. And over the past few weeks, some observers in Southern California have been breaking that fast with tacos.
It's part of a campaign in partnership with Resilience OC called Taco Trucks At Every Mosque, which aims to bring Muslims and Latinos together. Here & Now's Robin Young speaks with organizers Rida Hamida (@RidaHamida) and Ben Vazquez (@DonBenjaminV) about what they hope to accomplish.
Interview Highlights
On what inspired the cross-pollination of mosques and taco trucks
Rida Hamida: "Ben Vasquez and I, as well as organizers of this movement called Latino Muslim Unity, sat down together and talked about different ways of engaging these two communities. I actually asked Ben. I said, 'For the month of Ramadan I would really like Latinos to invite Muslims to break fast. What kind of restaurant would you take them to?' It's really important in this movement to understand that not all Muslims are Arabs. So when you know that Muslims are everyday people — they're Asians, they're African Americans, they're Latinas, they're Latinos — it's hard to say that this is the first time that Latinos and Muslims are sharing a meal, because we're everywhere."
On how they first realized the idea
RH: "So we really wanted to embrace that idea — there was a fear that there would be a taco truck at every corner — in this month of Ramadan. And the Muslims really are experiencing a lot of injustice, and so we wanted to embrace the Latino community, as well as their culture, in this month to really fight that injustice in the most delicious way possible — one halal taco at a time... Halal actually means 'permissible' in Arabic. So halal is a type of meat [for which] the animal is slaughtered in the name of God without causing any suffering for the animal, and there's no hormones, and the animal itself has to be in good health. It's really a really healthy way of eating."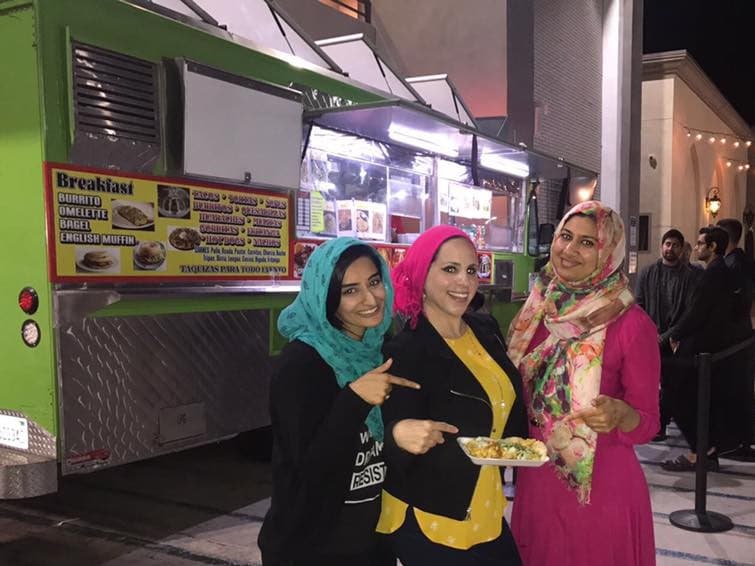 On who attends the Taco Truck At Every Mosque events
RH: "Well, everybody and their mother. It was really beautiful to see a multicultural representation of Muslims as well as our allies — not just Latinos. There was the LGBT community. There were Jews. There were Christians, Catholics, that really wanted to share in this solidarity movement. So we didn't just get a gourmet taco truck, we made every effort, Ben and I. Actually Ben's the one that found the taco truck, literally at a corner in Santa Ana. We worked with the taco truck owner and asked him if he would be willing to use halal meat, and he didn't understand what that meant, and we just let him know that means the way the meat is slaughtered adheres to Islamic law, and he really was open and so happy to serve the Muslim community in this month. He even said himself now he wants to purchase halal meat and serve it at the taco truck."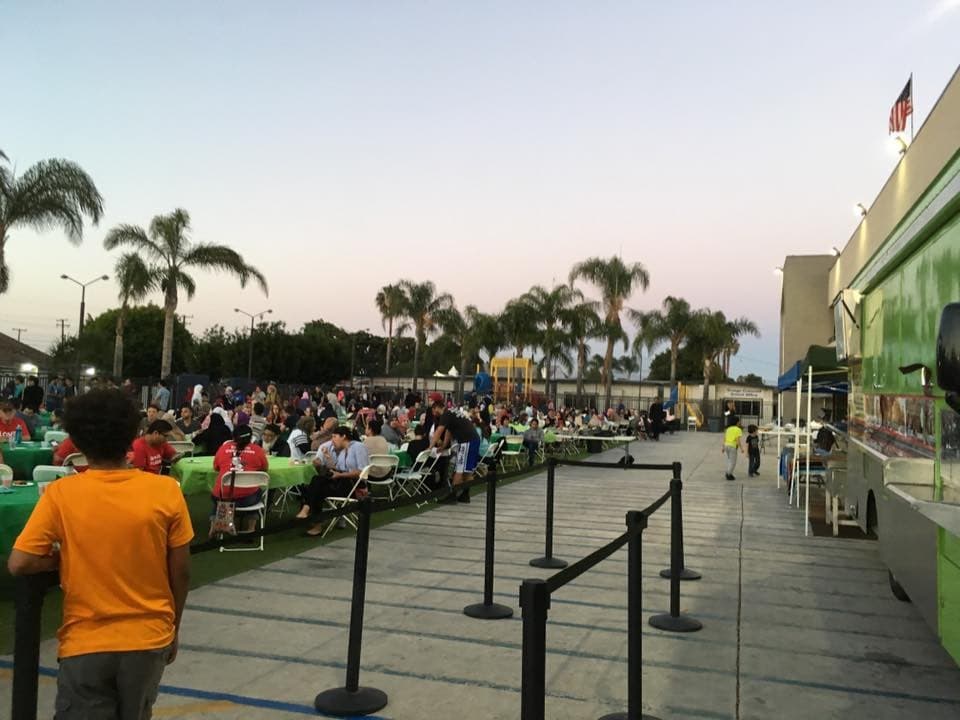 On the phrase "la cultura cura"
Ben Vazquez: "[It means] that when you're strong in your own culture it makes you resilient. 'The culture will cure you.' So when you have two minority groups uplifting each other and celebrating the other group, that builds resiliency in between that person in himself and as a community. Because you're saying, 'Look how great these things are,' as you're being talked about in a negative way. As you're trying to be pushed out, you're uplifting and saying, 'No, you're beautiful the way you are. We're going to celebrate you.' And that builds resiliency in people."
On the rates of hate crimes against the Muslim and Latino communities
RH: "It's really important to raise awareness about our struggles and the injustices that we both experience, but also to get to know one another and to defend one another. So I, being a proud Palestinian Muslim American born in Burbank, California — I'm a proud California girl — it's very hard for a lot of the Trump supporters to hear me say that. It makes them very uncomfortable...
"Actually one of the things that I have experienced personally is quite a few hate incidents. I've been told to go back to Iraq. I'm not Iraqi. [There's] times where I've been driven off the road... I am a hijabi, I wear the hijab, and so last week there were Trump supporters and they were actually videotaping me while I was videotaping and speaking to other people. They had their Trump shirts, and they approached me, and I actually invited them to tacos, and they politely accepted and they ate our food, and they were quiet! And so eating halal tacos really did combat hate."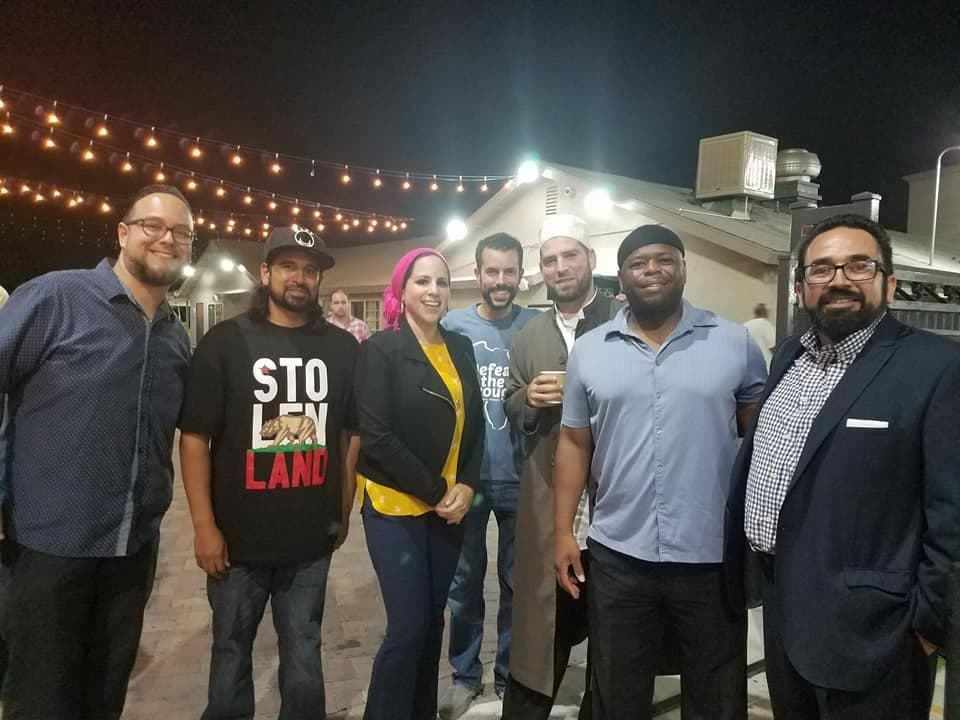 On how it's felt attending the Taco Truck At Every Mosque events
BV: "I felt inspired and grateful. It's just humbling to be there with other folks, and for them to bring you into their house after you've been depicted as a criminal and a racist, these people that are coming from another country, for people to let us come into their place at one of the most spiritual times, with open arms — and I loved every minute of it."
On whether they thought the Muslim and Latino communities would intersect
BV: "Not this closely. I knew I would have co-workers, some friends, but to be working and organizing in a mosque for the betterment of other communities, this is just awesome and it's a great feeling to be part of it."
RH: "Ben, I have an honest question. So before this Latino Muslim Unity effort that I invited you to, did you know anything about Muslims?"
BV: "I knew what I knew from history books: very little. We don't cover too much. I am a history teacher, but this — the intricacies, the cultural aspects, just things about Ramadan and how to behave and why things are done and a better understanding of Muslim folks — this is an eye-opener and it's a great experience."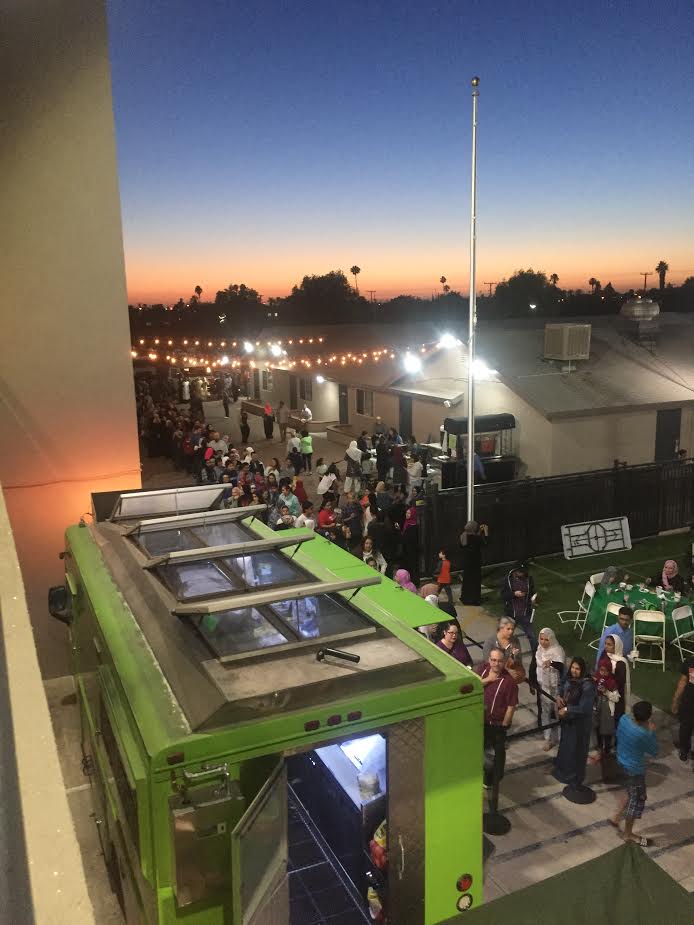 This article was originally published on June 21, 2017.
This segment aired on June 21, 2017.