How To Stop Heroin And Fentanyl From Coming Into The U.S.
Play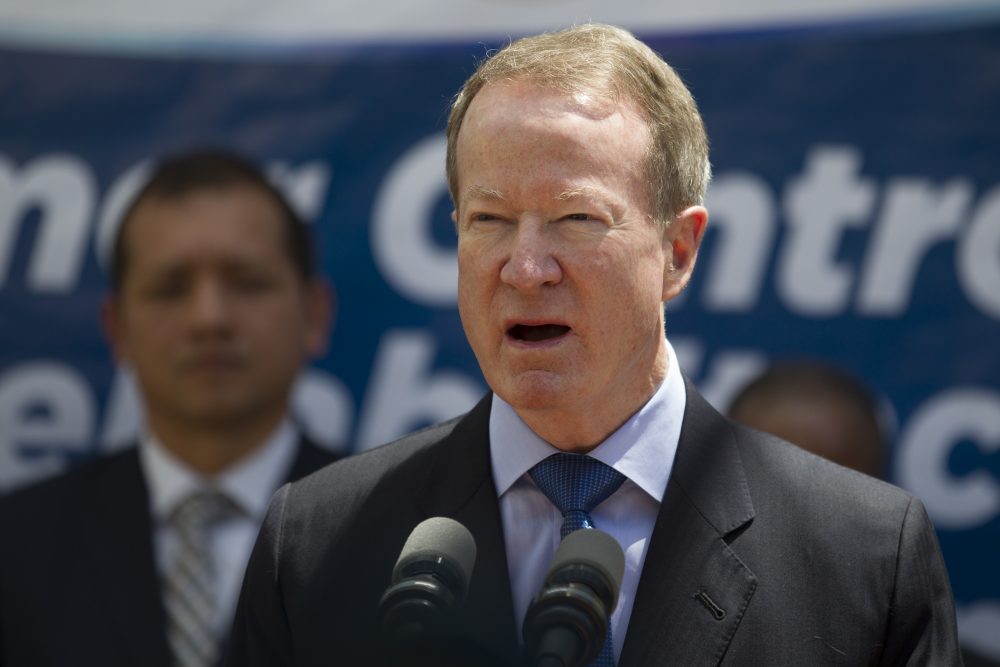 This article is more than 5 years old.
The United States is in the midst of an opioid overdose epidemic. In 2015, there were 52,404 drug overdose deaths, and more than 33,000 of them were caused by opioids — prescription painkillers like OxyContin as well as illegal opioids like heroin and fentanyl. Many of those opioids are coming into the United States from other countries, primarily Mexico and China.
Here & Now's Jeremy Hobson talks with State Department specialist William Brownfield (@stateINL) about efforts to stop the flow of drugs.
Interview Highlights
On the origins of drugs making their way to the U.S.
"Listen, when I talk about the current crisis, I say it's not just opioids: it's opioids, it's heroin and it's fentanyl. Now, most of the opioids that are consumed here in the United States are, in fact, domestically produced and then diverted into the black market. But nearly 100 percent of the heroin that is consumed here comes from outside of the United States. The overwhelming majority — like 95 percent of that — from Mexico. And the fentanyl, which is taking what is already a crisis, and turning it into a mega-crisis, overwhelmingly comes from outside the United States as well, in this case largely from China."
On U.S. efforts with China to halt the flow of synthetic drugs
"We started a serious dialogue with China about three years ago on the matter of fentanyl and other synthetic drugs that are coming into the United States. Since that time, China has moved to control — by which I mean to place law enforcement restrictions — on 136 synthetic products, including fentanyl, and all of the analogues, kind of the fentanyl-based synthetics that are produced lawfully in China, over the last year and a half. They have worked with us in the international organizations, the International Narcotics Control Board, the Commission on Narcotic Drugs, to place U.N. controls on precursors for fentanyl. And I've gotta tell you, I do not claim that all parts of the bilateral relationship between the U.S. and China are working well, but on drugs, I give them credit, we're cooperating quite well."
On the seriousness of the danger posed by fentanyl and carfentanil
"The danger of fentanyl — a product that is perhaps 10 to 50 times as potent as morphine or heroin — the danger, of course, is that if the user thinks he's just using a heroin product, and is unaware that it has been made infinitely more potent by the introduction of fentanyl, the risk of overdose and the risk of death is much, much higher. ... If fentanyl is 10 to 50 times stronger than morphine, carfentanil is 10 to 50 times stronger than fentanyl. And to indicate just how strong it is, it is usually used as an elephant or large-game tranquilizer."
"You can do in an envelope what might take you a truck with a larger product."

William Brownfield, on the ability to transport potent amounts of fentanyl in small packages
On U.S. efforts to stifle drug trafficking through the Americas
"If there is no demand, there is no production. Of course by the same token, if there is no production then eventually demand will die out. ... Ninety-five percent of the heroin consumed in the United States comes from Mexico, and yet we are making good progress with the government of Mexico, under the Merida Initiative, to address this issue. Colombia today produces 250 percent of the cocaine that it was producing as recently as 2013, and yet we are working cooperatively with the Colombian government under Plan Colombia. More than 80 percent of the South American product comes to the United States through the Mexico and Central America corridor that we're addressing through the Central America Regional Security Initiative. Most of the synthetics, and certainly most of the fentanyl and carfentanil, comes to China; we are working much more closely with them now then we ever have before. ... Our international architecture for cooperation and engagement is much stronger today than it was as recently as just 10 years ago."
On the ease with which fentanyl is trafficked into the U.S.
"It is actually a much easier process, and a much easier product, to insert into the supply chain, than is cocaine or heroin. The laboratory process is much simpler, the transportation is in much smaller packages, and you can do in an envelope what might take you a truck with a larger product."
On the potential effectiveness of a border wall
"What I will tell you is a matter of simple common sense. A wall, like almost any other element along a border, is a tactical opportunity. No specific technological or, for that matter, construction device is going to provide an absolute and complete protection. Whether it's radars or movement detectors, whether it's a fence or a wall, for that matter, whether it is lining up a border guard every 10 yards, everything is subject to being assessed and worked around by professional trafficking organisations. But by the same token, it is a tactical opportunity, so my own guess is that in the years to come, we will talk about how all of the elements — the technological elements, the intelligence collection elements, the personnel and transportation elements that we can apply both at the border and downstream deeper into countries from which the product or the people are moving — will all be part of an integrated law enforcement and border control exercise."
This article was originally published on July 31, 2017.
This segment aired on July 31, 2017.