Former Navy Surgeon On Why She's Offering Free Plastic Surgery To Transgender Troops
09:33
Play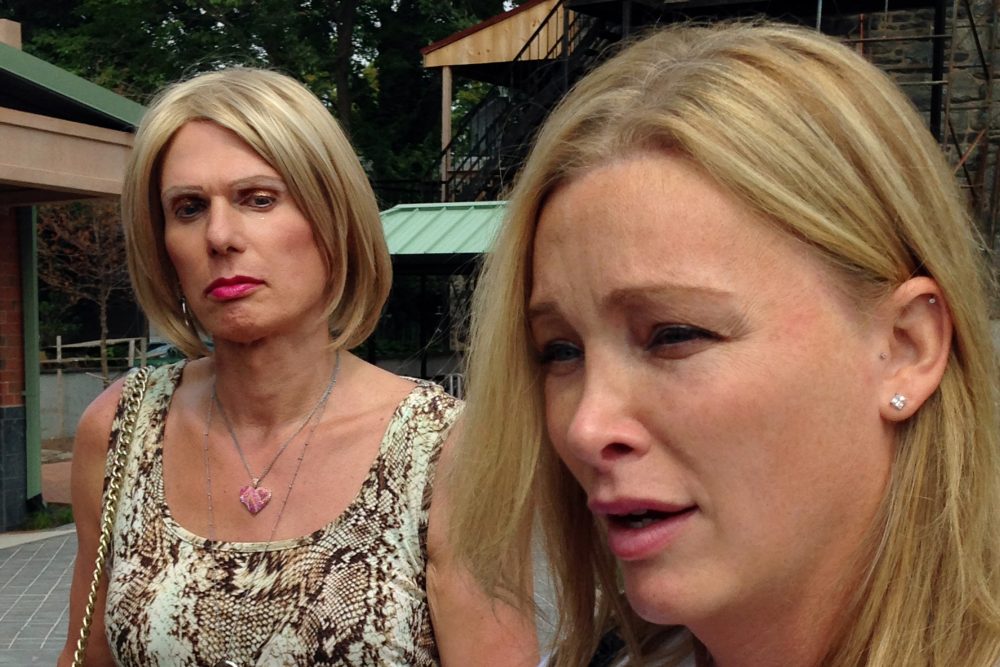 This article is more than 3 years old.
The Pentagon is still awaiting official orders from President Trump after he tweeted last week that transgender people will not be allowed to serve in the military. The president says the military can't afford the medical costs and disruption to unit cohesion. The transgender community is vowing to fight back.
That includes Dr. Christine McGinn, who is a transgender woman, veteran and plastic surgeon in Pennsylvania. Here & Now's Peter O'Dowd speaks with McGinn about her offer to provide free gender reassignment surgery to active-duty military members.
Interview Highlights
On why she's offering free surgery to transgender service members
"I'm just offering to help active-duty service members, because I don't think it's going to be that big of a deal. I don't think there's going to be that many people, and as long as I'm able to help out, I have no problem doing that. Because these service members deserve care. This isn't a social engineering experiment, this is evidence-based medicine, and I'm a physician and I just feel like there aren't a whole lot of people that do what I do, and I have no problem taking care of our own."
On the how much the surgery costs
"Well, there are different ways to talk about this. The RAND study has studied this issue in the military and is quoting $2.4 to $8.4 million per year, and that is in stark contrast to the $49 billion it costs for health care for all military members. When you ask me that question, one surgery in the civilian world isn't the same as the cost of a surgery in the military world, because you're performing the surgery in-house, or you could possibly perform the surgery in-house, and that's the other thing that I would be willing to do, is to train military surgeons to be able to perform this.
"So the cost is not the same as it would be on the outside, but since you asked the question, the cost of the surgery varies from where you are, what state you're in, but you're asking me the cost of the surgery. You have to remember that there are several different surgeries we're talking about, so that's a difficult question to answer, but I think what you're getting at is how much is a vaginoplasty. A vaginoplasty is $21,500 for the entire cost of it, so that includes pre-op care, post-operative care, the hospital stay, the anesthetic stay, the surgical fee, the whole six-month or so treatment of follow-up."
"This isn't a social engineering experiment, this is evidence-based medicine, and I'm a physician and I just feel like there aren't a whole lot of people that do what I do, and I have no problem taking care of our own."

Dr. Christine McGinn
On how her patients who are active-duty service members are responding to Trump's tweets
"They're telling me that it's not a big deal, I mean their command is accepting of them, they have been part of a unit for a very long time, and I've been asking people because I'm curious as well, 'How's this going?' And from a command level it hasn't been an issue. President Obama studied this and created a whole policy around it and it had been working fine. People have been having access to therapy and to hormones, and the last piece of it was the surgical part, and from what I understand, since this came into effect about a year ago, it takes a year to ramp up to the point where somebody would need surgery, so that's exactly where we are and the timing of this tweet is exactly when people were about to have surgery. They feel like they had the rug pulled out from under them and they're not sure what they're gonna do, and they're getting mixed messages between their command and the military, and then you get this tweet from the top, and without any specifics, so it creates a tremendous amount of stress and a blow to morale, for sure."
On the military paying for gender confirmation surgeries for transgender service members
"We should never be in the business of refusing medical care for our service members. It's very simple, I don't think there is an opposite argument. I think people have this idea of Corporal Klinger in 'M.A.S.H' or something... These are people who have been performing their duties for their whole career, and this is a medical issue. This isn't a choice and this isn't a social experiment; it's a medical issue and that's recognized, we have consensus in the medical community on that."
On whether the ban will officially be enacted
"What the military is defending is equal rights and freedom, and this is blatant discrimination. Why would you send a tweet that doesn't allow a service member even to answer the phone who's transgender? If your argument is cost or readiness, and somebody isn't having any surgery, and they will be deployable because they're not having surgery and they're just coming and saying they're transgender, why would you have a blanket statement that you're gonna get rid of all of them out of the whole military? That's indefensible."
This article was originally published on August 04, 2017.
This segment aired on August 4, 2017.