Are Tech Giants Like Amazon, Facebook And Google Monopolies?
Play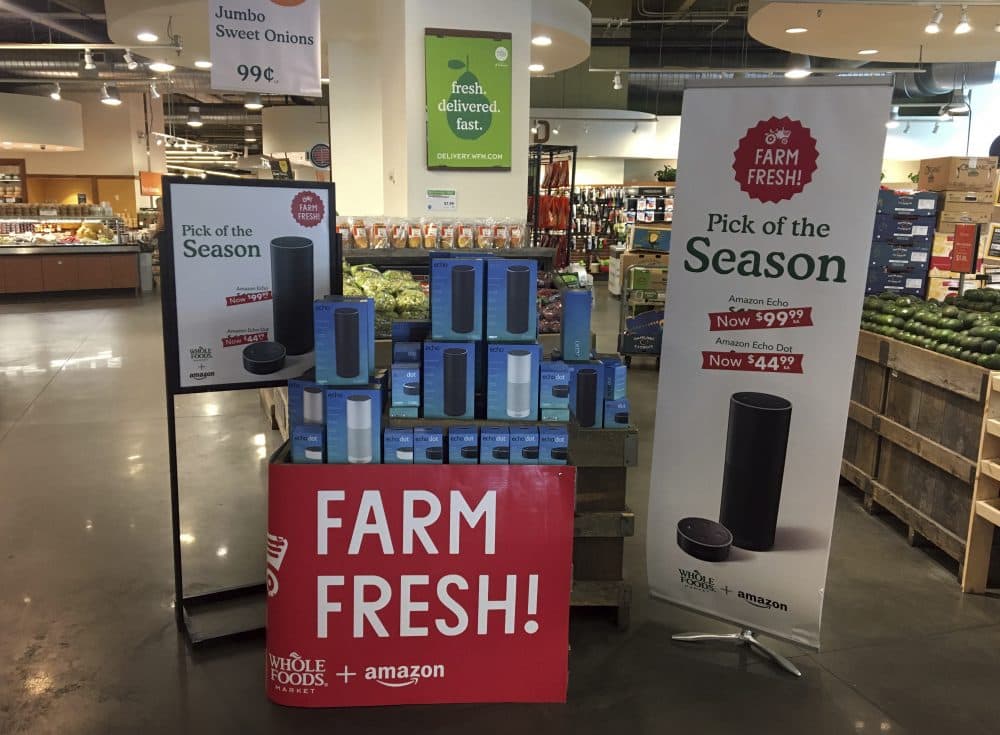 This article is more than 5 years old.
Amazon's $13.7 billion acquisition of Whole Foods has spurred industry buzz and a sell-off of competitors' stock. The deal, which closed last week after a brisk approval from federal regulators, has also renewed calls among some researchers and activists for antitrust action against the country's biggest tech conglomerates.
Here & Now's Meghna Chakrabarti talks with Matt Stoller (@matthewstoller), who studies monopolies at the think tank Open Markets.
Interview Highlights
On the definition of a monopoly
"The definition I like is what Louis Brandeis gave to Congress in 1913, which is that it's unified control of a recognized branch of trade in a good or service."
On companies he sees as the best examples of modern-day monopolies
"There are certain monopolies that are what one would call 'natural,' which is to say, like electric utilities, where it just doesn't make sense to string multiple power lines into buildings. And those need to be regulated. But in terms of markets where you could have rivals but you don't have rivals, you can just see something like search, search engines. There's basically Google, and what Google does essentially structures the internet. For social media, you have Facebook. And for online retail, while there are alternatives, Amazon is capturing an increasing amount of online commerce. So I would say those three institutions are the most obvious and most powerful monopolistic institutions that are in our culture right now."
On the harm that companies like Amazon may cause because of their size and reach
"Well there's a lot of downsides, but the way it was traditionally formulated in American history is this concept of absentee ownership, which is to say that the people that own a property don't live near it and don't take care of it because that doesn't affect them. Traditionally we've had a goal in this country of keeping institutions small and local: retail banks, farms. We've always wanted them to be family owned or as small as possible, and certain institutions like auto companies or chemical companies need a certain amount of scale, and then you have network monopolies like telephones and electric utilities.
"But what happens when you do organize, say, chain stores like Walmart or now Amazon, is you have communities that lose their control over the institutions that organize their retail space. So you've seen, you lose community leadership, you lose local charity, you lose local bank deposits. So you've seen in areas that are dominated by Walmart, you see a spike in obesity, you see a drop in voting rates, you see a whole bunch of social indicators that are negative, and you'll probably see that as well with Amazon, although there hasn't been the sociological research done yet."
"I would say those three institutions are the most obvious and most powerful monopolistic institutions that are in our culture right now."

Matt Stoller, on Amazon, Facebook and Google
On whether antitrust action should be brought against these companies
"You need a mix of of antitrust investigations just to figure out how these companies organize these industries, how they use data, how they manipulate us, what kind of prices they charge. Are there discriminatory prices? What are they doing in terms of racial, ethnic, gender-based choices? And then what you'd basically do is you'd use a mix of antitrust to block them from using power in one market to get into another market. You might need to, say, separate the search engine from the advertising network or from YouTube, and then at the same time you'd have to lay what are called 'public utility rules' or 'common carriage rules' on say Google, like the Europeans just did, saying that they couldn't favor their own services through their own search engine. So it would be a mix of rules."
On whether there's apatite in Washington to more directly address companies' monopolistic tendencies
"I'm optimistic. There's been an intellectual kind of breakdown in American anti-monopoly rules since essentially the early '80s. But because what we saw with the financial crisis, the creation of 'too big to fail' institutions, there's now an appetite among the public, and now economists and lawyers are doing research that actually looks at these institutions, says, 'You know what? We really do need to bring back some of these monopoly rules.' And I see apatite on both the Republican and the Democratic side on this."
This article was originally published on September 04, 2017.
This segment aired on September 4, 2017.