Students From Countries In Conflict Reflect On The Plight Of Refugees
10:30
Play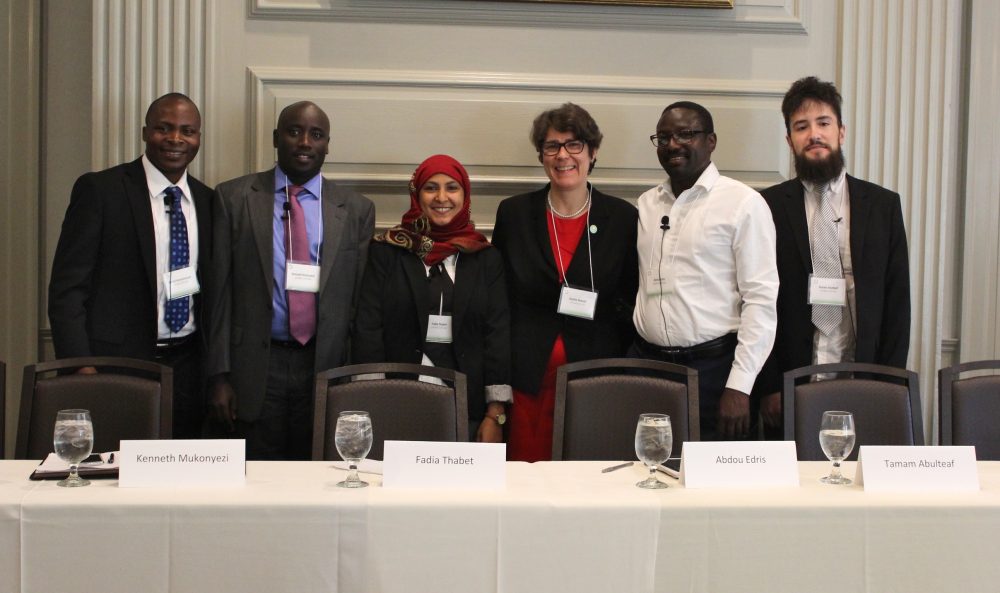 This article is more than 3 years old.
As students return to classes this week, one group is studying how to improve the lives of refugees. The global scholars program at World Learning's School For International Training in Brattleboro, Vermont, offers graduate scholarships to students fleeing violence in their own countries, and who want to make a difference for refugees around the world.
Here & Now's Robin Young meets Fadia Thabet (@FadiaThabet), a young woman from Yemen.
Interview Highlights
On her work in Yemen
"Back in my in 2011, I worked against AQAP, Al-Qaeda in the Arabian Peninsula, in Yemen when they occupied one of the governments in the south. And then afterward I continued working against the government, who committed also human rights violations. And, with the recent conflict, I documented most of the cases, whether that's the Houthis or the Saudis."
On receiving an International Women of Courage Award from First Lady Melania Trump
"It was really hard to just receive the award, but I was thinking about, like, within this, I guess, the particular atmosphere here in the U.S., how we can send a different message about women refugees, or women who came to the U.S. ... We had less than maybe 45 seconds to speak to [Melania Trump]. It was just also hectic. She came, and she shakes our hands, she congratulates most of the awardees, and then we just like went to the event."
"If they reach us, that means they need help, they need assistance. ... They believed in us. Let's believe in them.

Fadia Thabet on child soldiers in Yemen
On what she would have liked to say to Trump
"I really wanted to say that, 'Can you just like listen to the youth? Can you have more women around peace talks?' We actually have solutions how we can bring peace. It's a different, completely different, than yours, but we are coming from an experience on the ground, while you are just like — a lot of NGOs or the United Nations just like, they're writing the reports behind the desk, but we are the ones who actually went through this experience, and people are willing — whether that they are tribes, or civilized society — they are willing to achieve peace. But we are not targeting the grassroots. We're just like targeting the governments and the Houthis, which is representing just only five or six people from the whole populations."
On the role of listening and empathy in her peacebuilding work with child soldiers
"When we started our program I received calls from those kids — they wanted to go back to the community, but some of them couldn't because the war, because the crimes that they committed or some of them being just like, they know that the community would've isolated them because they were part of this terrorist group. To be honest with you, it was risky, very, very risky. We just like received an unknown call from a bunch of kids, and they were just like, 'We were child soldiers and we want to be part of our communities. We don't want to be part of al-Qaeda or Houthis again. How are you going to help us?' We prepared everything — it wasn't just like something definite that — you know, it might be a trap, we couldn't know that it was actually something solid, we just like, we followed our instincts. We did what we could, but if they reach us, that means they need help, they need assistance. ... They believed in us. Let's believe in them.
"They are victims. When the country and the chaos and collapsing, you've lost all your resources. You don't have an income. Some of them are being pushed by their moms to just like secure an income for seven siblings. And, if you hear them, it's just like — I heard a lot of the stories and it was just like, 'Oh my gosh.' But [the militias] know who they target, they actually target low-income children who have been just, like, with a single mom. And, they pay the price, to be honest with you, the kids, they already pay the price. Whether they lost their hands, their eyes — I had to work with a couple of organizations to provide the artificial parts — but the scars are still there. Every time that they will wake up in the morning, the scars are there. So the trauma, it's just like, you can't describe it. And it takes a long time to work with them and just like reintegrate them into the society."
This article was originally published on September 06, 2017.
This segment aired on September 6, 2017.