'It's Hard To Even Describe And Fathom' Irma's Impact On St. Thomas, Church Leader Says
Play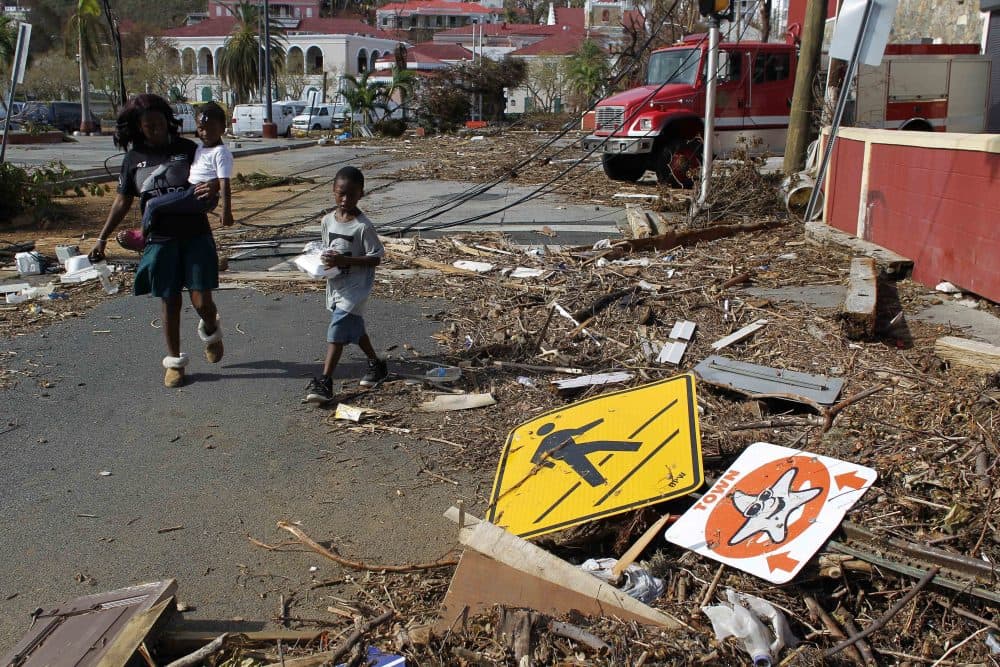 This article is more than 5 years old.
St. Thomas was among a group of islands devastated by Hurricane Irma.
Here & Now's Meghna Chakrabarti talks with the Rev. Jeff Neevel, who is sheltering and feeding residents at his church, about the fledgling efforts to rebuild.
Interview Highlights
On how he's doing and what it's like on St. Thomas
"We're doing well, complete devastation on the island. It's hard to even describe and fathom, I've never seen anything like it. I was here shortly after [Hurricane Marilyn in 1995] and saw a little bit of it, but, it's on a much bigger level. It's vast. I know many have seen pictures and videos through the media and social media, and it's worse than what you're seeing. But there are bright spots everywhere. We're seeing people rallying, pulling together — communities, churches, nonprofits — reaching out and helping neighbors and beginning the process of rebuilding. So many people lost their homes and their property, and are hungry, thirsty, tired, without power. Hard to get around, hard to communicate."
On why he says the situation is worse than what people may have seen
"I mean, when you're on the ground and there's a human element to it — and it's not just people, it's pets and other living creatures. People have lost their entire homes, and they're living hunkered down in single rooms and trying to collect what's left of their belongings. We're doing triage at this point.
"Safety and security is a concern. There's been some looting, and I think that would lessen the more we can get people fed. That's the biggest thing and that's what we're trying to do at the church, and our Brother's Workshop cafe is next door. The power came on at our church and cafe yesterday and fed almost 400 people, and we're gonna do that every day as we are able. And we ran power cords to the street so people could charge their phones, and the supplies that are coming in, we're getting organized so that we can hand those out and get them to those most in need. As you know, that all takes coordination, and with a curfew, we only have six hours in the day to work, really. Roads are still blocked and crews need to get out there and hang wires and clear roads. That's hard to do when they're clogged with cars."
"I know many have seen pictures and videos through the media and social media, and it's worse than what you're seeing. But there are bright spots everywhere."

The Rev. Jeff Neevel
On how long the recovery might take
"I have no idea. I was ready for six months without cellphone and without electricity, but we got it back in a week. You know, I know there's a ton of work to be done and I know the worst maybe is yet to come as jobs and money and things become scarce, and the economy tanks and all that. But after these things, people do pull together and you get hyperfocused on what is truly important."
On whether the church has been able to hold services since the storm
"Yes, we had service on Sunday, and people gathered and it was wonderful. There were several people that I had not heard from that I was trying to contact, so we were all hugging and crying and sharing stories. And then we started making connections and we're getting trucks that are lined up to go out and to board up homes."
On the lack of FEMA tarps on the island
"What we need are tarps — FEMA tarps are the things that cover the roofs where people are living, and we don't have a single FEMA tarp. We were told they were delivered to the island, like 6,000 of them. I have yet to see one on any of the roofs where I've driven, or I can look out right now all over town, I don't see a single blue tarp. I don't know where they are, but we sure would love some, because we have crews that'll go out and anybody that needs one, we'll help them put it up, so that they can at least stay dry and start to put their lives back together."
This article was originally published on September 13, 2017.
This segment aired on September 13, 2017.