How Damaging Would A Major Earthquake Be For San Francisco And Los Angeles?
Play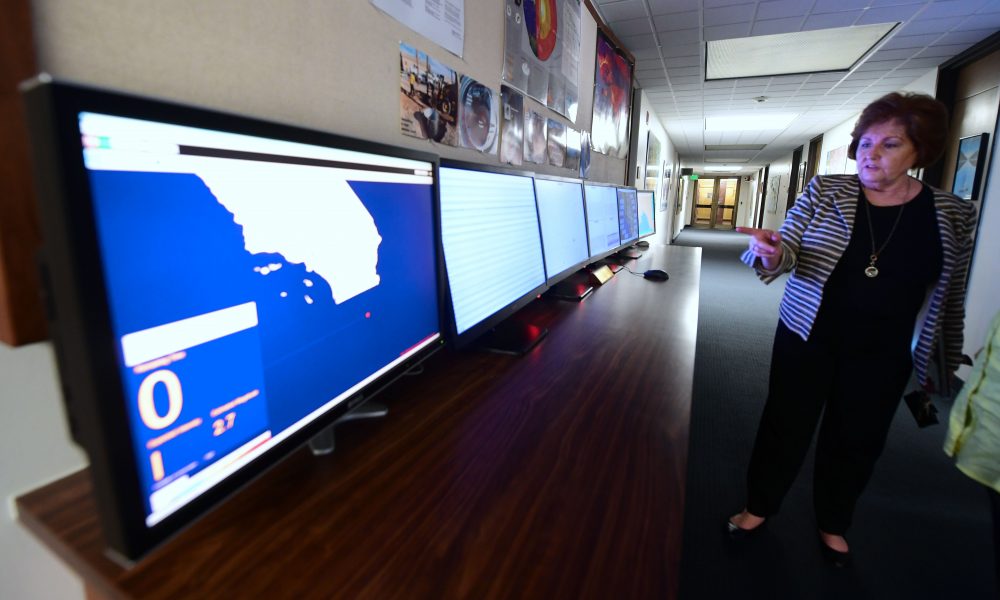 This article is more than 5 years old.
There was a magnitude 3.6 earthquake in the Los Angeles area Monday night. It wasn't strong enough to cause serious damage, but it's a reminder of a looming potential disaster: a major earthquake in California.
Here & Now's Jeremy Hobson talks with seismologist Lucy Jones (@DrLucyJones), research associate at Caltech's Seismological Laboratory and founder of the Dr. Lucy Jones Center for Science and Society, about how destructive such an earthquake would be and how well prepared the San Francisco and Los Angeles areas are for it and its aftermath.
Interview Highlights
On whether it's possible to predict when the next major earthquake will hit California
"There is no way to predict the time of when it will happen, but that it will happen is an absolute certainty. It's like, you aren't gonna stop the sun shining, and you aren't gonna stop the plates moving. And as long as the plates keep on moving, eventually the earthquakes have to happen. We just don't know when."
On the possibility of one earthquake affecting the entire state at the same time
"It's improbable, extremely improbable, that we would have one earthquake that was so large as to affect both areas. The magnitude of an earthquake tells you the length of the fault that moves, and we have a sort of a section between the two regions that doesn't move easily in big earthquakes. It has a lot of small ones instead. That said, one earthquake triggering another is extremely common, and it's not just very nearby and calling them 'aftershocks.' It also happens at greater distances. So a magnitude 8 on the San Andreas [Fault] in Southern California triggering a 7 on the Hayward Fault in San Francisco as essentially a distant aftershock, that's a much more probable scenario."
On what kind of impact a quake the same magnitude as the 1906 San Francisco earthquake would have today
"Probably many dead, maybe as many or more, because we have so many more people there now. We have building codes, but your building's as good as the building code in place when it was built. So the most modern ones include everything that we know about earthquakes at this point. But there are classes of buildings — especially some of the older concrete commercial buildings — that we know to be very vulnerable, and we expect to, if they don't get retrofitted, they will collapse in the bigger earthquakes and kill a lot of people at the time. Our cities have become more complex entities, and we are more dependent on engineered systems to sustain life. In 1906, you lost your sewer, you really could go and dig a hole in your backyard. That's not really an option anymore. And so the likely destruction of sewer pipes is a potential public health nightmare. I've actually studied it in more detail for Southern California, where we took a big San Andreas earthquake and tried to say what would happen to Los Angeles. We got an estimate of about 2,000 dead for that earthquake."
"There is no way to predict the time of when it will happen, but that it will happen is an absolute certainty. It's like, you aren't gonna stop the sun shining, and you aren't gonna stop the plates moving."

Lucy Jones, on predicting the next big quake in California
On the challenges involved in restoring power after a big quake
"The power companies here of course have gone through a few earthquakes, they know what happens, and they're trying to gear up for it. Again the problem is the scale: when we have a San Andreas earthquake that's 20 times as long a fault as we had in [the 1994 Northridge earthquake] or [the 1989 Loma Prieta earthquake], then it's a ... the scale of doing it is very, very difficult. We worry about loss of transmission into the region because all of our big transmission lines have to cross the San Andreas Fault to get to us. Same with our outside water, Southern California's famous for the water coming in. This is true in the Bay Area as well. Most of the lifeline systems come in across the fault.
"Now, most of the big utilities are doing a lot of work trying to mitigate it. It's requiring a different approach, and we're seeing in the last few years a recognition that, 'Oh, I was able to handle Northridge,' doesn't mean you can handle the big one. And there's a lot of planning efforts going on in both Northern and Southern California right now. So I have hope because of that, but we should expect that there will be a big enough problem somewhere in the grid when the earthquake happens that the whole grid will shut down. And then it's gonna be a question of, how do we get that back up and started again?"
On what people may be saying after the next big quake about what could've been done to avoid catastrophe
"One of the things that will surprise people ... your building's only as good as the building code in place when it was built, and our older buildings have known problems. I think there are gonna be a lot of people going, 'Wait a minute, how come my building fell down? Don't we have building codes?' That's one issue.
"The other one is that the current code is aimed at life safety. We have sort of philosophically said, 'If you choose to make such a weak building that it's a total financial loss during the earthquake, that's your financial choice to make.' The role of government is to make sure you don't kill somebody in the process. And because of that I think we will see a much smaller death toll than we might have otherwise seen. But we're gonna have a lot of new, brand-new, to-code buildings that are a complete financial loss after the event. Most building owners are barely aware that that in fact is what the code is giving them: crawl out alive. We've been talking about it a lot in the last few years and I think we're starting to see some energy, because the increased cost of a usable building, compared to just life safety, is about 1 percent the construction cost. A lot of people think that could be worthwhile."
This article was originally published on September 19, 2017.
This segment aired on September 19, 2017.